Enterprise resource planning is shortly known as ERP, it is a type of software that organizes all your day to day tasks in your business. In simple words, it helps you to manage your accounting, budgets, predict, planning and to report the financial results to the organization.
ERP is more useful for supply chain operations. If your restaurant is a supply chain then you must have good ERP software for your chained restaurant management. It allows you to manage all of your restaurant tasks from anywhere with well-developed ERP software.
Is the ERP tool worthy of a supply chain restaurant only? No, nowadays without a technology integration you aren't able to run your business to gain your targeted revenue. ERP is a software tool that aids every type of restaurant business model.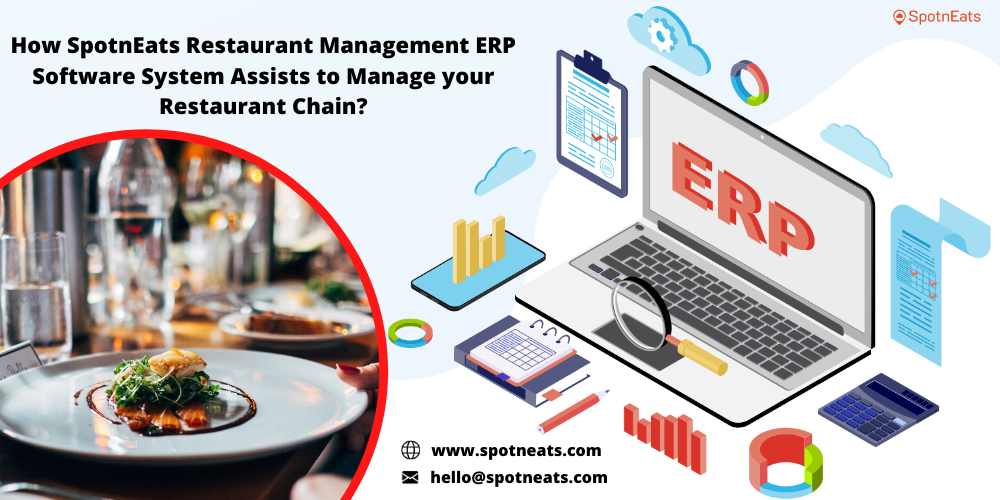 What is Enterprise Resource Planning?
ERP fundamental
ERP is the central collection of data for a wide distribution of your restaurant-chain. Instead of collecting several data in spreadsheets that overflow your inventory. The ERP system brings you an easy solution for your managing process.
So that you're allowed to store your customers and restaurants data automatically in a digitized form. You're allowed to use those data at any-time from anywhere it has become easier with a developed ERP.
By now you might have got to know about what is ERP and its fundamentals. Here let me tell you in detail about how it takes place in the restaurant business and the benefits of choosing a well-developed ERP software.
Get your Free Demo: Whatsapp | Skype
How does it take place in the Restaurant industry?
ERP software provides end to end management in the restaurant industry. All the outlets allow you to control the operations of your restaurant from one central point (Admin-web panel) easily accessible.
In the admin web panel, the admin is able to manage all the inventory and staff details. If your restaurant is chained one, then you're allowed to manage all your restaurants with one centralized application.
Is the ERP software tool only for restaurant management? No, it also gives you high visibility in your business. This allows you to easily sort out the mistakes and bring efficiency in your restaurant business with just taps.
Benefits of ERP in the restaurant industry
POS integration for precise finance management,
Manage all your purchase orders and inventory control,
Efficiently manage the general ledger, assets, finances, etc,
Easy to use staff management system,
Real-time tracking for timely Home delivery.
How SpotnEats ERP software assist the restaurant industry?
SpotnEats is a modern software solution for all on-demand food delivery systems. We have a pre-developed software application with 100% flexibility. It can be customized as per your needs, add or remove features have been made simple.
Since we have a pre-developed application, it doesn't mean our software is an old version. We keep ourselves updated with the latest technology to give the best solution for our clients. With the help of our software, you can launch your application across the seas.
We are grouped as a variety of developers and everyone is knowledgeable in different frameworks, this shows the potential of us to give a unique product to our clients. We guide you with before and after launch service for a certain period of time.
Our software has a good ERP tool to take your food delivery business to the next level easily and to meet potential customers from all over the regions. Here, let me tell you how our ERP tools bring you high revenue, keep reading to know about it.
The business value of using our ERP software
Though our software gives you the best solution for maintaining restaurant orders and workflow, You also should know about the business value. This allows you to gain visibility in the market and consistent revenue growth.
Our modern software solution inherits with the feature called real-time analytics in new orders and the availability of delivery agents that improve the business value,
Lower operational costs with the streamlined business processes for any type of restaurant either small or big or chained,
Enhanced with the integration of the customer's data in order, pre-schedule, and purchase orders from your application,
Improved efficiency for good user experience across restaurants functions and well-designed application processes,
With just a click manage all your restaurant's offers and staffs,
Reduced risk of mandatory workflow with improved data integrity and financial controls.
The above mentioned are some of the values that will be added by linking your restaurant business model with our ERP software. Here, let me tell you how our software key-feature allows you to manage your restaurant easily.
SpotnEats ERP software key features for managing your restaurant
If you're running a big restaurant with multi-chain then maintaining everything is a bit tough job really right? Here, our software makes it easy. It totally changes your workflow with full convenience and efficiency.
A detailed and report analysis of your restaurant's orders, inventory, staff, bills, offers and discounts everything will be automatically updated in the admin web panel. This helps you as the restaurant owner can maintain all your restaurants with just a click.
Strong stock and inventory management
Apart from the cash counter, another section that is notoriously known is the shortage of the restaurant is the stock and inventory. If you don't mind maintaining your stock and inventory then it will become a huge loss in your revenue.
Tracking the stocks daily and maintaining it without any changes is a bit difficult sometimes you might be forgetting it on your busy day. Here is the solution for you with our software you can easily maintain your stocks and inventory.
Even if you forget it will keep remembering you with the push notifications. Checking inventory and maintaining the consistency of the recipes are interlinked. With our software POS, you can update the central recipe management instantly.
Restaurant kitchen management
If you are running a restaurant chain then setting up a base kitchen becomes a necessary one. However, managing a base kitchen is the hardest part here. Where the raw materials will get circulated to the other restaurant isn't easy.
Here, comes the software to handle those processes digitally without any missing of things. A well-developed software can handle it easily, let me tell you what things you can manage and handle in this section.
Managing the yield,
Controlling the food cost,
Updating the offers and discounts,
Maintaining and updating the foods,
Estimating the sock with previous stock data.
Staff and delivery agents management
As I mentioned above, managing a multi-chain restaurant is tough because different staff and delivery agents will vary from place to place. Here, with the help of our software, you can easily manage all your staff and delivery agents from where you're.
Manage your staff's profile of your multi-chain restaurant at the central level. All the contact details and information of the staff and delivery agent will be displayed with full details. such as their PAN Card details, ID proof, TIN and etc.
The above mentioned are some of the things you can easily manage with our software solution. Still, there are a lot more management features with us to make your workflow more digital in your restaurant business.
Get your Free Demo: Whatsapp | Skype
Final say
Managing a restaurant is a daunting task. There are many chances of losing your revenue, and your business might be drawn down. Hence, take your restaurant with our ERP software that comes in-built with all of the features mentioned above for a smooth workflow.
Still, why are you waiting? Contact us today by filling the below form with the required details. We will catch you soon. For inquiries please contact our business lead [email protected].