Restaurant startups both small and big have come everywhere. Simple restaurant dine-in startups won't last long. One with the online delivery system alone stands apart from others. At least existing restaurant startups can later transform into online ordering system keeping in view the long term sustainability.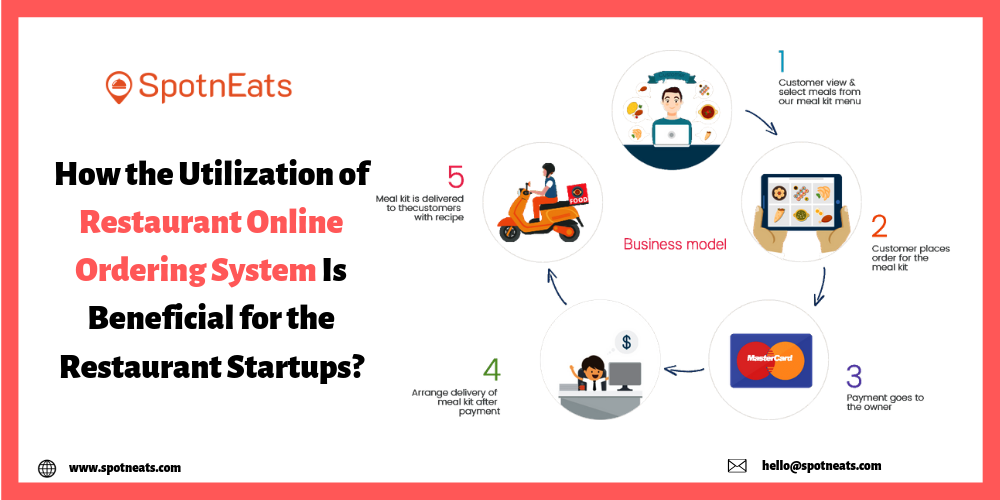 Many restaurants join hands with on-demand food delivery startups for food ordering and delivery for which the restaurant has to pay a percentage as commission to the delivery platform. This model may seem to be improving the sales at first but the overall net cash flow will be negative.

Instead, having a dedicated restaurant online ordering system will be beneficial to your restaurant startup. Let us now see the ways in which it will aid you in running your food startup.

Get your Free Demo: Whatsapp | Skype
Double the sales

Yes. you can double the sales with the ordering system in place. Same happens while partnering with delivery platforms, but here you don't need to pay any commission for every online order so the margin is high.

Nearly 34% of the restaurants have experienced a drastic change in sales after implementing the food ordering system. Having an online ordering system means you allow people to view all your restaurant menu in an app. This gives the necessary reach required to you. By just seeing the food available, price, and, ratings & reviews more users will order online. This will see an unprecedented increase in sales.

So, there is no doubt about increasing sales because of the online ordering system.

Increased customer engagement

Smartphones and apps are ubiquitous. So, the app is the easiest form of reaching the people. When you have your own food ordering app, you can reach out to people who are not even aware of your presence. Push notifications for offers, discounts, cashbacks, weekend specials, new arrivals, etc can be sent directly to existing users and new users only using the app. You can also find the foods that are ordered repeatedly and can make arrangements to meet the demand. Rating and review system is present in the online ordering system which allows people to give valuable feedback to your restaurant.

Reacting to the reviews and ratings by improving the restaurant will improve the trustworthiness. This customer engagement is another good aspect of the online ordering system.

Managing analytics

You will get more data to handle than before. This data can be taken using data analytics tools used in the food ordering system. The analytics tools filter the data and provide valuable information which can be used to improve the sales and widening the user base. Apart from the data from online ordering, you can also use data from the dine-in which will be an added advantage. This can aid you in making a more customized customer experience.

For example, the resultant data from analytics can be used to find the food habits of the people and customized menu can be made in your restaurant which will further up the reliability of you.

Improved order accuracy

While dining-in or ordering through a phone call, there is a possibility of misplacing the order because of the surrounding chaos and other sounds. This is not possible during the online order. The users select the food in the app and the possibility of human error is nil.

Another added advantage is that the users can customize the food and give suggestions regarding the ingredients in the app in the online order. The same cannot be done effectively in a phone call.

Cloud kitchen for more profits with little risk

In a restaurant with cloud kitchen model, there is no dine-in facility and food is made only for online food ordering and delivery. This model eliminates labors for dine-in, additional space and infrastructure. Many online food delivery startups are looking to open cloud kitchen because of less capital expenditure and operation cost.

The only downside with this model is that initial branding is quite difficult. If you are already running a restaurant with the online delivery system, you can expand to other areas through cloud kitchens. With the vast amount of data about the food habits of people at your disposal, you can easily develop a cloud kitchen with customized foods suited to the locals.

Final say

Enough said about the benefits of having an online food ordering system in your restaurant. This list will be also useful to entrepreneurs who are just about to start their own restaurant or cloud kitchens. For them, developing a food delivery app solution is a big task. To reduce their work we have already made an app solution named Spotneats.

SpotnEats is readily available made very much similar to UberEats. Some features in SpotnEats are not even present in the original Ubereats app. What you have to do is to purchase our solution and join with our team for complete customization based on your needs.
Get your Free Demo: Whatsapp | Skype

Team up with us to get a quality app for your startup and for more details on features and working of SpotnEats, drop a message to [email protected].