The impact of Uber for X and the on-demand delivery app is revolving each industry in the market. As the trend for the delivery service model increases in popularity, it has also extended the healthcare industry with an on-demand pharmacy delivery app and on-demand medicine delivery app.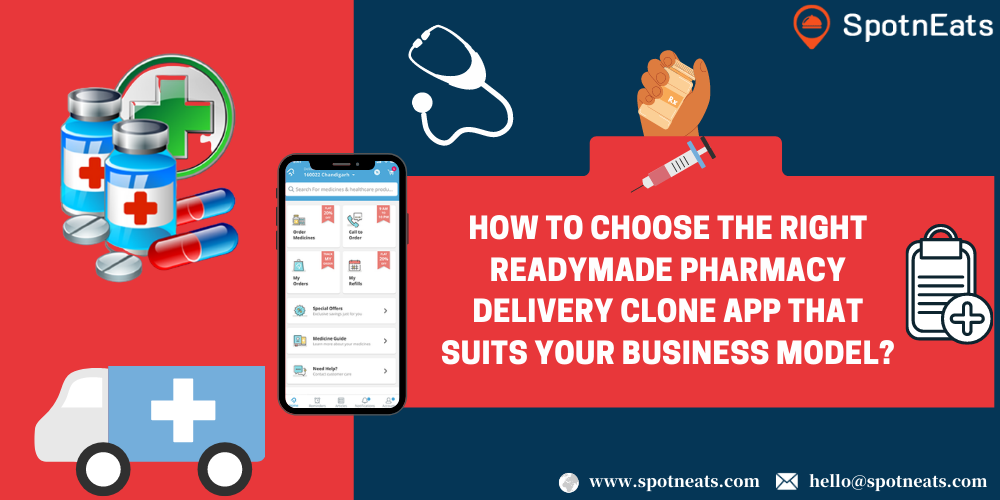 These medicine delivery app, also let the users access other medical and pharmacy services quickly. With this pharmacy delivery app, now you can easily place your medicine orders online and get your requirements instantly. This gradually neglects the time, where you don't have to stand in the long queues before the pharmacy.
In this blog, you will be getting to know about the current impact on the medicine delivery business and how to start your own medicine delivery business with a readymade medicine delivery script clone.
Get your Free Demo: Whatsapp | Skype
Impact for Medicine Delivery Business Platform Will Be
This pandemic situation has brought a huge need for on-demand delivery app solutions worldwide. We have been self-isolated for months and we aren't able to get out of our home to fetch the needed things. On-demand delivery services act as a savior for us in this pandemic and help us to fill our grocery inventory.
Everyone gets afraid of the COVID-19, by taking proper precautions we are able to keep ourselves safe from it. But, we aren't able to move from our home to the pharmacy, even to a nearby pharmacy store. There are many regular patients and elders who are in need of regular medicines to keep themselves healthy.
This has brought a hugely important role for the on-demand pharmacy delivery app and on-demand pharmacy delivery app in the market. The medicine delivery app like Practo and other prescription delivery services has kept the people more relaxed in this situation. The on-demand medicine delivery service keeps its revenue saturated in this pandemic.
Sen. Kevin Cramer – "This is an extraordinary moment that requires extraordinary responses".
The above quote by Sen. Kevin Cramer gives a clear idea for the new entrepreneur who wants to kick start their own on-demand business in this pandemic situation and gain their revenue. Still, if you're not satisfied with my point, here I have also listed out the market survey on the medicine delivery services as follows.
According to the global survey on the COVID-19 medicine delivery devices market size is valued at $1.87 billion USD dollars by the end of the year 2020.
It is expected to show a compound growth rate annually a CAGR of 8.1% during the forecasting period of 2022 to 2027.
The impact and dept for the medicine delivery service are high in the current market. By implementing your own delivery service in your region, you can easily gain profit and get popularity soon in this competitive market. But building an on-demand app like Practo consumes more cost and in this, we aren't able to spend a large amount.
Here, comes the readymade medicine delivery script clone as a handy solution for the entrepreneurs. If you are looking for an affordable app solution to kick start your own medicine delivery business, then a pharmacy delivery app script like Gomed clone will be the right choice for you. If you're not well-aware of it, then take a keen look at the upcoming sections.
What Is a Pharmacy Delivery App Script?
The pharmacy delivery app script is nothing but a cloned version of the top brands like Practo, Gomed, and other popular pharmacy delivery app in the market. Clone script is a customizable app solution, which helps you to customize the popular brand interfaces according to your pharmacy demand.
In the medical delivery script, you will be getting the exact features and interfaces of the top brand your choosing. This helps you to gain the attention of the people and helps you to keep them engaged with your smooth interfaces. Since you're cloning the top brand, you will be gaining equal popularity soon in the market.
How Does the Medical Delivery Script Actually Work?
Patient registration – To use/start with an on-demand medicine delivery service, the user/patient has to register by filling in a few personal details about them or use their social media to quickly activate the service.
Profile creation – Once the patient's login, they can add some more details about them in their profile to make it easier. The patients are able to add their nickname, alternate address, and alternate phone number.
Physician's description – After completing their profile, the patients are able to submit their medicines prescribed by the doctors or ask for the pharmacy to give medicine according to their issue. Or else the patients can directly place their needed orders.
Place the order online – Then, the patients are able to quickly place their orders and are able to go through the available drugs in the particular pharmacy. Then they can select the ones they want, and place the orders immediately.
Add to cart or book for later – Patients can also add their needed medicines to the cart and buy it for later. Or the patients can also place their orders now and set the delivery later. This improves the flexibility of your service.
Cancel the placed order – The patients are able to cancel their placed order at any time, once after they booked their service.
Track the placed order – After placing the order, the patients can easily track their placed order in real-time without any lack in between the delivery.
Chat with pharmacy stores – If the patient has any doubts, they can easily clarify with the pharmacy store with this feature.
Make payments – Once the patient places the order, he/she has to make the payment either online or offline as COD (cash on delivery).
How Will You Benefit from Choosing a Readymade Medicine Delivery Script Clone?
You might be doubting why you should implement your cost on an on-demand medicine delivery app or pharmacy delivery app script. Here, look at the benefits that your end-players will be achieved by using your on-demand pharmacy delivery app solution.
For medicine consumers
The patients/consumers are able to get their medicines while sitting on their couch.
The on-demand medicine delivery app offers great discounts and other incentives while the order in bulk or higher than the bar rate.
Uber for the medicine delivery app, gives rapid reminders to the patients about their medical needs at a regular interval.
For pharmacy stores
Pharmacy store owners are able to have an online presence and increase their sales.
Owners are able to easily attract new consumers and reach new profit margins quickly.
Store owners can manage their inventory digitally and get notifications on their medicine expiry dates.
How to Set up an Online Medicine Delivery Business Today?
Setting up the medicine delivery business with a well-developed medicine clone script will improve the service as well as the revenue. In SpotnEats, we help you to develop an on-demand medicine delivery app solution with all possible features. We have a readymade clone app script to improve the service quality and reduce the developing time.
Our app solution will give you a seamless workflow and 100% customizable. With our pharmacy clone script, you can quickly launch your delivery service shortly and gain popularity among people in the market. We are ready to fulfill all kinds of requirements you are demanding of us.
SpotnEats is the best pharmacy delivery app solution that has been developed to streamline the workflow and helps you to uplift your pharmacy store sales. Our medicine delivery app is readily available on both the platform (iOS and Android). Customize your on-demand medicine delivery app in a better way with us. Fill the below form to reach us today.