Did you remember five years back we used to go to a restaurant to taste our favorite foods but now our favorite foods come directly to our native place just by a tap. Everyone needs to accomplish their task easily, taking food three times a day is a must to keep our body healthy. Therefore nowadays 75% of working people use to order their food daily in their favorite restaurant.
Are you in a plan to take your restaurant business to the next level to earn more profit? Then you are on the right path here I will suggest to you how to enhance your restaurant business with the latest technologies using the food delivery app.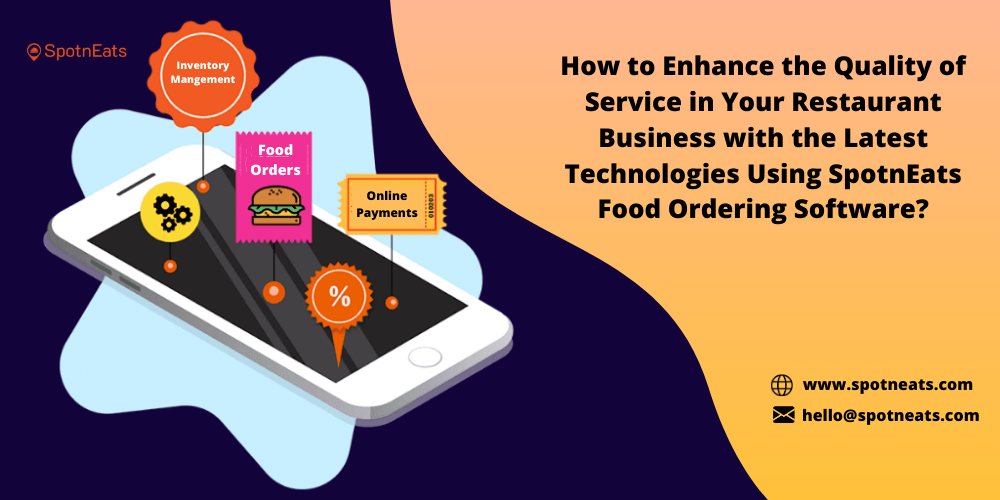 Why you Have to Enhance your Restaurant with an Online Food Ordering System?
A survey shows that restaurants without online ordering software are running low. To make your business reach a peak then you have to adapt to the latest technology.
In olden days we have an option to make an order using call but this option is only available in the star hotels. But now anyone can able to place their order using phones. In the US more than half of the population use to order the foods in Uber eats. Now let me tell you the pros of the ordering system.
Advantage of the ordering system
Increase in your Sales – Through online food ordering system, your sales will be increased gradually.
Greater in reach – By this process, you will have a greater reach among the people because they can able to review your restaurant each time while they place an order.
Customer's experience – Customer satisfaction is a must for every restaurant owner and through online food ordering you can also able to make your customers happy.
Daily offers – The offers of your restaurant can be updated daily for your customers so that they can able to check daily offers and place orders accordingly.
Online table booking – Your customers can also able to book their seats in your restaurant by using this app.
Now you may get an idea about starting your own online food delivery app, but how? Don't worry I'm here to aid you. For creating a food delivery app like uberEats you can choose SpotnEats clone product which has exact features like ubereats, but you can able to edit the features as you need. Instead of spending your whole amount on developing an app, you can choose a ready-made product choice like this.
Here I will recommend why you need to choose SpotnEats. Do you want to know why to choose us? Then keep reading to know more about us and how we deliver your online food delivery app.
Why you have to choose SpotnEats?
We SpotnEats use the clone version of UberEats so that you can get the exact features as Uber eats. And we also had built similar apps for our happy customers. You no need to pay us monthly its just one-time payment. Now let me discuss a few niche features in our SpotnEats
Customers can able to order their food by visual assistant, smartwatches, smart tv and from their car.
Can able to customize their order within 5-10 mins.
Your customers can able to schedule their order. For example your customer can order dinner at noon itself like pre-booking. But it will notify the restaurant at the exact time only.
A new feature called waiter, which is used to suggest your customers the food according to their taste and orders.
I hope now you may eagerly waiting to know about how your food delivery app works. Alike Uber eats your online food delivery app also has four interfaces as mentioned below
Customer's app (iOS and Android),
Deliver's app (iOS and Android),
Restaurant app (iOS and Android),
Admin web panel.
The working process of the app is exactly same like other food delivery app.
The latest technologies that can improve your restaurant business
Cryptocurrency
By accepting payments via cryptocurrency, the on-demand food delivery app can prevent the frauds and improve the customer experience.  
Change in the delivery system
The delivery system can be changed by using robots to deliver the food to their customers, Similarly drones can also be used.
Big Data technology
Many food delivery apps use big data analytics to ensure that their customers and riders have a great experience when using their platform. Big data can also take care of real-time monitoring operation, this helps you to track your customers, riders and restaurant in real-time it results in the smooth delivery system and function efficiently.
Augmented reality
Like Justme you can also promote your food in a funny way. When users can see the floating burger and pizzas over them while turning on the camera option in your food delivery app.
Artificial intelligence

AI can be introduced in our food delivery system to clear the doubts of your customers and suggest the daily offers.
Get your Free Demo: Whatsapp | Skype
Final say
By now you would have got a clear idea about your online food delivery app. We are looking to engage with enthusiastic entrepreneurs, like you to launch our product and so that you can also grow along with us.To get more details and queries about SpotnEats, tap a message to [email protected]. We are available 24/7 to fulfill your needs.