More and more people are drawn towards afternoon meal delivery subscriptions in later days to get the food mainly for its convenience. Today, with the help of the online food delivery service, we are able to get food at any time with just a tap on the smartphone.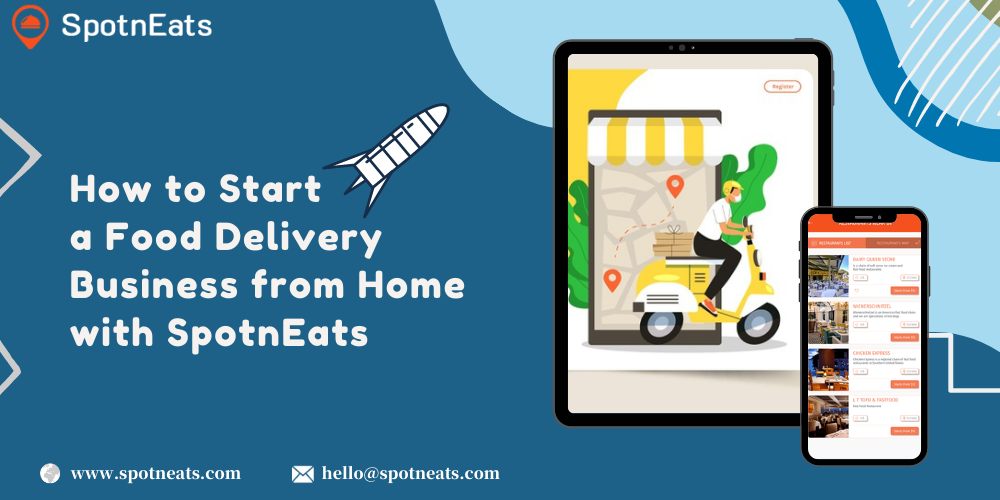 Days before the food delivery service was started with local restaurants and fast foods to attract corporate people and local people to enjoy their meals at home. In recent days, food delivery service started to offer homemade meals for a healthier option to elder people.
If you are the type of person who enjoys cooking and baking, then this blog is entirely for you. In this, you will be learning how to start a food delivery business from home. Combine your hobby with your career to get succeed in the market.
Opening a food delivery business will be an exciting thing for any young enthusiastic entrepreneur. In order to open a food delivery business properly, you must comply with many things. Before getting into it, let's take a quick look at how online food delivery actually works.
How Does an Online Food Delivery Business Works?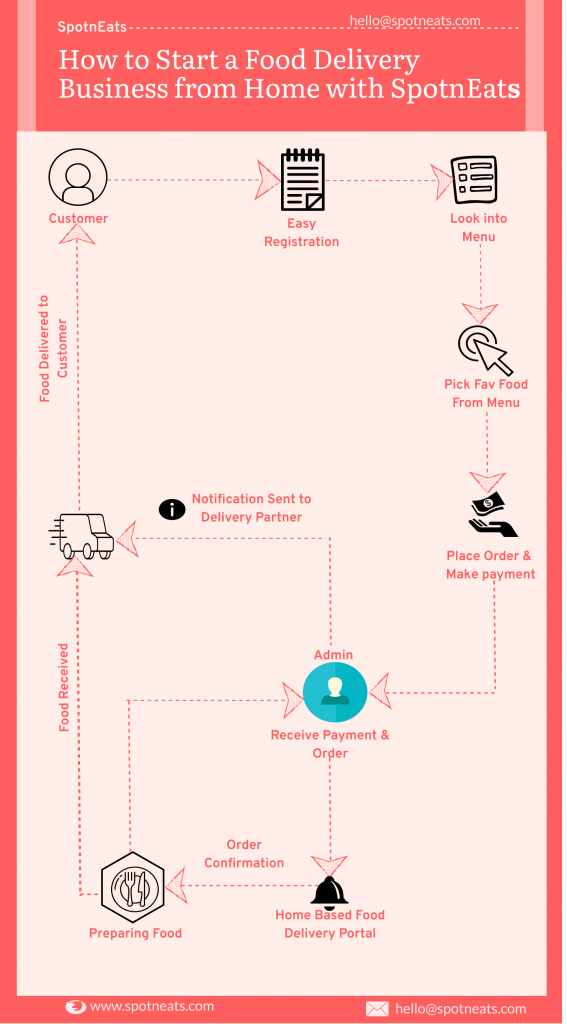 Key Steps to Open a Food Delivery Business from Home
Be Ready with a Business Plan and Find Your Own Niche
A business plan plays an important role in on-demand food delivery business. Once you decide to start your own food delivery service from home, try to build a business plan according to your demand and market value. 
This helps you to stay focused on your business goals timely and secure the funding. Make sure your business model contains all the requirements that you want to see in your food delivery service.
By building the business plan, you are able to find your niche to uplift your food delivery service from other competitors in your region. There are several food delivery services that are competing in the market. So how are you able to stand out from them?
In this situation, you take a keen look at your competitors in the industry and fill the gaps they have left. By filling the gaps and staying strong on it will improve your food delivery service. But make sure your food delivery service is highly healthy and hygiene.
Once you're ready with the business plan and niche, then make your service get fit with the latest trends in the market.
Get your Free Demo: Whatsapp | Skype
Get Fit with the Latest Trends in the Market
Today, there are many new latest trends that have been implemented by the top brands in the on-demand food delivery business. Placing food orders by tweet, order using virtual assistants, order using smartwatches, order using smart TVs, and order from the car.
Making your service ordering system available in all these things will help the customers to place their orders easily in any situation. As much as your food ordering and delivery service give flexibility the customers will get engaged with your service.
The on-demand food delivery service not only brought the trends in the ordering system, but they have also integrated the latest technologies in delivering the placed order too. Delivering the placed order through drones, robots, and parachutes.
Make sure of the possibilities and implement the latest trends with your food delivery service. It helps you to stay up to date in the market. To stay up to date in the market, you must take a deep dive into the market.
Drive into a Deep Research
It is very important to do research on the market before starting your food delivery business from home. Go directly to the market or try the competitor's products and hold a complete survey on their products.
This gives you great impunity to build your food delivery product wisely. Though the competitor's analysis helps you to build your product's unique and to withstand the on-demand food delivery market. But, how will you reach the consumers?
Here, to reach the consumers and get profited with your food delivery service, you have to conduct a targeted audience analysis test. If your targeted audience is the students, then your service must be active near the university.
Or your targeted audience are employees then you must be active in the corporate areas in the region. And, you must rapidly offer them worthy discounts to gain their attention and keep them engaged with your food delivery service.
Once you have decided on the targeted audience, then you have to select a chase name for your food delivery business. Now, you have to customize your meals according to the targeted audience to attract them.
To make it simple, you can keep the targeted audience in high to low segments. The high populated audience can be given high priority and low populated audience least priority. This helps you to gain revenue high and able to cover all the users in the market.
Develop Your Food Delivery Service Platform from Home
Most of the entrepreneurs fail at this point because they aren't able to choose the right platform service. Many get confused about choosing the right framework, cross-platform will be the right choice to build a quick food delivery business from home.
A cross-platform framework like Flutter or React Native will be the best framework to launch the food delivery business in 2021. Choosing cross-platform will be the right choice to build an efficient food delivery business.
Which framework will be the best flutter and React Native, many get confused at it. This argument won't end easily. Choose the framework and platform which satisfies your food delivery business demands.
If you don't want to spend much but are still looking to start a food delivery business from home and earn a worthy profit? Then, you must consider the clone script of the top food delivery brands in the market.
Grubhub clone – Grubhub is the best food delivery service that gains good reviews among the people. In Grubhub clone you will be getting a unique value proposition.
Takeaway clone – Takeaway is the top-rated food delivery service in Belgium, in Takeaway they don't charge any cancellation fare from the users.
Deliveroo clone – Deliveroo has many flexible features to improve its service. Deliveroo is one of the fastest food delivery services in the market.
Menulog clone – In Menulog, they post fare for delivery according to the distance of the order to be dropped. Menulog has three revenue models to earn a worthy profit.
These are a few of the top branded food delivery clone scripts that most entrepreneurs prefer. By choosing the clone app script of the top brands, you can easily quickly start your food delivery business with the same business model and revenue model as them.
In SpotnEats we provide all these clone scripts at an affordable price without any quality compromisation. You will be getting the exact clone version with the same business and revenue model, if you want any customization it can also be done quickly in SpotnEats.
The additional benefits of choosing a food delivery clone script are they will have a list of features like the original, and it helps you to easily gain the user's attention in the market. Make sure to choose the right clone script to enhance your service quality.
Get Strong with an Experienced Delivery Network
Without an experienced delivery agent's network, you aren't able to provide a sufficient food delivery service to your potential consumers. Keeping your delivery service quick and ordered meal hot is an important thing to be considered in the food delivery service.
Since the entire responsibility of service quality is based on the delivery time, it is essential to have an experienced group of delivery agents. To improve the delivery service, you can also implement the features like
Multiple short route optimization for quick delivery of the ordered food,
Instant order acceptance while the delivery service profile is active,
Quicksort of placed orders according to the distance and route,
Delivery service profile activation for instant order receiving.
Once you decide on the location or region for your food delivery business, try for the local delivery drivers for a quick reach of the customer's expectations. Or you can appoint outsiders and give them training but it consumes time.
Think wisely to choose the right delivery agent's, because the entire delivery service quality lies under the hands of the delivery agent. Once you're ready with all these things, then you must obtain all the required licenses to launch your food delivery service in the market.
Obtain Required Licenses
This one of the important things to be considered before starting the food delivery business in the market. Try to obtain all the necessary licenses to launch your food delivery service in the required area.
Some of the licenses like FSSAI ensure the safety and quality of the food products. Other than that you have to obtain the shop license, health trade license, GST, and other trademark registrations.
To run your food delivery service successfully in the market, you must have acquired all the necessary licenses. The license requirements will change from region to region, take a glance at your region licenses requirements to launch a food delivery service.
Be Ready to Launch Your Service Today
It's a good time to build your business plan and get started with your food delivery service. Most of them are now preferring home-cooked foods and healthy meals, as the demand for food delivery services increases.
Many new firms started to launch their own, make it fast with the SpotnEats food delivery app solution today. We provide a personalized food delivery app with the advanced metrics and the customer-centric features. Let us know your business demand in the below form.