The on-demand food app market at present is completely different from what it was during its inception. The main reason is the small capital required to launch a new food app startup. Competition grew exponentially in this sector. At the end of the day, small tech entrepreneurs who entered this food app market are the ones to suffer.

SpotnEats is our on-demand food app solution made to serve small food app startups. Everything in SpotnEats is similar to Ubereats. We so far did our part to help aspiring on-demand food delivery startups and we continue to do it. Now, we are looking to aid food startups to have a competitive edge over others.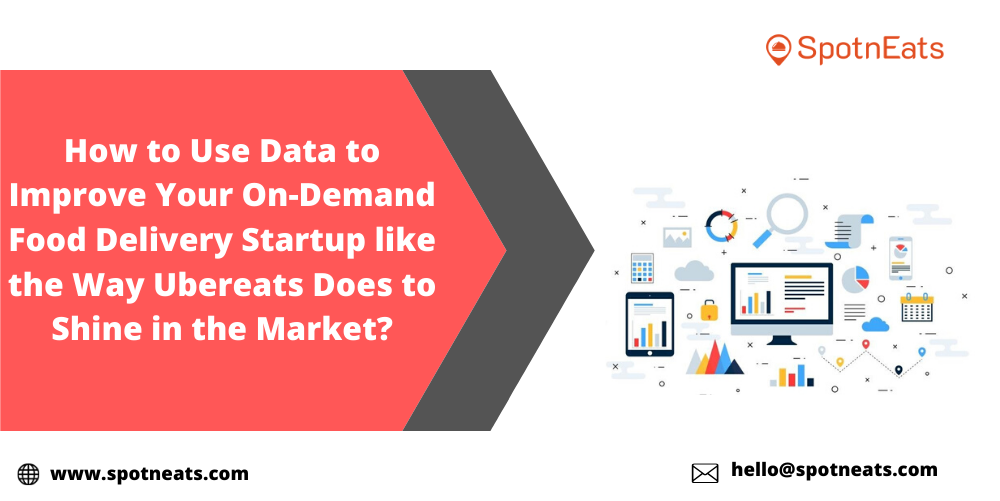 What Makes your On-Demand Food Delivery App Startup Competitive?

Most on-demand startups are betting big on data. Because data can be leveraged to run the startup smoothly. With data, you can predict consumer behavior and future market prospects. Big data and predictive analysis are new fields that get completely harnessed by top food app startups.

Data is a precious commodity in this digital era and I hope that it can give the much needed competitive edge. Based on experience from SpotnEats, I now give some solid points on how to use data to shine in the on-demand market optimized for small startups like you.

Predicting stock inventory and demand

Big data is used to gather details of all the history of orders made by customers and further match it with the listed restaurants. Now, this matching can be made to plot the stock inventory of restaurants and predict demand for a specific menu.

Listed restaurants need not spend unnecessarily on goods and prepare a menu that has the least demand.

Expected demand is predicted and the restaurants can spend more time and effort in it.
Get your Free Demo: Whatsapp | Skype
Menu refinement

It is not necessary that the menu listed should be the same for all the users. Based on customer ratings, likes and dislikes, the menu is curated and listed in the customer app based on preferences i.e. most liked menu at the top.

The users too won't take much time to order food and can enjoy delicious food in no time. So many variables are involved in this and top food apps like Grubhub and Foodpanda extensively use this menu refinement function.

Advanced marketing campaigns

If you are able to accurately predict future trends with good insights, then it will be easy to make your food app startup sustainable. Data analytics tools are capable of accurately predicting future eating trends and this valuable data helps to do marketing campaigns and partner with specific restaurants.

Streamlining the market is vital to food app startups because many of them mindlessly expand the market without keeping in mind the sustainability factor.

This predicting tool to find future trends helps you to streamline the service and increase market share with less capital.

More accurate route optimization for instant delivery

Route optimization is already present in food apps for the delivery agents. But there is one flaw in that, once a route is locked based on instant data, it will remain the same till the end.

This flaw violates the basic idea of quick delivery. Delivery agents too are getting penalties when the route is not followed. But the latest machine learning tool powered by data analytics can update the route in real-time. Thus making possible for the delivery agent to follow the most optimized route for delivery.

Aesthetic score for menus to increase viewability

Generally, the restaurants have to give a picture of the menu along with a description while listing to attract customers. Off late, this process has backfired since the pics don't match with the delivered food items most of the time.

The main problem lies in the type of pictures used. Poor quality or irrelevant pictures influence the choice of users. But this problem is innovatively tackled by Ubereats and Deliveroo.

Image Source: https://analyticsindiamag.com/

They use machine learning tools to give aesthetic score to each picture automatically. This tool is more or less like a moderator to reject pics. This type of sorting of images got an impressive response for food apps which is reflected in their sales nos of restaurants.

Do these data-driven features available in SpotnEats?

SpotnEats food delivery app is consistently changed based on market dynamics. We have a separate team to build machine learning models required for various functionalities. Then it is tested on multiple devices to check its performance. Once finalized, we deploy it into the app solution or apply it to existing apps.

Apart from the above mentioned data-driven functionalities, we have transformed many existing features into data-driven like route optimization, most ordered menu, most sought after restaurant, etc.

Wrapping up!

What makes these functionalities attractive is that they can be used even by small tech food startups. It is a golden opportunity for you now to use these data analytics functions and excel in the food ordering sector.

Time and effort invested in it has impressive ROI. Team up with SpotnEats to get your food app fully loaded.

Connect with us at [email protected]. Our business team will ping you immediately.
Get your Free Demo: Whatsapp | Skype