Arab countries are used to calling itself a good food culture region. People from Arab countries are also providing 100% of quality food. Though they provide quality food, there is also more demand for the delivery system where people can get their foods at their doorstep.
Here, let me share with you the best region in Arab to start your own food delivery business, this blog will guide you on how to gain more profit with your food delivery business and to become a tough fight to the top tires.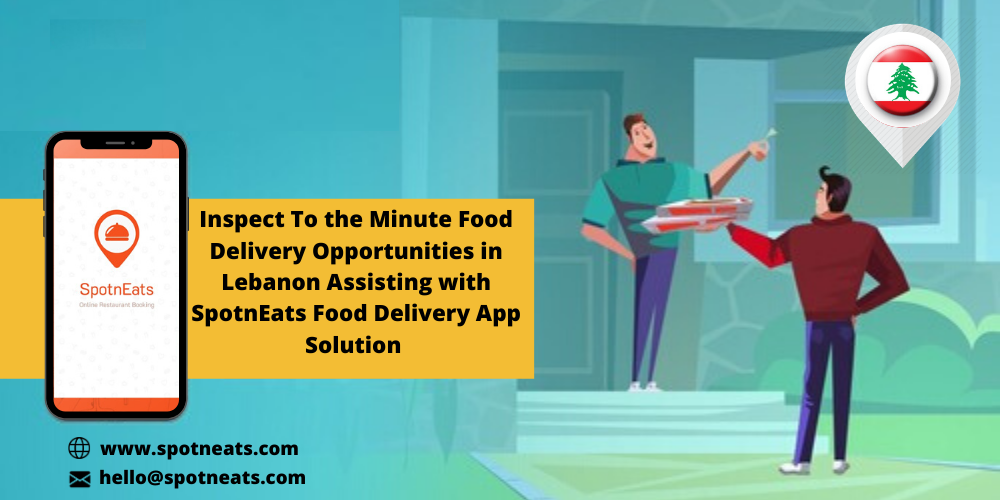 A Good Start for New Firms for Online Food Delivery App in Lebanon
In 2020 the food delivery sector has become one of the major contributing sectors in Lebanon. Where the new firms are starting to invest their money in the food delivery system, to make their own place in the market.
The users of the food delivery system in Lebanon are gradually placing their orders online. The statistics say that nearly 20-25% of people place their orders regularly online, for quick delivery of their tasty foods.
The main key factor that has enabled this on-demand food delivery business is more flexible by the innovative Food Delivery Tracking Software that facilitates food lovers to receive the food that they have ordered at their doorsteps.
This shows the rich quality of Lebanon for the new firms but still, they struggle at a point. The major challenges that new firms are facing in the food delivery business have listed below
To meet customer expectations – Nowadays, people can order anything from their phone with just a few taps. But, when it comes to the food delivery system, the user's expectations are high and many new firms are filed to fulfill their customer's expectations with their poor software.
Difficulty in the order management system – If your application software doesn't have a good efficient order management system then it will become the hardest part for restaurants to manage the user's order. This will also lead to the next challenge "high risk of missing deliveries".
High risk of missing deliveries – People regularly use it to order their food through an app. When running a food delivery business it's a must to manage your user's orders correctly if it is mismatched, then you will be losing your customers due to poor customer service.
Lack of Tracking system – Tracking the food is a crucial part of the food ordering and delivery system. Because it gives a clear idea to the users when their food will be delivered to their doorstep. But many startups lack the tracking system.
These are the major challenges that have been faced by new firms. This can be solved or overcome only with the help of well-developed software. Keep reading to know how our software SpotnEats overcome these challenges.
Before knowing about our software, let me explain to you the three possibilities of the food delivery business to earn your revenue.
The possible ways to earn high revenue using a food delivery system
Starting a food delivery business is not an easy task but it can be done easily by good software. Before getting to know about the software and its specifications, you should know about the possible ways to earn money by using the food delivery system.
Restaurant food delivery system – If you have owned a restaurant and want to earn high revenue by getting more orders. Then you can take your business to the next level by developing an application for your restaurant.
Cloud kitchen food delivery system – Even if you don't have a restaurant it's not a problem. The growth of innovations in 2020 provides a solution for everybody. Here you can start your own cloud restaurant by just appointing a chef and a manager to maintain your online orders.
Cloud kitchens act like taking home systems, people can't hang out there for having their food.
The above two models should have a third party for delivering the ordered foods. But I suggest having your own delivery team. This will reduce the loss of revenue in your food delivery business.
If you are the type of person who doesn't want to manage a large process but still you want to be a part of the food delivery system. Then, the third model is for you to develop your own application and link it with the restaurants in your region.
Here you act as an admin and you will get the instant notifications of the orders, delivery details, the commission cost and billing details of each order that has been placed by your application. If you had traveled with me till now, then you might have guessed the problem.
If your food delivery business doesn't have a good application where you are able to manage all your orders and to meet your user's expectations. Then you will be losing your revenue gradually. Here I suggest you choose our software SpotnEats.
Best clone software SpotnEats
SpotnEats is a modern software solution for all on-demand food delivery systems. We have developed our application in such a way that it overcomes all the modern challenges that have been faced by the food delivery system.
You might be thinking of developing your own application to start a unique food delivery business. Developing a new application from the starting stage is difficult due to the more costs than the time. But what if you get the exact application as top tires?
Yea, then you're in the right place where you can get the exact clone version of the top tires like Uber eats with a full scalable option. Why fully scalable? This will help you to add or remove the futures as per your needs with the unique design.
Some might think that building or launching a clone application is illegal until it has been developed in the right way. We are grouped as a variety of developers from various frameworks and OS.
You will be benefited from the good unique designed application which will overcome all the challenges and will help to gain more revenue in your food ordering and delivery system. Here let me tell you how your application will overcome the above-mentioned challenges.
Monitoring Under One Roof – The admin allowed to view all the work processes of the application from the new user registration to the rate and review of the delivery system. With an interactive dashboard where the admin is able to check the total number of orders, available delivery boys and the delayed orders with a graphical manner.
A quick login and seamless search option – The first thing that users want from your service is simplicity and convenience. Where they can do the process of searching, ordering, and payment as simple as possible. This feature will overcome the first challenge with a quick login process and a seamless search bar.
Efficient food ordering management – With the help of this feature, the restaurants are allowed to manage their orders in a well- organized way. They are also allowed to update their daily special cuisine with just a tap. If you have an efficient management system to manage your orders then the work can easily get done. This also reduces the missing delivery challenges too.
Real-time tracking – The users are allowed to track their orders in real-time, this feature will also give the exact drop time of their order. This also allows the drivers to track the users and they are also able to optimize their route for quick delivery.
The above mentioned four features in SpotnEats overcome the challenges of the food delivery system and also increase the revenue in the food delivery startup in Lebanon from the first order.
Get your Free Demo: Whatsapp |Skype
Final say
After reading this blog, you might get the one thing for sure that to run a food-delivery business successfully, you require a well-developed food delivery software. We are here to aid you with a well-developed application.
With SpotnEats launch your online food delivery business in Lebanon and I'm 100% sure that you will taste your success soon. To know more features, fill the form below and we will reach you soon. or tap a message to [email protected]