If you are interested in cooking but do not have enough money to open your own restaurant. Then I suggest you choose a catering business. That allows you to earn extra dollars by yourself without anyone's help. Then you can make it happen today at the end of this blog.
You can kick start your own catering business easily with just a few steps. There are a variety of social and business events that are appointing a good catering service. This is an opportunity for you to cook up tasty dishes and delicious profits.
The major three market events that allow the caterers to gain high revenue are corporate clients events, social events, and cultural organizations for schools or colleges. Doing all these makes you gain revenue but doing it manually is really a rigged task. But an application can do it for you and it reduces your work by 50%. One such application-based solution is available with SpotnEats. Here, let me tell you how to gain high leads in your catering business.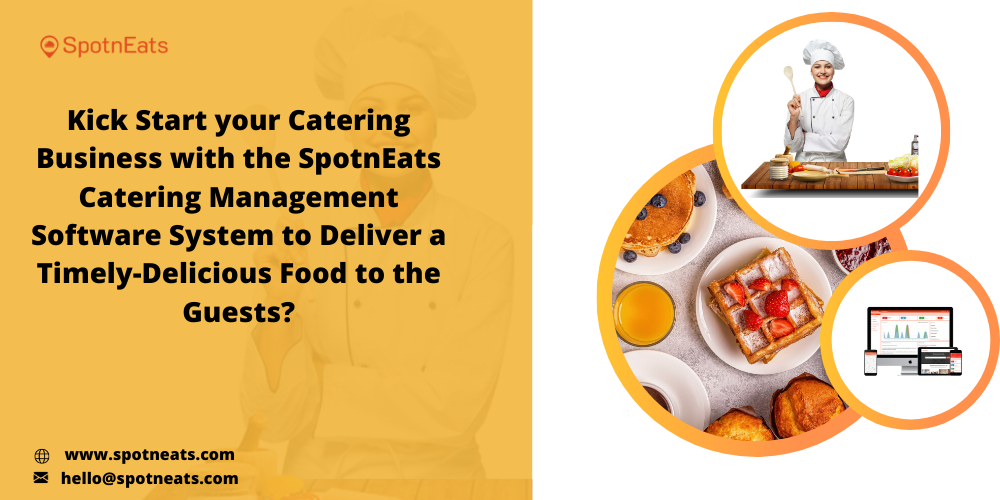 How SpotnEats Catering Booking Software Helps To Gain High Revenue For Your Business?
Before getting started with a catering business, figuring out how to promote a venue or how to create buzz around your catering business. If you start to explore it before you start your catering business it won't be a daunting task.
Identify the customer – Your first step is to identify who all are your potential customers for your catering business. You can't simply hit the fame and a fruitful result in your business without a target customer.
Many of them start to market their service to a bunch of people who might not even be interested. This will drag down the revenue of your business easily. So that you should keep marketing with the targeted customers who all are interested.
The first impression – Once you start your business the customers will book your service only if they have hope for your service. It can be gained by the first impression of listing your service, offers, and discounts.
Or else you can fix the price of your service according to the season or venue they are booking, namely wedding, party, first cry, etc. In the recent world, the leading generation is expecting something unique in your service.
Gaining the relationship – Of course, it is not just enough to attract them, all you need is to be in contact with them. This allows you to update them with your all offers and discounts. By doing this make the customers come back to your service rapidly.
By providing a simple form asking the customer to provide their details: name, phone number, email address, and type of service they may be interested in. Gathering that kind of information is critical, but if you keep asking too much it will scare them.

Segment the collected leads – The next step is to make the leads to book the next service of your catering business. This can be done by suggesting to them the relevant service of what they have booked you.
For example – A birthday party means you can suggest an add-on offer as the dinner service with special offers and discounts. This is one of the marketing strategies that you have to follow in your catering business to make more bookings.
Doing all these makes you gain revenue but doing it manually is really a rigged task. But an application can do it for you and it reduces your work by 50%. One such application-based solution is available with SpotnEats.
Our online catering management system brings visibility to your brand among your region easily within a short period of your application launch. Here, let me tell you how our software reduces your work and brings visibility to your catering business. Keep reading to know more.
Get your Free Demo: Whatsapp | Skype
SpotnEats catering management software
SpotnEats is a modern software solution for all on-demand food delivery systems. By choosing our service you will be benefited from a pre-developed software application with 100% flexibility.
We keep ourselves updated with the latest technology to give you a unique solution for your catering service. With the help of our software, you can quickly launch your application in your region in a short period of joining your hands with us.
We guide you with before and after launch service for a certain period of time. This allows you to run your business without any lags and bugs in your application. Here, let me explain to you the tools in our delivery management software that speed your workflow.
SpotnEats software tool that allows you to gain high revenue and speedy your workflow
It goes without saying that our catering management software will give a feel intuitive and natural unique user interface design. On the other hand, our software is cloud-based applications that add the convenience of auto-updates and cloud storage of your data.
Our solutions are also mobile friendly and can be used in both the platforms (iOS and Android). This gives another advantage for your business; you can attract both the users easily.
Event Booking Management – All the events can be easily managed under your dashboard. Since it is integrated with your in-built calendar that helps to remember your schedules simultaneously.
This tool gives a clear picture of all your bookings, your availability to your customers and it makes sure that there is no possibility for double book a date, time or space. This shows the customer your service availability and offers.
Billing and in-voice – Getting paid is a priority in every business, but the catering business has specific needs when it comes to the tools you need to bill your customers correctly. This tool helps to generate the bills for your customers digitally.
Since it is digital, there is no missing of the bills and this can be reviewed in the bill-history option in their respective application. In catering charging customers, installments are very common, so this tool is for creating payment installments and the full payment.
Order Management – If a detail doesn't make it into a catering order, then it will drag your business down quickly. Our catering software allows you to store and access your orders, starting with proposals. You can track your orders and modify orders in real-time with full detail.
CRM – Our catering CRM tool is used to store a wealth of information about your customers including their order history, billing history, and communications history. This not only saves your customer's details but also the staff members, contractors and any vendors who you partner with.
Menu and Special Foods – Give access to your menu so that you're allowed to edit at any time. Every dish with the review lets the customers book the best one. Attractive food photos are organized neatly and will help customers to choose their orders easily.
These are some of the tools that permit you to access your catering business easily and quickly. Here, let me tell you some of the effective key-features that make your catering business promote speedily in your region.
Effective key-features in catering business management software that promote your business
Rate and Review – This is one of the best features that allow the customers to say about your catering service story. This feature helps to promote your service by your happy customers. By seeing those reviews and rating the upcoming customer will prefer your service as first.
Pop-up instant notification – This feature helps you to stay ahead among competitors and connective with all your targeted users. The pop-up messages help to convey all kinds of information such as discounts, offers, and location-based offers.
Social media integration – There is no doubt in the past few years social media has become more popular. The users can quickly log-in with social media and they are allowed to share their food story of your service. 
Get your Free Demo: Whatsapp | Skype
Bottom Line
Building and managing the catering service is not easy until you have a well-developed catering booking software like us. Manage all your orders and menu cards easily by just a tap. By using our software you can easily meet your user's expectations and make your small scale catering business to a large scale. Still, why are you waiting? contact us today [email protected]. We will reach you soon.