Our love for food has never stopped, so that brings popularity to an on-demand food delivery business where the people can order their favorite foods from their favorite restaurant. This gradually brings the favorite restaurant to your doorstep.
Even in the middle of the cooking, you can place the order and it will be delivered to your doorstep quickly than before. Technology has improved more and the services too. Premium cookie delivery is one such solution where you can place the order of your preferred cookies and it will be delivered the same day of your order.
The average revenue growth of the cookie business globally is 11.8 billion at the end of 2018. Each year the growth of the cookie delivery industry is expected to grow 2% but it is expected to grow double the amount at the end of 2024. So it is a nice opportunity to take your place in the global market of the on-demand delivery industry.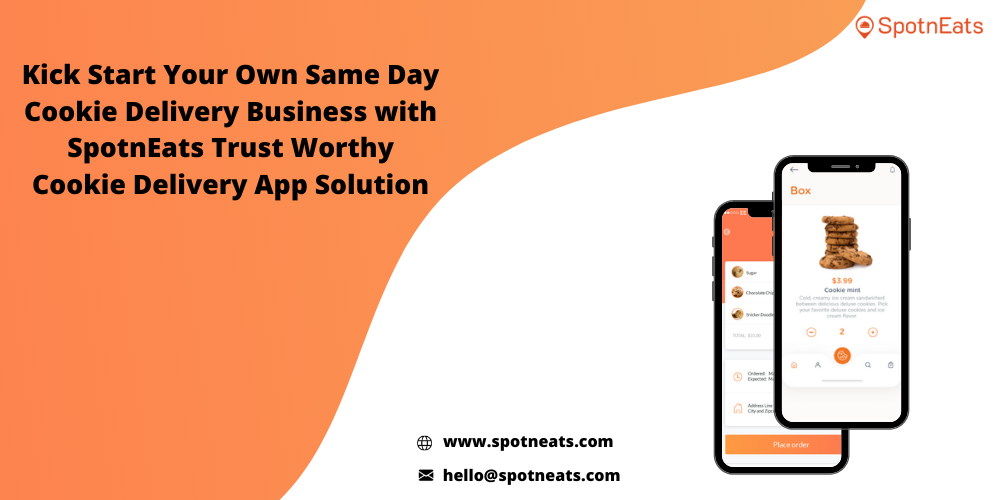 What Brings A Good Start For The Premium Same Day Cookie Delivery App Solution?
Nowadays, people are expecting to give premium cookies as a gift or to get it. So here comes the need for the cookies in the delivery business. Though the need for the cookie is never less than before still, people love to have cookies as they prefer even if it is noon or early morning or at midnight snack.
So cookies play a major role in everyone's life there are no age limits in tasting the cookies. When it comes to seasonal time like summer kids love to have their own preferred cookies at every time. You can't get cookies at your own time because shopping is quite difficult in this modern world.
Here comes the on-demand cookie delivery service startup where you're allowed to place your order and drop time according to your preferred time. If you're an entrepreneur who is looking to kick start a high revenue gain business then our expert's suggestions are to start an on-demand cookie delivery business.
But before getting into an on-demand business you're in need of an application. Before getting into application development, here keep a note on the major issues that should be avoided during the development process of your on-demand cookie delivery app. Keep reading to know more about it and our service.
The major mistakes you must avoid while developing the on-demand applications
If you're interested in an idea to start your business with an application then you should be a concern in certain issues. Normal applications developed involve Scope, Budgets, Designing (interfaces), Developers, Testers, Analysts, and a hundred other things. This shows that an application handles a lot of other processes that sum up to give final successful results.
You should ensure every time whether your application process is on track. This lets you bring a good final result as a product. You can also learn it from an experienced team or a group of developers. By learning the curves in the application development will let you know the blind spot that drags your service down gradually.
Here I have listed a few of the major blind spot issues that should be avoided while developing an on-demand application as listed below
Avoid too many features – If you take a look at the top tires they will be providing the required features for their service. But when you take a look at other services they will be providing unwanted features too. When your application provides un-necessary features it will make your customers irritated quickly.
Improve the in-app process – This is one of the things that you should priorly monitor or take a note on it. If your application is not developed with the latest technology then it will not withstand your competitor or in your region for a long time. So you should give high priority to the application process.
Designing and developing – Normally the designing and the developing process play a major role in application success. Once your application has an attractive user interface that brings the best user experience. This can be easily gained by the latest UI/UX designing team or designer.
A designer's workflow should be understandable to the developers so that it will reduce the developer's work and give you a smooth finish. So it is an important task for the designer to design the process in the shoes of developers. However, both needs are very much needed to build a good application.
Build it at once – I'm sure that still many people are unaware of the cross-platform and hybrid. So before getting into an application development be aware of certainly updated techs in the current application development process. Building an application on multiple platforms has become easier and it's a better idea to launch your service on different platforms.
There are many things that can be easily gone wrong in an on-demand application development system. So it is the best idea to be well-aware of the major and minor issues. Here, by joining your hands with us you can easily get an on-demand application that has been developed and designed according to the latest trends.
SpotnEats same-day cookie delivery app
SpotnEats is an advanced software-based solution that allows you to overcome the issues of on-demand delivery services. What benefits do you benefit from choosing SpotnEats? Here, you will be benefited from a pre-developed application with niche features at an affordable price. We are joined as a group of experienced developers to give you an advanced application.
Why do you have to choose our pre-developed applications more than others in the market? This question might have arrived in many entrepreneurs now. But you have to get adopted to the latest method, nowadays business people are preferring a pre-developed application than a traditional one.
In SpotnEats the application has been pre-developed with the latest technologies so that it gives you 100% flexibility. It can be re-structured according to your cookie business requirements. So by choosing our on-demand cookie delivery app you will get a full package of four interfaces on both the platforms (iOS and Android).
These four interfaces in your cookie delivery business application as listed below.
Customer's app (iOS and Android),
Cookie store's app (iOS and Android),
Cookie delivery app (iOS and Android),
Admin web panel.
Here, let me share with you the 5 steps of your same-day cookie delivery app solution workflow
Step-1 (Register and Request) The Customer who is in need of a premium cookie service should register with your cookie delivery application to continue with your premium service. Once the customer is registered they are allowed to check the nearby stores who are ready to accept their request and then the customer can send them the request.
Step-2 (Accept and Pickup) Once the premium cookie stores receive their service request they can easily accept or reject it. Once the service-provider accepts the customer's request it will automatically notify the nearby pickup agent to pick up the cookies from the stores to the customer's destination.
Step-3 (Schedule your drop) The customer is able to schedule the drop according to their preferred time. It can be done by just a tap on the schedule button on the order screen, it will instantly ask the date and time of the order to pick up and drop. This will help the customers to get their cookies at their preferred time.
Step-4 (Service fare) The customer has to pay the required charge for the service and the time they preferred to drop at their doorstep. The service charge will automatically notify the admin's dashboard commission fees. The admin is allowed to track and monitor all the processes in the centralized dashboard.
Step-5 (Service rating) Once all processes are over in the cookie delivery business. The customers are allowed to rate and review the service provider and delivery agents too. This brings transparency to your delivery service. You as an admin can check this and change your service accordingly.
How SpotnEats key-features makes your premium cookies gifts and baskets delivered freshly in a short period of time
Quick log-in or sign-up option – With the help of the social media integration the customers can easily and quickly log-in to continue with your delivery service. Since it is a social media integration, it won't take too long. Within a fraction of sec the customer is able to signup and place their order from your app.
Accurate order monitoring – Once the customer places their cookies order they are allowed to track their ordered service driver and with the actual drop time. The delivery service agents can also track their customer's drop locations with multiple route optimization choices. The driver can choose the short distance to improve his delivery service time.
Instant Cookies offers – This feature helps you to stay ahead among other service providers in your region. It also allows you as a service provider to build a connection with all your current and potential customers easily. The pop-up offers and discounts help to convey all offers and make the customers keep engaged with your application service.
Cookies feedback system – This is one of the best features that bring transparency to your business. It allows customers to rate and review the service provider and delivery agent's service. By checking those feedback you as an admin can bring the changes in your service easily to gain the customer's loyalty.
Preferred pick-up and drop option – Your customers are allowed to customize their cookie drop service according to their preferable time. This helps them to personalize their pickup and delivery time according to their requirements. This gradually brings the full flexibility option to the customers.
Bottom line
By now I hope that you might have acquired the knowledge about the premium cookie delivery business. If you're interested to kick start your own same-day cookie delivery app then we are here to provide you 360-degree support. So that there is no need to worry about anything in the application development process. Still, why are you waiting? Contact us today at [email protected] or by filling the below form and we will reach you soon.