In 2020, there is a future for many businesses to grow and a steady growth in the revenue in the upcoming years. In that, fish delivery service is one of the top-rated services in which people are in need of an aquarium set up in their home or office. So, there is a demand for the fish delivery service in the present and future.
Depending upon the products and delivery service time, either it has a good reach or not. Everyone loves fish and people are in need of an entire aquarium set up in their place. It helps to keep the people calm and makes their mind free. Here, comes the solution for them as an online aquarium fish delivery service.
If you're an entrepreneur looking for an on-demand delivery service, then you should consider this service. This blog is all about the fish tank delivery service, since it is an on-demand delivery service. It means you're in need of an application but how to know the software exactly suits your business.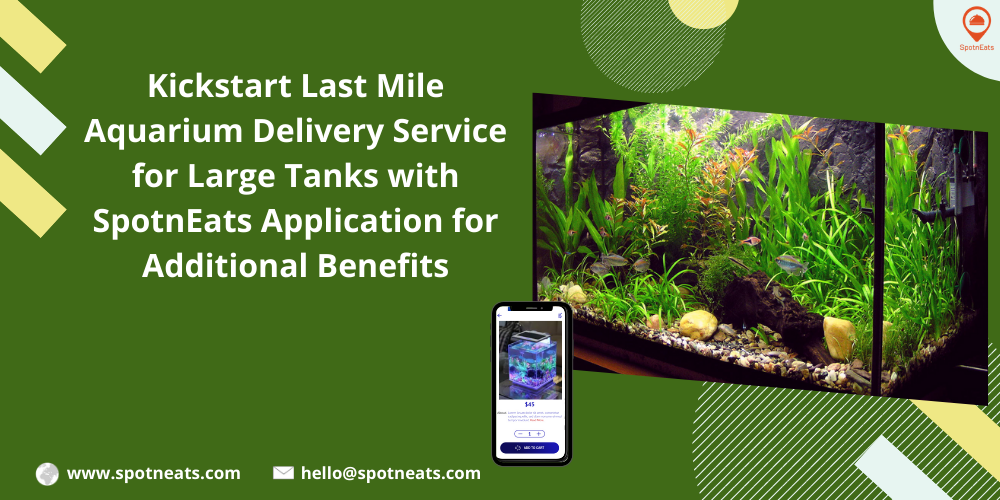 Facts To Be Considered Before Choosing An Online Platform For Fish Tank Delivery Business
To be frank, every software application features would look like an essential one but they don't. The needed features can be found only with the well-planned business model if your business model is in need of quick service. Then, your application features should have the most advanced fast features to reach the customer's expectations.
The real success of any on-demand delivery business takes place in the marketplace platform is how much time they have put in analyzing their business and customers. Without getting the required details, you aren't able to get an application for your aquarium delivery business.
Let me say a few facts that need to be considered as the high priority while selecting the application platform as follows
Streamline your real objectives – Your application should let you reach your business goals, so you have first considered the real objectives of your business. Then you have to check the application that really suits your business models or demands. If not, try for another software. So, the application should have such features that let you reach your business revenue goals.
A clear version of the business model – Every delivery business runs under on-demand service by fulfilling the required needs of the customers. For example, your business is an aquarium delivery service startup then to gain a customer's relationship you should consider the multiple route optimization option. This feature lets the delivery agents reach the customers soon. Without knowing the business model it is a waste to purchase an application.
Device compatibility – According to the recent survey 60% of the young adults use to order everything through their mobile phone and adults use to order through tablets. So, your application should be compatible with any smart device. If you adapted to one such solution for your business then you can gain the profit easily without losing any customers in your region.
Other than the above-mentioned facts your application should also provide a variety of options for the payment process. Certain platforms will let the customers pay their service charge easily according to their preference. One such solution is available in the SpotnEats aquarium delivery application. Keep reading to know about us and our service. 
Get your Free Demo: Whatsapp | Skype
Add-on benefits of choosing SpotnEats fish tank delivery app solution
An enterprise delivery application platform facilitates the entrepreneurs to sell their products online. Typically, these types of application-based software are providing additional benefits to the marketplace that are ideal for corporate businesses. So, enthusiastic entrepreneurs are looking forward to getting one such application for their business.
When it comes to application development, the entrepreneur's first choice is SpotnEats. Yes, we not only provide an application according to their business demands but we will also work into the application on-field. This helps us to get the customer's feedback and let us re-develop the application according to it successfully.
Re-developing an existing application? yes, SpotnEats is a pre-developed application with essential features. Our developers use to update the application on a regular basis so that we ensure on providing the best service to our clients. Since we are ready with the application, it can easily be modified according to your business requirements.
Either adding a feature or removing it, anything can be done easily with our application. This shows the flexibility of our application, other than that you can also get instant solution for your demands with our service. Yes, since everything is readily available it won't take much time to restructure it according to your business model.
Aquarium shop's application (iOS and Android),
Delivery agent's application (iOS and Android),
Customer's application (iOS and Android),
Centralized admin panel.
These above mentioned 4 interfaces will give you a smooth workflow in your fish delivery service. With the help of our application, you can gradually increase the ROI in your business. Our application lets the service providers manage their shops too. Here, let me share with you the aquarium delivery process as follows
Step 1 (User's Register and Service Request) – The user who wants a unique aquarium set for their home or office they have to download your aquarium delivery customer application and fill the required details to continue with your delivery service. Once they finish the registration, they are allowed to check the nearby aquarium service.
Step 2 (Store's Accept and Pickup) – Like customers, the shoppers also have to download the store application from the app store and register with the required documents for the admin's verification. Once the admin verified, they are allowed to showcase the fishes and fish pots. They are able to receive the request from the customers.
Step 3 (Scheduled Pickup and Drop) – The customers are allowed to schedule their delivery. This gives the most convenient option for the customers because they can pre-order the needs and fix the delivery time/date. These dates and times will be automatically updated in both the player's calendar.
Step 4 (Delivery Service fare) – The customers have to pay the charge for the delivery and the fish they have ordered using your application. This payment method has been made simple with a multi-choice option so that customers can choose their preferred method of payment. Once this process is finished, it will take the customer to the next step.
Step 5 (Service provider rating) – Once the above mentioned all the operations are successfully completed, it will take the customer to the final processes service feedback system. The customer can rate and review upon the service provider and delivery agents. This process brings transparency to your service.
These 5 processes take place with the help of niche key features that are readily available in our application. Customers will get fed-up once they feel the unwanted features so we have developed the needed features that let you manage and meet your customer's expectations. Keep reading to know about the features.
Brand your aquarium fish home delivery service with SpotnEats essential key-features
Fish Delivery Management – Once your application makes the store's task simple, then many other stores will get linked with your application service. So by taking into our mind we have developed this feature that makes the store owner manage their orders and delivery agents easily with just a few taps.
Orders scheduling – To make the customer's attention this feature has been integrated with your application. It helps the customers to schedule their order pickup and drop. Moreover, it gives full flexibility to both the users, once the customer schedules the order. It will automatically update the end users instantly.
Ordered aquarium management – The store manager's work is even more simple with the help of this feature. Once the customer places their order, the store manager can manage it easily with just a tap. They can sort according to the time or date. If the orders have more means then sorting according to the date will be an easier option.
Multiple route integration – To meet the expectations you're in need of a quicker service but in rush time? It is doubtful, right? So we have integrated this multiple route optimization option. This lets the delivery agent choose the preferred route from the different choices and let them reach the customer's destination quickly.
Aquarium capacity tracking – The store manager can also track their aquarium easily with this feature tool. This lets them know about the fish in stock and ordered stocks as well as needed stocks easily. It will intimate the store owner about the needed stocks. This feature will send a reminder to the service provider about the un-available aquarium stocks.
Bottom line
Running a business without the help of an application is the toughest job. That too when you're transforming your traditional store into digital. Because this happens due to the sudden transformation but taking your business to the next level brings visibility in your region. Building a strong reputation in the digital marketplace has been made simple with our software solution. 
Get your Free Demo: Whatsapp | Skype
Always be more specific on what you want. When it comes to application development, more specific as per your demand. Please fill the below form with your demands or contact us at [email protected] and we will catch you soon with the right solution for your demands.