How many of you know that pizza was the first food item to be delivered at the doorsteps. Many pizza outlets mainly in the western countries embraced the call and order model for pizza delivery. So, pizza delivery is the precursor to the present online food ordering and delivery of all sorts. Even after all the Uber and Foodpanda like startups, standalone pizza delivery is making waves in the market.

Quick delivery with no change in taste is the tagline followed by competitive pizza startups. Now, it is time for you to think again for a pizza delivery startup to compete head to head with other startups.

Or if you are running a pizza outlet and not yet have an online food ordering system, then it is high time you adopt the Uber like pizza delivery model.
Get your Free Demo: Whatsapp | Skype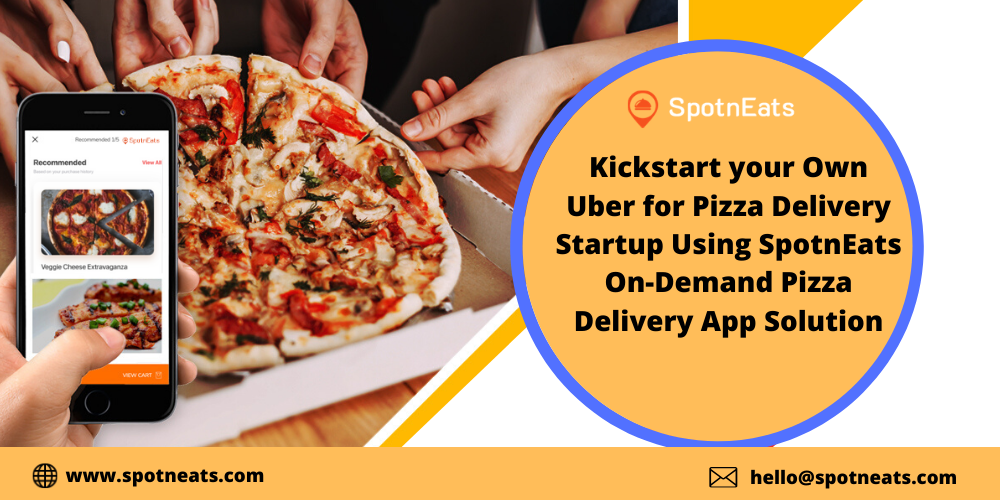 How SpotnEats Online Pizza Ordering Software Helps your Startup Launch?

The on-demand pizza delivery is a unique product of SpotnEats and many factors like design, look and feel are different from a typical online ordering app. When you plan to go online, it is better to employ a finely made perfect app solution like SpotnEats. Below are the apps present in our SpotnEats solution.

Customer booking app(iOS/Android)
Delivery agent app
Restaurant web app/mobile app
Admin web dashboard
App solution for pizza restaurants

The online delivery software for pizza outlets is slightly different in the no. of interfaces. The admin web dashboard is done away with and instead, all its functionalities come into the restaurant web dashboard. The restaurant receives orders; assign delivery agents; dispatch orders; track payment and whatnot.

Mostly, in this business model, third-party delivery agents are not used since the pick up is from a specific place. Multi-branch outlets can also in this system and in such a model, a centralized admin panel can be used.
For online pizza outlet marketplace

This model is the same as that of the Ubereats and Foodpanda, the only difference is that here only pizza outlets are listed. Here, both the delivery agent app and admin web app is present. Additionally, the restaurant app can have a restaurant management system.

This model although costs a little higher than the previous one, the overall benefit and operational cost are drastically lower. So only it is rightly said as the less ownership model.

SpotnEats pizza delivery solution is apt for both the models and our ace team has expertise in multiple verticals and gives you a fully personalized solution for your startup.

Successful startups in the pizza delivery segment

Domino's Pizza delivery

This brand is known worldwide for its pizza delivery. It started as a small shop in the US. They are the first to introduce pizza delivery. Later they went online. It is proven that their sales spiralled multifold after going online. Domino's strength is their supply chain network with strong emphasis on quick delivery.

Highlighting features in this app

Pizza customization

The user app has a separate option to fully customize the pizza before finally ordering. A list of toppings, ingredients, etc is present which can be added/modified by specifying the amount. In-app chat can be accessed by the user to send any specific notes to the restaurant.

Nearest pizza outlet

The nearest possible location of pizza outlets is displayed to the user even if the location of the users is anywhere.

Responsive admin dashboard

Admin dashboard is sophisticated with computation tools, yet easy to use and foolproof. The user interface is meticulously designed to make an intuitive navigating experience.

Daily-earnings

The delivery agent will get real-time updates of daily earnings and upcoming requests. In-app chat is there to send messages to the customers.
How much does our SpotnEats solution costs?

SpotnEats comes in both Android and iOS. The basic source code of SpotnEats comes with a fixed price and additional features cost a little extra. Unnecessary costs are avoided and the script cost also includes basic customization and technology incorporation.

Extended customer support is offered free of cost for sometime and beyond that, a nominal fee is charged. Full support will be provided by our developer team until everything is set. Our executives are available 24/7 to look into any issues.

Wrapping up!

Leaving the food market, the pizza segment alone is expected to gain a foothold even in the interior areas of developing countries. Use this opportunity to launch a pizza ordering and delivery app as a marketplace or a dedicated system for your shop.

Launch with SpotnEats to get the unfair advantage of being in the league of top food app startups. Find more about SpotnEats by tapping a mail to [email protected]. More exciting perks and incentives are waiting for you!

FAQs

What will be the type of app development we undertake?

We are equipped to build apps in both Hybrid and Native area.

What is the total cost of development?

The basic app script comes at a fixed cost. Feature addition and customization costs extra.

Who can get this app?

If you are an existing pizza outlet owner and want to go online, then you can enter this startup business. Online pizza marketplace can also be started using this solution.

Can we customize the app?

Yes, since the complete source code is given to you after purchase you can modify the solution independent of others.

Get your Free Demo: Whatsapp | Skype
Do we get any support from you after deployment?

We have an awesome technical assistance package for all clients. The cost of it is free for some time and after that we charge a nominal fee.