Restaurant SCM (Supply chain management) is nothing but the management of the chained restaurant branches from one centralized panel or dashboard. This reduces the mandatory errors easily and helps you to monitor all your chained restaurant's activity from buying to selling. All the details will be updated in one centralized panel.
You can manage your restaurant's inventories, offers, and discounts of all your chained restaurants from the admin panel. It also allows you to manage your staff and delivery agents by just a tap on your screen. This not only allows you to manage your restaurant process it also gives you instant notification of all the workflows.
In simple words, you can easily manage the restaurant forecasting and the ordering system with SpotnEats. Restaurant SCM will gradually improve the efficiency and reduce the loss of waste, and improve the freshness of your restaurant food to provide healthy and tasty cuisine. Here, let me tell you the complexity of the chained restaurant without the SCM.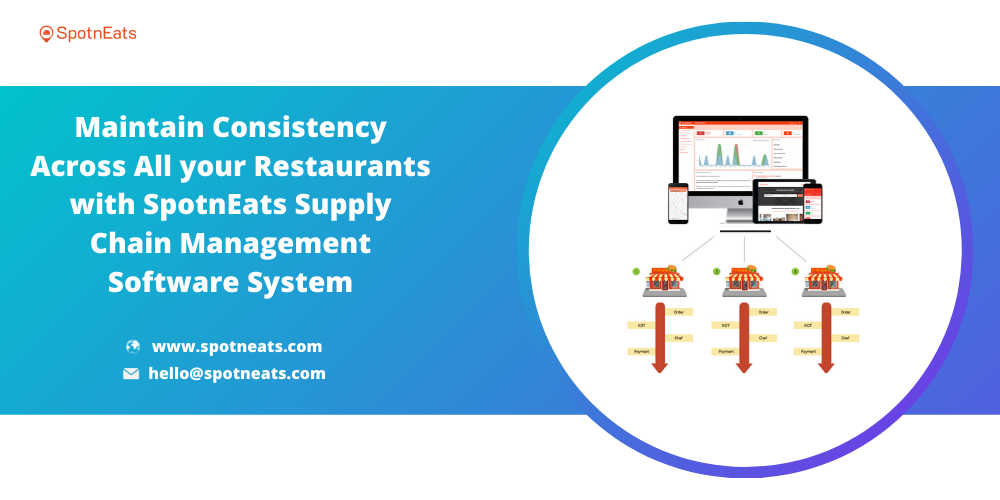 What are all the Complexities for Managing Supply Chain Management Without a Software Solution?
Time consumption – Most restaurants want to be profitable and successful only by delivering a memorable experience to their customers. Customer experience is the key to restaurant revenue growth. In fact, the research says that the experience is carried out by the customer is key growth for the revenue.
In order to deliver such an experience to all their customers, the restaurants should have the right scheduling. And the only way they can do this is through a great scheduled management system to manage all the tasks easily.
Communication barrier – Communication plays a major role in the restaurant industry but in a chained restaurant, it has become a major challenge between the manager and the staff. Though they have tried many ways to overcome it by creating groups in social networks, sadly nothing worked properly.
Good communication allows restaurants to be flexible enough to respond to the needs of their customers and employees easily. By integrating an app, will give you a dramatic improvement in internal communication.
Retention – Keeping hold of staff and customers have long been a big challenge for the restaurant industry. For many employees, working in a restaurant is a stepping stone in their career while for others it's a part-time job while they study.
But, when it comes to customers they are not like employees. You should make your customers keep coming back again and make your employees stay. Once you do these two then you will easily gain more revenue. Engaging with the employee and customers has been proven as one of the best ways to make them stay or continue with your service.
The above mentioned time, communication and retention are the major challenges in the Multi-chained restaurant. But, there is a solution that allows you to easily overcome these challenges easily with an application-based SCM. one such solution is available with us in SpotnEats. To know more about our software and how we overcome these keep reading.
Get your Free Demo: Whatsapp | Skype
SpotnEats Supply Chain Management
SpotnEats is a modern software solution for all restaurant management systems. We have a pre-developed software application with full flexibility. It can be customized as per your needs, add or remove features made simple. Since we have pre-developed, it doesn't mean our software is an old version.
We keep ourselves updated with the latest technology to give the best solution for our clients. With the help of our software, you can manage all your restaurants even across the seas. We are grouped as a variety of developers and everyone is experienced in different frameworks, this shows the potential of us to give a unique product to our clients.
We guide you with before and after launch service for a certain period of time. Our software SCM will allow you to manage all your restaurant branches within a single network. This also allows you to monitor and track all your branches easily with one dashboard. Here, let me tell you how our SCM software brings you high revenue. The results of using our SCM
With the help of our software system, you can easily increase your forecast accuracy to 85-90%,
COGS (Cost of Goods Sold) will be reduced,
Inventory levels reduced radically across the entire network of your branches,
Waste reduced by our kitchen inventory management system,
Reduced delay times for ordering and delivery,
Improved sales and margin performance with a newly updated menu.
How SpotnEats Supply Chain Management brings real-time visibility?
SpotnEats allows you to manage all your branches with one network patented platform. This allows you to share real-time demand and information across all your partners with immediate visibility. It also automated actions of your restaurant workflow that eliminate delays.
Our software SCM allows you to manage the kitchen inventory that reduces costs through the waste reduction of foods. It also reduces inventory management levels and reduces the workflow of employees. This will make your employees communicate with your customers, it will increase the relationship between your restaurants and the customers.
SpotnEats Supply Chain Management benefits for restaurants
Strong POS – POS will manage your restaurant business through effective communication between the restaurant employee and the customer. Our software is easily automated and integrated through a user-friendly point of sale for your restaurants. Integrated with multiple features and they should support 360-degree.
Order and manage – Every restaurant is willing to provide a good quality of food with fresh ingredients, but due to the lack of management system they fail to. Our software SCM allows you to manage and track your kitchen inventory easily and it reduces the wastage of delivery time and ordering system.
Multi-features – Managing the inventory in multiple restaurant stores in a chain process that is located in different places in the city is done easily with SpotnEats SCM software. Our food delivery software features will help to optimize your restaurant business but also give you tough competition over your business competitors. 
SpotnEats SCM system helps your restaurant, with the check before features a centralized ordering of inventory for your multiple branches, safe and security, reports, and regular updates, accounting & feedback, etc. 
Get your Free Demo: Whatsapp | Skype
Final say
Managing a multi-chain restaurant branch is a challenging task. There are many chances of losing your revenue, and your business might be drawn down. Hence, take your restaurant branches with our SCM software that comes in-built with all of the key features for a smooth workflow.
Still, why are you waiting? Contact us today by filling the below form with the required details. We will catch you soon. For inquiries please contact our business lead [email protected].