When you get an online food ordering and a delivery system like Ubereats for your business, along with it comes the admin web panel. It is from here you manage all the proceedings of the online orders. In other words, the admin web panel is the heart of the online food ordering system.

If you are going to operate an online food ordering business, then it is imperative for you to know the complete working aspect of the admin panel.

SpotnEats is a software solution like Ubereats and it is built for restaurant owners and tech entrepreneurs. SpotnEats is our flagship software product with a comprehensive admin dashboard. Let me explain the aspects of the admin panel from the point of view of SpotnEats.
Get your Free Demo: Whatsapp | Skype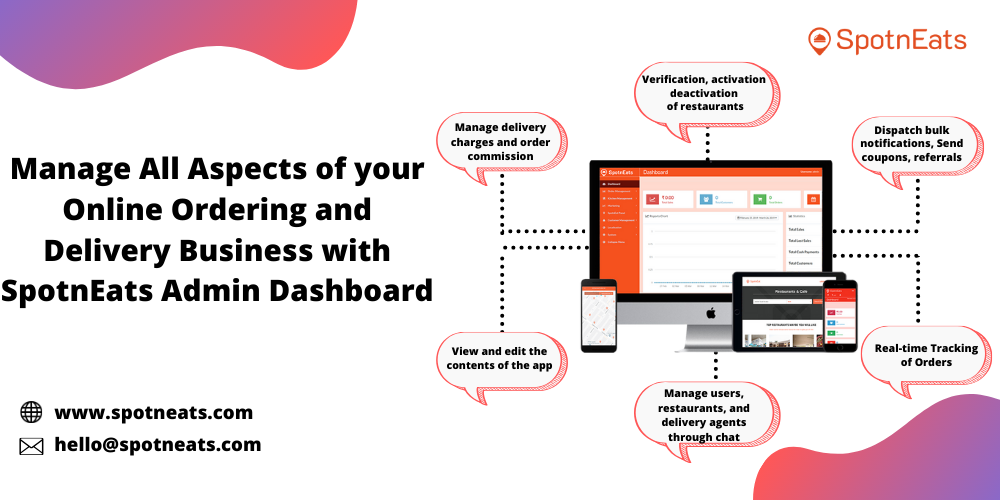 What are the Aspects of SpotnEats Food Delivery App Admin panel?
SpotnEats admin web panel at a glance

View order and order status
Manage delivery charges and order commission
Manage users, restaurants, and delivery agents through chat.
Verification, activation, certification, and deactivation of restaurants
View and edit the contents of the app
Dispatch bulk notifications.
Send coupons, referrals, and discounts
Real-time tracking of orders
Main functions in SpotnEats admin web app

Register details

The register details is visible on the front page of the dashboard. It shows vital details like total active users, total delivery person, ongoing orders, and active restaurants.

Real-time orders

This option shows the current orders, orders completed on-time, canceled orders, and active delivery agents. The no. of inactive delivery agents can be found and using the in-app chat they can be diverted to areas with good demand.

Payments

Payments made via different modes are shown along with the data. This helps you to ascertain the maximum used mode of payment and work on it to improve further. Apart from this, restaurant payments, delivery agent commission details, and other payments are displayed.

The above three functions are visible in the main admin dashboard. If you are using the online delivery system for your restaurant, then additional details like vendor payments, etc can be added.

Some other unique functions of the admin panel

Impressive statistics

Statistics along with detailed reports can be accessed anytime in the admin panel. All data regarding orders, delivery agent details, and restaurant documents, etc are present with editing mode.

Generated reports are assessed and informed decision making can be taken anytime for the enhancement of the delivery service.

Feedback management

This function gives full authority to the admin to view feedback from both the customer and the delivery agent and act on it instantly. It is possible for the customer to specify a particular order and raise grievances. The same goes for the delivery agent. This function gives the admin to swiftly attend to the grievances.

Surge pricing

Surge pricing is the feature to increase the delivery charge of the orders based on demand. The unique aspect of this is that it can be adopted in specific places. The admin panel has an option called heat view which gives an intuitive insight into the area which at present has got a very high demand for delivery agents. This data is very helpful for the proper use of surge pricing.

Delivery agent performance tracking

Active time and idle time of each registered delivery agents can be tracked and using in-app chat you can provide suggestions for getting more delivery requests. Service of the delivery agents are canceled or activated any time based on past ratings.

Inventory and payroll

This option is not inherent to our SpotnEats food delivery app but can be added if the app is a standalone food delivery system. The inventory system functions like a typical restaurant management system.

Based on online and offline orders, the inventory system computes the needs and future requirements and provides data so that last minute hassles on food preparation are eliminated. In the same way, the amount paid to vendors and staff is managed in the payroll system.

We at SpotnEats have more such optional features not generally available in a typical food ordering system.

Why SpotnEats must be your preferred choice?

Our admin web app is robust with sleek design and an impressive user interface. Anyone can operate all the functions in the admin dashboard without much formal training. We have a dedicated team of individuals to assist you and the same team which developed the solution will be giving technical assistance after deployment.

Similar to the admin panel, the customer app; restaurant panel; and delivery agent app are all finely built. If you partner with us, we provide you with a 100% source code of the SpotnEats solution without any encryption.

After purchase, you can scale the app service to any extent and SpotnEats has the technical expertise to assist you.

The app is built with the latest javascript framework so the problem of the security breach is next to impossible.

Final say!

Hope you had a very good understanding about our SpotnEats admin web app. Forget about the customization and deployment of the solution, our team will accomplish it with so much ease. 

Get your Free Demo: Whatsapp | Skype
Contact us on [email protected] to find more interesting details about our food app solution. Quickly talk to us and have a free live demo of our solution.