We are all well aware of the on-demand food ordering and delivery service that completely changes our entire meal routine. In the olden days, we used to hang out at a restaurant with our family or friends to take our favorite foods and to spend some time but due to the overloading of working people.
It is hard to go and hang out at the restaurant because we have to wait to place our order and to pay our bills for the ordered meals. The survey says that nearly an average of half-hour people have to keep waiting to place their orders and to take their meal at the restaurant.
But, there is a solution that allows you to place your order quicker and easier. This blog is all about the table ordering apps for restaurants and how it brings the new environmental experience to the customers as well as the restaurant owners. Keep reading to know why you should adapt to one such service app.
Get your Free Demo: Whatsapp | Skype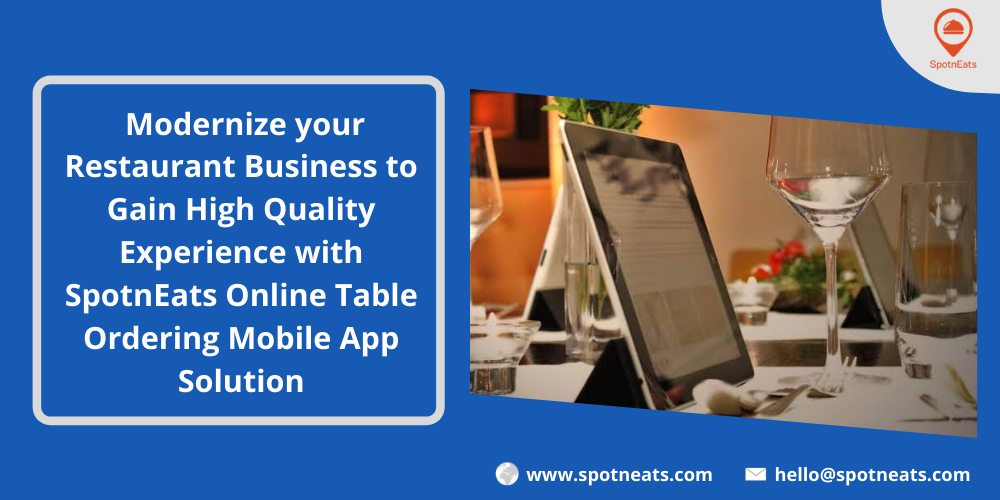 How Restaurant Table Ordering App Solution Helps To Gain Profit In The Restaurant Business?
Here, let me share with you the current scenario in every hotel that is happening. Once you have arrived in the restaurant and seated at a particular place, keep waiting for the server to take your orders or in rush hours it is really difficult. You have to wait more than 10-15 mins to give your orders.
You have to catch the waiter's eye or else they will be missing the orders again and keep waiting. This is one of the reasons why people prefer the food delivery options because there is no waiting time and they are allowed to check all the dishes and menu according to their wishes with plenty of time.
Now keep imagining that you're allowed to book your table orders before you arrive at the restaurant, mostly like pre-order. So that you are quickly able to get your orders, once you reach the restaurant without any delay. After the meal is done, you're also allowed to share the comments on the meal and if you're interested in the tip it can also be done according to your interest.
Sounds great right? Yea, one such solution is an online restaurant table ordering business where people are allowed to pre-order or order their food from their table without waiting for the waiter to reach them. Do you just think which is the best either table ordering system or a normal traditional one?
If you're interested in the table ordering system, then take a look at it. The five reasons why your restaurant should upgrade your serving process into a table ordering system for maximizing your revenue and to provide a completely different atmosphere to your customers within a short period of time.
Complete control to the customers – In the table ordering system, your customers will have more options to choose and check their needs. It starts with the greeting that brings a smile and positive vibes about your restaurant service. This also gradually reduces the time once they finish the meal they can pay it online and move out again there is no need to wait for the bill too.
Improves customer experience – Here are the following ways that will be improved by the use of a table ordering system.
Accuracy of the ordering – eliminate the mandatory errors at peak time,
Instant service – On both sides from the ordering to the payment the process is quicker than usual.
Always customers want a more customized dining experience. By adapting this application you can provide them one such solution easily.
Growth in Revenue – This table ordering system is not only an enjoyable feature for the customers. You as a restaurant owner can also enjoy the growth of your profit. This happens only when your customers are happier with your table ordering system. But to acquire it you're in need of a well-developed application.
One such solution is readily available in the SpotnEats. By adapting our application, you can quickly reach your business goal and it allows you to open your restaurant service across the sea quicker. Keep reading to know more about SpotnEats restaurant table booking service and the features that make the order quicker.
SpotnEats Restaurant table ordering application that shows a gradual increase in financial growth
As I mentioned before, the restaurant table ordering application will allow you to meet your customer's expectations personally even in your busy schedule. Your customers are your highness but you're unable to treat them so at rush hours. Here, with our software solution, you can treat and manage your customer's smoothly.
The benefits of using SpotnEats restaurant table ordering app as follows
Increase in sales – Increasing your sales in the modern world without an application is the toughest job because due to technology growth people are expecting more. The customer's expectations can be easily satisfied through an application. Our application gives one such service that lets you manage your customer's orders.
Improved service – Once you have adapted with our application your service will be gently improved in a modern way. Providing a welcome notice and good works will make the customers happier. This shows that your total attention is towards them and treating them as an important customer.
Detailed orders – Though it is a from table ordering app, many might be confused about which table places the order but here in our application service. We have rectified this issue by a well-developed algorithm that specifies the customer's data along with their table booked visually. So that there won't be any confusion.
SpotnEats' mobile app for table ordering service is a pre-developed application with a fully customizable option. That allows you to customize your application according to your restaurant business needs. Since it is a pre-developed app we have the blueprint for it so it won't take long to restructure it according to your needs.
The complete package of table ordering application consists of four interfaces along with full technical support even after launch for a certain period. The four interfaces are listed as below
Customer's application (iOS and Android),
Server's Application (iOS and Android),
Kitchen's Application (iOS and Android),
The restaurant web panel.
The above four interfaces combined to give a better experience in your table ordering service. Once we re-build your application according to your requirements then we will be beta testing it and modulate according to the results. We will hand over your complete build application at the right time.
How SpotnEats table ordering solution gives full control to the customer's hand?
Quick service access – We know that customers won't be waiting once they reach the restaurant so by taking that into consideration. Our developers have developed social media integration for quick access for your table ordering service. This also allows them to share their table ordering experience with their friends through social media.
Customized self-order menu – Now your customers can able to customize their orders with add-on cushions like juice or dessert according to their main meal. This allows them to show related food that they have added to their basket. Since the table ordering system is no server disturbance so that an app gives all the suggestions to the customers.
Basket tracking – Once the customer places their order they can check the waiting time and cooking process in real-time this reduces their waiting time. Or else the customers can place their order before reaching the restaurant but in this process, they have to pay the cost once they placed their order.
Instant meal offers – This instant meal offers feature helps you to stay connected with your customers at 24*7. By keeping offers and discounts updated with your customer allows them to choose your service more than others. This also helps make the customers keep engaged with your application service.
Service comments – Once the order is dropped on the customer's table they are allowed to rate the server and the chef according to the taste and the time of delivery. This brings transparency to your restaurant service. By keeping an eye on your comments (review from the customer) allows you to make the right decision.
Get your Free Demo: Whatsapp | Skype
Bottom line
Restaurant Table booking application gradually reduces the customer's waiting time in the restaurant after they placed their orders. This allows them to book the seats and the food prior to their reach. So that they can enjoy their favorite foods at the right time. In SpotnEats, you get one such solution mobile app for table ordering service that makes your restaurant grow and gives a completely different experience to your customers. To reach us, all you have to do is fill the below form or contact us at [email protected] and we will catch you soon.