Restaurants are a great business to start in any region. The revenue for restaurants is also seeing a constant spike because of food delivery startups aiding more exposure. Above all, good quality food and perfect customer service is a must to sustain in the market. But, in recent times I see huge competition in this market mainly from franchises and small eateries. These food outlets are making it hard for traditional restaurants to maintain profits.
Noting this, traditional restaurants began adopting measures that help cut costs and get more margin. And to everyone's surprise, some restaurants which effectively adopted certain things posted very good profits and are now expanding to different markets. What do you think they did that gave impressive outputs? They just incorporated a restaurant management software with advanced tools for many functions.
If you are also owning a restaurant and have a restaurant management system in place but still don't see a big improvement, then this blog is for you. Even if you are new to the restaurant business, you will get valuable insights.  
Get your Free Demo: Whatsapp | Skype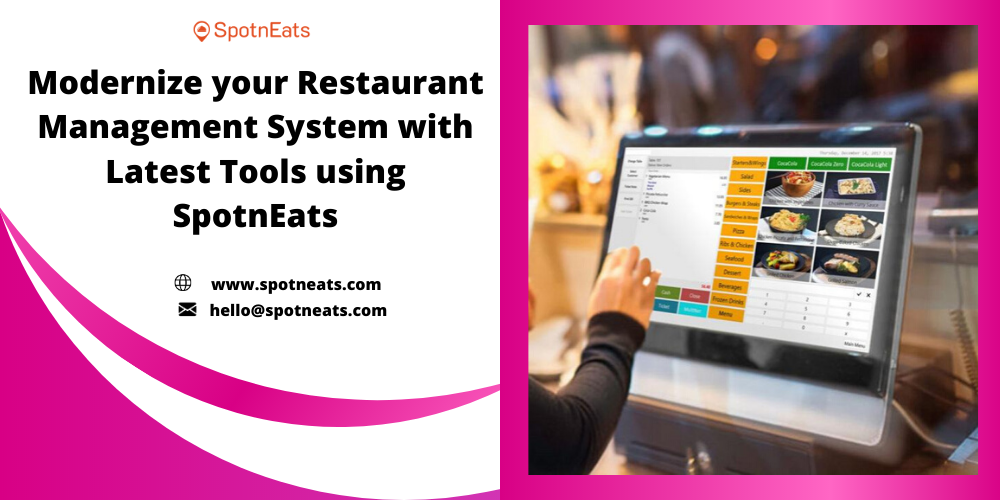 What is Restaurant Management System?
It is a computer-based software that helps the restaurant to streamline all the operations of a restaurant line online delivery, dine-in orders, payroll, inventory, cooking, assigning delivery executives, finances, and analytics of business. In other words, it is similar to a restaurant POS system. The result is you will get an increased efficiency in managing the restaurant and easily find areas where costs can be cut.
Modernization of the restaurant management system
Modernization is needed now to be in line with the current trends in technological advances. We are a development company focusing on on-demand food apps and restaurant management software. A holistic approach is needed to overhaul the system and we say this based on our experience with clients worldwide. 
Our product SpotnEats is our latest offering with modernizations done on all existing functionalities. Our new software is already used by our clients and they register an improved customer experience.
Menu customization(both dine-in and online)
The existing menu customization involves a cumbersome process of editing the menu in the web panel. For online ordering, any menu edits will take a little longer to reflect in the customer app. These limitations are now rectified and now you shall edit the menu, reorganize, add/remove menus, add notes, allergy cautions, etc.
In online delivery, the menus can be edited in real-time so as to avoid confusion. The admin shall do the edits in no time with no hassles.
Materials catalog
This panel covers all the operations related to raw materials sourcing, maintenance of inventory, new orders, purchase history, etc. each of these functions in our new software has been revamped with enhanced usability. A notification feature is newly added so that it notifies you whenever any material goes out of stock. The frequency of warning(notification) can be changed based on material reserves, new purchases, and material types.
Communication
Cross communication with the kitchen and delivery executives is a new addition to our software. Miscommunication or other confusions can be avoided with this feature.
Loyalty programs
A separate tab for the loyalty program just to keep track of the points given to users was present. Now, a more systematic way to track the loyalty points for online and dine-in customers is offered. Users can be divided and organized based on the number of loyalty points with a single click. Further divisions can also be made based on the type of loyalty points.
Transactions and payments
All payments done online by the consumers are tracked in the payments tab. Payments can be divided based on the type of payment method to find patronage received. Other transactions like vendor payment, delivery fee, commissions, purchases, and payroll are also tracked easily with easy access and hassle-free operation.
These are the most basic functions of a restaurant management system and our team has worked to improve all of them. Because of our effort to modernize the system using our SpotnEats software, some of our users experienced changes and they are.
Nil error in payments and transactions
Since all the transactions and payments are properly tracked and accounted for in the system, there will be no room for errors. Even if there is any discrepancy in refund or payments, it can be immediately spotted.
Good customer experience
Instant update of the menu for online delivery in customer app is a great change and it paves the way for good customer experience. Customers cancel orders most of the time because of the ordered item not available after some time and this affects the reliability of the restaurant brand.
Cloud computing for data storage
The present restaurant management system is capable of working with cloud technology. Hence, you need not have any physical store and can access the system details from anywhere.
In case you want to upgrade to our new system, we do it by taking a data backup and install the new Sporneats system without many hassles.
Get your Free Demo: Whatsapp | Skype
Wrapping up!
SpotnEats specialty is that we can alter the management system for any kind of restaurants like coffee shops, drive-in hotels, bars, brews, motels, mobile eateries, franchises, and many more.
A complete overhaul of the restaurant management system is also possible with us and all you have to do is just tap a message to [email protected]. Do talk with our team and get instant perks like discounts, live demo and a quick tour of our other products.