Medical marijuana otherwise called as cannabis is legalized in many countries and this is something that we should be happy about. There is a common stigma about cannabis that it affects the health and it pushes one to addiction. The legalization in many countries has erased this stigma. Cannabis a.k.a Marijuana has great health benefits and sometimes can be used as medicines.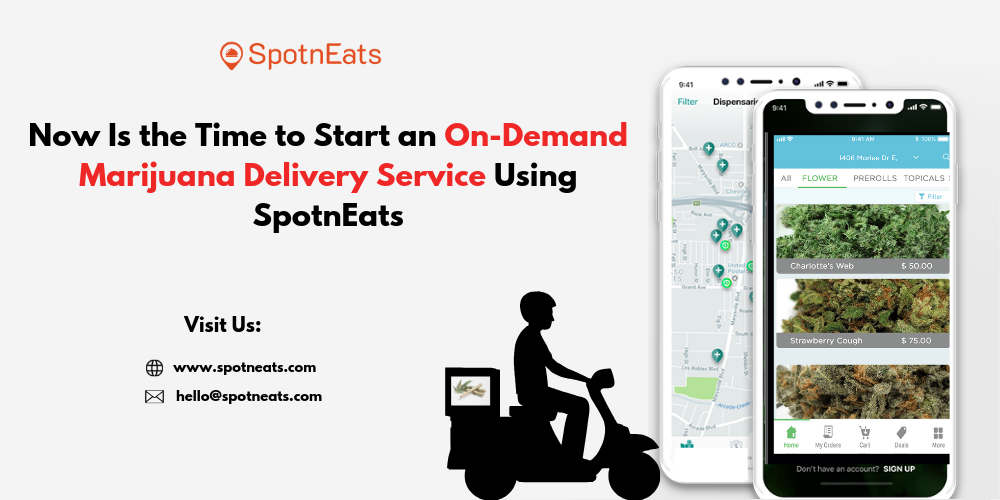 Some Medical Benefits of Cannabis are:

Reduces anxiety
Relieves pain
Relaxes muscles for people with multiple sclerosis
Helps during chemotherapy
Kills cancer cells and stop tumor growth
Using Cannabis:

Inhaling it through a vaporizer device
Eating it with other foods
Having a drop of it
The FDA of the US approved cannabis for medical purposes in 2018. Also, cannabis has a lower risk than many other drugs. Since all are moving to a healthy lifestyle it has become inevitable to use marijuana or weed as natural medicines.

Get your Free Demo: Whatsapp | Skype
Why I am saying all this about cannabis? The use of cannabis has become legal and it would be a good idea to turn it into a business opportunity.

Like any other app based on on-demand business, it is possible to sell or connect cannabis providers to customers through an app. In simple words, it is possible to begin a Uber for cannabis or Uber for medical marijuana startup. There is a huge potential for this globally. The medical marijuana market is growing at an impressive CAGR of 38%. A no. of R&D activities are going on in this area to explore its various applications. It is estimated that the legal marijuana market will be worth $66 billion in 2025.

If you are looking to capitalize the Marijuana market, then starting a marijuana business using the Uber model is the best you can do to enter this market and make money.
Ways You Can Monetize Using On-demand Marijuana Delivery App

There are many ways you can earn money using a Uber like startup. Here I am going to mention only two.

On-demand medical marijuana delivery app as a marketplace model is less risky and pocket-friendly. This model consists of the admin app, customer app, deliver agent app, and the Marijuana seller app.

As an owner of this app, you just help the customers reach the Marijuana seller. For each order placed via your app, you get a commission. You can also earn by making marijuana sellers advertise on your platform.

Another is the direct seller model. Here the only change is that there will be no marijuana seller app because you are the seller here. This is slightly capital intensive and you have to have a warehouse to stock the Marijuana. You directly handle the customer orders. The pricing part is set by you and with this model, you can enjoy a good margin.

That is it about the monetizing methods.

I have already said about the different apps present in Uber styled Cannabis delivery business. Let us now see the top basic features in the Marijuana delivery app.

Hassle-free Registration

For the customers, sellers, and delivery partners, registering their name should be made very easy and seamless in the apps. Multiple login options should be given. Mainly for sellers and delivery partners, uploading the documents and licenses should be quick and easy.

A seamless registration process itself can bring more users to the platform.

Document & License Verification

The customer should also be able to check the background of the delivery agent and seller. Mainly, the seller should have a legal license to sell Cannabis and the customer should see it.

For this, all the necessary licenses and certification must be displayed in the customer app.

Powerful Admin Dashboard

All the details like Marijuana sold by sellers, distance traveled by delivery agents, the total delivery fee paid, money paid to sellers, the commission generated, etc can be seen from the integrated admin dashboard. It also contains analytics tools to find ways to structure and improve the business.

Final Wordings

There is no doubt regarding the growth of the demand for Cannabis in the future. This business is capital friendly and you can prosper in this with less risk. The first step towards success in this business starts right from selecting the best app solution for this business. I hope SpotnEats – Cannabis delivery solution from us will be appropriate for you.

We have a pre-built marijuana/weed delivery app solution and so the need for rework is limited and even some small customizations and design changes can be done in a short period. Our product is affordable, scalable, and can be easily handled by a person with little to no technical knowledge.
Get your Free Demo: Whatsapp | Skype

Please send your business plan and revenue model to us at [email protected]. We are eagerly waiting to work with you. Or Please connect with our expert team at Whatsapp .