Nowadays managing a single restaurant without an application has become a tough job right? When it comes to the supply chain it is complicated, to simplify that you can prefer WMS for your supply chain restaurant.
Here, this blog will provide you full detail about WMS and how it helps to manage all your inventory in one centralized application. To know more about WMS and how our SpotnEats software provides a full form WMS to your supply chain restaurant keep reading without skipping.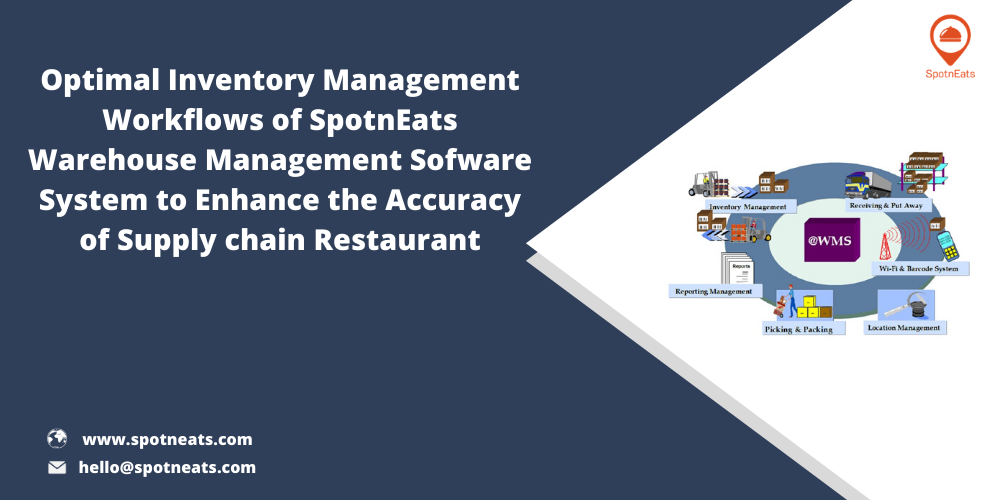 What Is A Warehouse Management System?
A warehouse management system is shortly known as WMS and is a software-based application designed in such a way to optimize your restaurant warehouse functionality as a central management system.
This WMS has the facility to manage your restaurant's daily planning, organizing, staffing, directing, and controlling the utilization of available resources. More than managing, it also monitors the store materials in, within, and out of a warehouse.
A well-developed warehouse management system will support the staff in their performance of material movement and storage in and around a warehouse with full details. In simple words, WMS is used to manage all your inventory tracking and monitoring processes easily.
Get your Free Demo: Whatsapp | Skype
Importance Of Warehouse Inventory Management Software In The Supply Chain Management System
The main aim of the warehouse management system is to keep the cost low and maximize profit. Always WMS is designed and used by the supply chain restaurant to reduce the workflow for a high revenue gain in their business.
Inventory management – The common challenge of most businesses is to maintain the exactness of the inventory when it comes to a supply chain it is tougher. An effective WMS will favor you to manage the inventory in a high-speed and efficient way.
It allows you to improve the correctness of the inventory by decreasing the order cycle time and improving the order fulfillment. WMS will guide you to decrease the inventory level by tracking and monitoring every step of the inventory by using real-time information.
Centralized location – A WMS saves a huge amount of time and cost by a centralized storage location. When you have a centralized location, you can easily overcome the issues of storage, shipping, and distribution of the goods.
You will be getting every detail of your inventory instantly with a well-developed WMS. This will not only allow you to reach your supplier but also the target market. You can have a continuous flow of goods in and out which determines the firm's logistics supply chain system.
Improve the production quality – Your production quality will be easily improved by effective inventory quality and management with the help of WMS. It allows you to stay up to date with your vendor, suppliers and track the delivery agents.
Isn't it great that a well-developed warehouse management process will deliver you an improved production quality? By improving production quality, you can also maximize restaurant productivity by boosting speed, efficiency, and quality control.
Seasonal Growth – You can take strategic advantage of the seasonal time and other seasonal scale operations. Since it is an easy way to track the entire business process with real-time monitoring, this allows you to monitor and track your customer's behavior during the peak seasonal hours easily.
The tracking system will guide you to handle your supply chain perfectly and client problems by delivering high-quality customer service. Warehousing management systems allow you to easily track all your shipments through automation with real-time tracking and monitoring information.
If you are lacking in an effective WMS, then it is impossible to achieve an outstanding functioning logistic system in your supply chain restaurant. An effective WMS involves using a customized set of solutions for the smooth workflow of your business.
SpotnEats warehouse management system software
SpotnEats is a modern restaurant management software solution that allows you to gain high revenue in your supply chain restaurant business. You will be benefited from a pre-developed application with all the advanced niche features that reduce your workflow simply.
We keep ourselves updated with the latest technology to give the best solution for our clients. With the help of our software, you can gain high revenue in your supply chain restaurant. I'm 100% sure that we will be providing your application with a unique design.
Our software has a good WMS to take your supply chain restaurant business to the next level easily and to meet potential customers from all over the regions. Here, let me tell you The advantages of choosing SpotnEats WMS, keep reading to know about it.
The advantages of choosing SpotnEats WMS
Optimize your workflow process – Our software supports you to maintain your supply chain restaurant good and sales tracking digitally. Our well-developed warehouse management system will smoothly and continuously optimize your business workflow process.
Improve your customer relationship – This reduces your mismatch deliveries and the 100% exact accuracy in your inventory management and you're allowed to access it from anywhere.
Once you're allowed to manage all your supply chain restaurant tasks, you have a lot more time to take care of your customers. This lets you spend time with your customers that picture a good thing about your restaurant.
Minimize your cost of operation – Our well designed WMS permits you to allocate the labor efficiency and gradually reduce the wastage. Your operational cost can be reduced in a variety of ways by using a WMS in your supply chain restaurant.
Transparent reporting – A transparent inventory allows you to maintain all your shipments, deliveries and tracking orders. And your employers are given the flexibility to access the data in real-time of your supply chain restaurants.
The above mentioned are the few of the benefits you will be gained by using our software application. Here, let me tell you the key features that let you gain high revenue in your supply chain restaurant easily and quickly.
SpotnEats effective restaurant warehouse inventory management software key-feature
Customized inventory management – You can easily manage the warehouse inventory of your supply chain. You're allowed to customize the workflow not only for a certain period but also handle the inventory for the variety of seasonal by pre-planning it.
Real-time monitoring and tracking capability – It is essential for every business to monitor and track the information in real-time. But when it comes to the supply chain it is a must thing to manage all your branches with one centralized application. This enables the real-time process of your inventory with one centralized application.
Labour management – The key-performance of using WMS is the managing of all your activity in your supply chain warehouse. This allows you to manage all your labors and the warehouse easily with accurate details of the inventory.
Strong stock management – Tracking the stocks daily and maintaining it without any changes is a bit difficult in the supply chain restaurant. Here is the solution for you with our software WMS you can easily maintain your stocks in and out.
Get your Free Demo: Whatsapp | Skype
Final say
Managing a multi-chain restaurant branch is the toughest task. There are many chances of losing your revenue, and your business might be drawn down. Hence, with our WMS that comes in-built with all of the key features for a smooth warehouse workflow.
Still, why are you waiting? Contact us today by filling the below form with the required details. We will catch you soon. For inquiries please contact our business lead [email protected].