People are longing for delicious food and among them, those who don't like to cook are resorting to on-demand food apps. With a tap on the mobile, it is possible to order food from any place and food will be right at the doorsteps in minutes. This fad for ordering food online is changing the way we use our mobile phones. Nowadays our smartphones are filled with on-demand apps. This longing for on-demand apps is never going to fade out soon.

If you are planning to launch a food delivery startup, then I think you are onto something big. I hope you will be using a pre-built app solution for the startup.

SpotnEats is a leading maker of on-demand food ordering and delivery apps and our experience in this sector will be of much help to you. 

Here are some creative tips for you to excel in your startup. These points are relevant for both new and existing food app startups.
Get your Free Demo: Whatsapp | Skype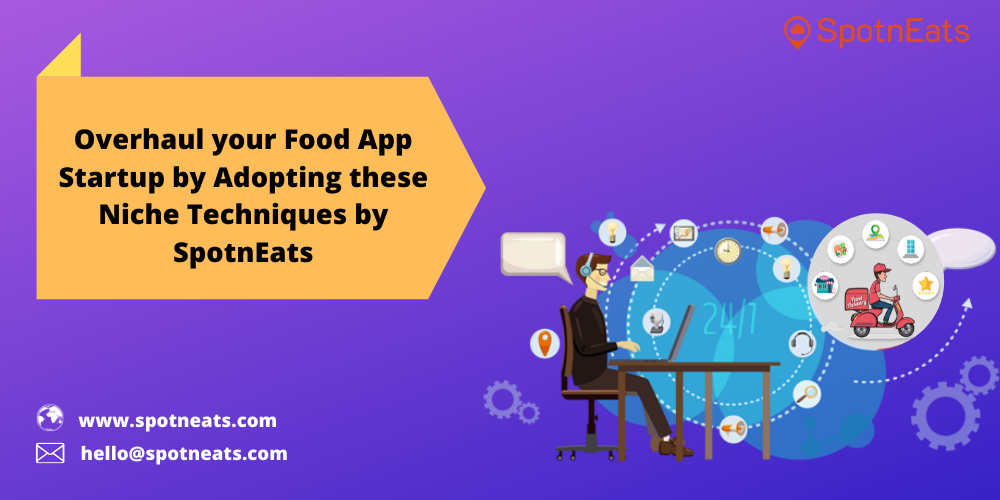 What are Some Success Tips for On-Demand Food Delivery App Startup?
Partnering with restaurants

In the large US market for the food app, only 10% of the total restaurants have listed their service online. Then imagine the situation in the rest of the market. So approach the restaurants in your region with attractive incentives so that their overall revenue increases after listing in your app.

It is well known that the visibility and reach of restaurants increase multifold after coming online. Adding to it, persuade them to give discounts and combo offers to get more users. Allow the restaurants to give a paid advertisement for your app.

This way you make additional money. Another way to lure more restaurants is by giving a higher percentage commission per order.

Popular menu listed in the app

Instead of completely listing all the menu of a restaurant in the app, find and select the most popular of them and use it in the app. For this, you need to work with the restaurants extensively. Because the popular menu differs for restaurants.

The phrase "Less is more" is apt for on-demand food startups.
Diverse services to become a versatile startup

Give additional services apart from delivering restaurant food like groceries, alcohol, pharmacy, flower, etc. This gives your startup a slight edge over peer on-demand delivery startups in terms of market share in the on-demand space.

Get delivery partners based on this condition and have delivery charges and commission different for different services because of its different user base.

SpotnEats delivery app solution from us is built with flexible program architecture and so, incorporating additional services with different functionalities will not be a difficult task. So far we have delivered such a multi delivery services app solution to many tech entrepreneurs worldwide.

Clear distinction in the app to cater to different users

After the customer made the registration in the app, show the option to select food preferences to give clear distinction to the users.

Based on region and background, users have preferences for food not in terms of taste, but in terms of ingredients and cooking style. Recently, SpotnEats delivered an app solution having this function and it turned out to be very successful. Repeat users increased multifold after adding this option.

Standard coding method with the latest app architecture

The above explained features in the food app works fine only when the app interfaces are robust and scalable. This is possible only when the app solution is built with a standard coding quality. SpotnEats food app has Ubereats as a benchmark and obviously, we follow the same coding quality as Ubereats.

Hence, additional feature changes and service incorporation is effortlessly done with more space for other things.

Coming to the app architecture, it is basically the app framework that influences the data security and usability. Having said that, we used javascript framework which is the latest trend in the app development field.
Monitoring social media presence

Social media marketing and social media login is intrinsic to the on-demand food app startup. Now it is time to focus more on social media by monitoring the user responses. Social media is no longer only for marketing and an alternate for pamphlets.

Asking suggestions and feedback using polls and surveys in social media will take your food app closer to the customers. There are social media management tools like Hootsuite and Buffer to accomplish this task.

On request, SpotnEats will add social media management tools in the admin dashboard. Continuous monitoring of the users proved to give positive results in terms of overall revenue.

Winding up!

These points are more than enough to place your food app startup in a comfortable position. To implement the above said changes in your present food app startup, then discuss it with an experienced on-demand app developer. 

Get your Free Demo: Whatsapp | Skype
All the points require you to work on the app solution. If you feel you are heading nowhere, then SpotnEats will be of much help to you. Catch us on [email protected].