Being in the mobile food app solution development, we have served many new entrepreneurs, startups, and businesses with our food app solution. We have a vision to build and deliver mobile food ordering app on par with Ubereats, Foodpanda, Doordash, Swiggy, Zomato, etc. Having said that, the food app we developed is very much similar to Ubereats and foodpanda in terms of performance scalability, design architecture, etc. We put a lot of effort to achieve this feat so that even bootstrapping food startups can have a quality app.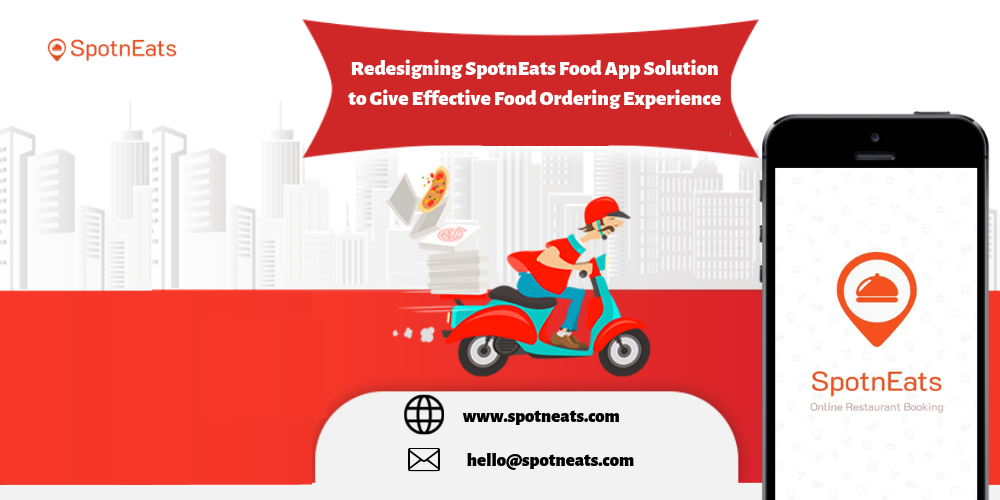 On interaction with our existing clients, we found that the food ordering experience in the app is not good even though it is made as an exact replica of Ubereats. This problem is finalized after a lot of feedback from the customers of our clients.

Since revisiting the app and reworking on it is a part of our work, we immediately decided to redesign the app.
Get your Free Demo: Whatsapp | Skype
How We Redesign the SpotnEats Food App Solution to Give Effective Food Ordering Experience?

Flaws in the App

Most of the feedback on poor food ordering experience is about selecting food items and searching for restaurants in the customer app. Users really found it a bit tiring to order the right food from restaurants quickly. This problem defeats the purpose of using food apps.

This user experience problem can be broken down into two. First is inefficient restaurant browsing experience and other is low searchability of menu.

Restaurant Browsing Experience

Lack of visual content and uninspiring display of information have made the users skip many important details. This also happens when restaurants are listed with inefficient visibility. So when users weren't able to select their favorite restaurant in one glance they altogether say that there are no good restaurants listed.

To eliminate this problem our developer teams focussed on three aspects.

Personalization of the home page is very important and it is found that most users select restaurants based on cuisine and not on other categorizations like trending, most features, most rated, etc. So we kept a minimalistic design in the home page with past order details and the option to re-order it.
Inconsistent and patchy designs are trashed and options to have visually rich original pics of food is made.
Food ratings, delivery time, delivery fee are important for users. So we kept these search filters on top of the page.
Low Searchability of Menu

Many users and our clients felt that too much to click before getting into the menu. It leads to frustration. Disorganized content is the reason for this low searchability of menu.

We decided to redesign the information architecture of the restaurant menu. A good information architecture aims at providing organized content with great user experience. This helps users not to fret while searching for any menu. The menus are made to be visible on the top of the information architecture so that nothing is hidden deep.

Also, we analyzed various top food apps to find that a great menu design accompanies both visual content and verbal content.

End Result

The final result was astonishing and the updated app was immediately sent to all our existing clients. Our UI/UX designers have pulled off a massive effort to make this incredible change to the app. Now our food app is in the league of other top apps.

Being in constant touch with existing clients and deeply analyzing top food apps is the reason why we made this.

SpotnEats App Solution

SpotnEats is the food ordering and delivery app we have in place. This redesign of our food app gave the resilience to face the competition in the app development field. Startups and businesses who are looking to launch a food ordering and delivery startup, if you are reading this then I hope you are convinced about our expertise. So partner with us for your startup let us together create a world-class food app.

Get your Free Demo: Whatsapp | Skype
Worried about assistance after solution deployment? Free technical assistance and free app updates are provided to all our clients. To find more about SpotnEats, tap a message to [email protected].