Almost 85 million households have their own pets and over the last 30 years, pet ownership has gone from 56% to 68% of all households. The changes in pet ownership are due to technology and the arrival of online purchasing but most of the growth is because of changes in a generation. Today 95% of Gen Z people are considering their pets to be part of their family. Buying products online is already a trend and now it's even growing stronger in pet drugs industries. As known millennials are saving 45% of their time purchasing online. The survey says that 1.8 billion online pet drugs are purchased by the Gen X people. This shows the big value for the E-Commerce Market For Pet Drugs Online.
A few years ago, developing an app for your business was almost impossible on the given budgets, resources and time restraints of the typical independent pet retailer. Today, due to technological advancements, it overcame the difficulties. 
Now it's an easy task, just by hiring a developer or buying a ready-made app. If you're asking me I will suggest you choose a ready-made app which will cost less and it can also be customized according to your needs. This blog will be more useful for the person who is in the idea of connecting all the pet retailers into one app and earning commission from each order.
Get your Free Demo: Whatsapp | Skype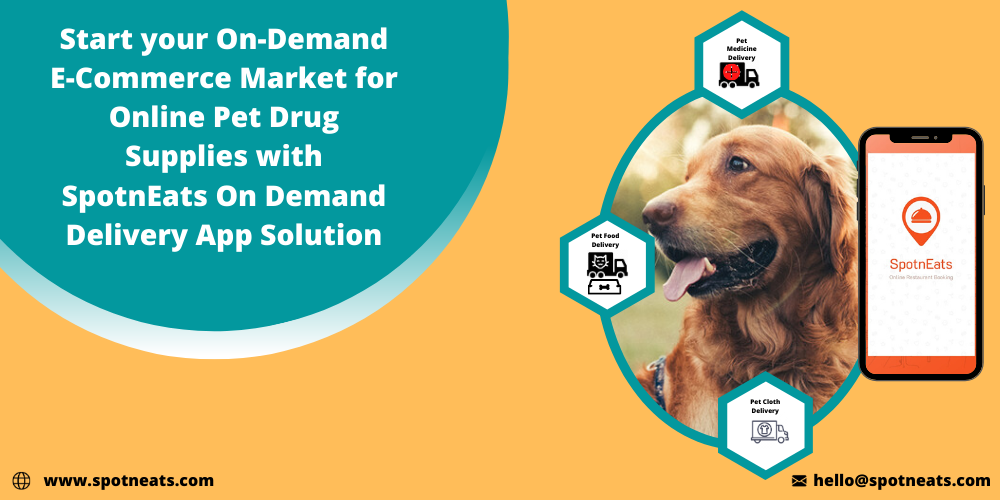 What is the Scope for E-Commerce Market for Online Pet Drug Supply Services?
E-Commerce Market for Online Pet Drug Supply:
Pet's Medicines
Pet's Foods and Treats
Pet's Luxury Items
Pet's Clothing and Bedding Essentials
Pet's Toys
In the above five, pet's medicines play the most important role and show high growth in the pet industry. Since the number of licensed pet's health care organizations is increasing you can connect your on-demand app with the top healthcare organization to get more orders from your users. The known fact of growth in online business is hassle-free delivery. Which makes your users stay wherever at their comfort place and orders will be delivered in a few mins.
Pet owners very much ensure their pets get virtual energy without gaining weight. So we SpotnEats have included the rate and review feature along with that the user is able to check the products and how much percentage it has been used in the pet's food. As I mentioned above buying a pre-developed app is the best solution here I will suggest you choose us.
SpotnEats
We have developed your E-commerce app with all the basic needed features and which can also be customized according to your needs. With this app, you are able to connect with N no of the pet retail stores to get more commissions. Your E-commerce app also has the main four interfaces, the mobile applications are in both iOS and Android.
Now let me tell you the strategy of how you can become a tough competition for your competition
How we SpotnEats strategies for Competitors and features in your E-commerce app
Increasing competition will bring more obstacles to differentiate your service from others. We SpotnEats use different strategies along with the features to make your app more User-friendly and unique.
The link between customer loyalty and profit
Price is the only factor in buying a thing. So by considering that in our mind we have developed a feature called Membership subscription which is linked between the customer's loyalty and profit.
Membership subscription
To attract your user we are also including membership subscription as one of the top strategies in our list. People love discounts for their orders moreover it will make them feel more special by membership subscription which will make the cart discounts and faster delivery etc.
To increase your sales we have made this feature where you can build a good customer relationship with your app.
Changing the buyer and seller model
Some people may think of their pet as a child and buy only branded products. If it's not available then they will be losing their hope on your app. And few may think the whole cart is costly and leave your app quickly once they check the total calculation.
To overcome that we have also developed Product based on the abandoned cart list and Satisfying your users with sold-out products
A product based on the abandoned cart list
If your user leaves their cart without making a purchase, it's your responsibility to follow and offer them alternative solutions to your Users. For this we, SpotnEats app solution give leave cart emails which will allow them to remember their cart and will give new alternative product descriptions along with the discount price of the new cart.
Satisfying your users with sold-out products
This is one of the major problems everyone will face in E-commerce. So to overcome it we are providing a similar option which will show the similar products of the chosen one.
Get your Free Demo: Whatsapp | Skype
Final say
So, what are you waiting for? Are you planning to start your E-commerce app? Contact us for any queries and future details. We are here to assist you with your E-Commerce Market For Pet supplies online.