Who does not want to build an online marketplace to earn profits in their restaurant business? Everyone wants to build an app like it, right?
In 2020, having a food ordering application for your restaurant business is no longer a choice. It has become a necessity to run your business with a website or mobile app. There is a steady increase in the number of orders placed online, mobile or website. So there is no second choice for the restaurant owners but they have to invest their money in the food ordering and delivery system. But it will not end by simply developing an app. There must be some important features in your system. So that you can run your restaurant business in a profitable manner.
In the Olden Days, we used to go online to find restaurants nearby. But the time has been changed now we are able to order our favorite dishes through an online food delivery system. Today you can also run your food business without owning a restaurant or a physical store. Before that one must know what features will help to run their food and delivery business system to maximize their sales. But how? Read this blog and know what is our successful formula that makes our food delivery business system as on-demand.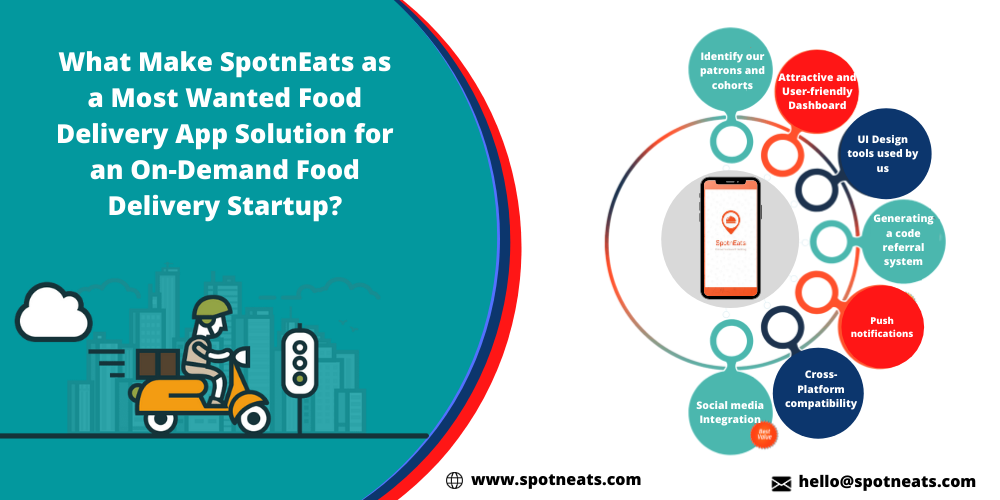 What is the Success Formula that Used By SpotnEats Food Delivery App Solution?
The unique nature of food delivery service apps
The food delivery app components are usually not seen in other apps Customer facing side of the app, admin panel, restaurant facing side of the app, and delivery facing side of the app. Additionally, the app also needs to know the rate of incoming orders and the irregular number of orders. Which all are integrated into a successful application at a high level of the industry. The success of an app begins with the right approach.
Identify our patrons and cohorts
Our team's first aim is to identify the patrons and cohorts. nowadays many people are changed to healthy foods, but still, there are people who grant a treat for their taste buds. Without an idea of the targeted audience then it will be difficult to overcome in the crowded food delivery business. Many food delivery services provide their offers to all the restaurants and eaters. But we will be suggesting our clients enter into a particular segment and then cover across the other segments.
Our 5 features that make an Online Food Delivery Model Successful
Attractive and User-friendly Dashboard
As the survey says, customers prefer the most simplified process of ordering foods. Hence our on-demand food delivery system has a straightforward and user-friendly dashboard that has been implemented. In order to make an attractive dashboard, we are using the latest UI designs. 
UI Design tools used by us – Android developers, Mockplus, Sketch, iDoc, and Zeplin.
Which will also save the ordering food history effortlessly. By doing this it will reduce the complexity and enrich the user experience.
Generating a code referral system
While taking the business to the online customer's engagement is most needed. So that we are giving them enough opportunity to engage with it. One such facility is coupon code. Which allows the customers to get more involved with our food delivery app. It is one of the best ways we use to market our app which is also beneficial for both parties.
Customers engagement with Push notifications and Social media Integration
Push notification is the only way to create visibility among customers. So in this way we use to grab our customers and keep them engaged with our app. We are using some powerful tools for the best push notification to pop-up.
To make our customers more excited we are using an Augmented reality which is one of the successful features in our app. The users can see the floating burger and pizzas over them while turning on the camera option in our food delivery app. They are also allowed to save or directly share it on their social media page.
Cross-Platform compatibility
Our main priority is the ever-increasing target market and accessibility. By enabling a cross-platform compatibility feature in our food delivery app, which allows us to increase the reach across different platforms. No wonder, with more reach, you are likely to have more downloads within a short span of time.
The Technologies Used by SpotnEats for on-demand food delivery business
Mobile applications we are using iPhone native, Android native, IONIC, PhoneGap, and flutter.
Web application we are mostly using Node.js which will perfectly suit the entrepreneur. And also we experienced PHP, WordPress, CakePHP, Yii, Zend, Magneto, Laravel, Codeigniter, and AngularJS.
Database – MongoDB, MySQL, GraphQL, Firebase, and Golang.
Since we have hands-on experience with the latest technologies which makes the food delivery app more user-friendly and run smoothly in all the devices.
Get your Free Demo: Whatsapp | Skype
Final say
By now you might have a clear view of our successful features. As I mentioned above your app will bring you the profit only if it is developed in such a way that attracts your customers and restaurant to join their hands with you. No worries we SpotnEats are here to develop the food delivery app according to your needs. Please drop a mail to [email protected] we will be back to you shortly.