At present more than 60% of the workforce is working in 9 to 6 job. They find little to no time for cooking. After coming from work, they are exhausted and interested only in leisure and entertainment. Here comes the idea of ordering food and delivering it at your doorstep. Food delivery concept is not new at least outside of America. Food ordering is usually done manually through phones and there were a lot of inconveniences associated with it like locating address etc.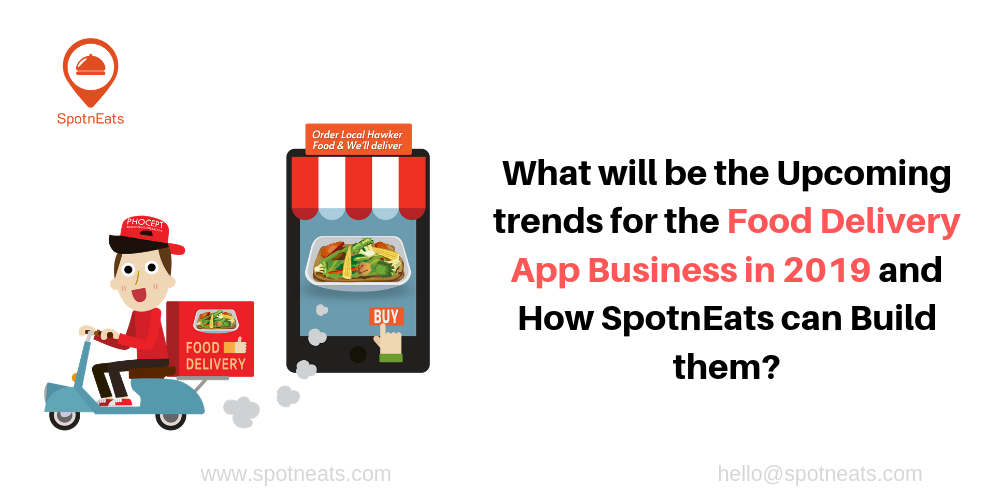 Then came the on-demand food delivery model. Are you hungry? Grab your smartphone and with a tap on it, you can order food from your favorite restaurant. Some prominent food delivery companies are Ubereats, GrubHub, Swiggy, FoodPanda, just to name a few. These firms are more or like a marketplace which lists the restaurants in their app. Customers just have to enter the app, choose the restaurant, select the food, provide the location, and finally click order.

All these on-demand firms have a delivery person with them. Also, food delivery startups create a lot of employment. Another added advantage is that since the restaurants list their name on the app, it can be an advertisement for them.
Get your Free Demo: Whatsapp | Skype

Why Food Delivery Apps are Popular?

Working people find it very easy to order food from anywhere and anytime.
Easy to order because of their outstanding UI/UX.
Food is delivered in a short time.
Saves a lot of time and helps avoid physical strain.
For those who are keen to start a food delivery business must know that you need 3 apps and an admin panel. Three apps include the customer app, delivery person app, and a web/mobile app for the restaurant. These apps can be made from scratch and as told before, developing an app from scratch is very expensive. Instead, you can use app clones and SpotnEats which is a leader in developing solutions for on-demand businesses can provide you with food delivery app similar to Ubereats.

Below I have mentioned some future trends of food delivery business which is readily available with SpotnEats, Ubereats like food delivery app.

Customization and Personalization Feature for the Restaurants

More and more food delivery companies are offering various features to the restaurant app and help them to improve their business. The restaurant page can be customized to match the theme of the restaurant. The restaurants can also show their signature dishes in a different and attractive way to woo customers.

Uber Eats, and GrubHub is providing this personalization for the restaurants listed in them.

Real-time Restaurant Menu Updation

The restaurants can update their menu in real-time and push notification to the customers who turned back after knowing that the menu is sold out. As soon as there is a change made in the menu at the time of sale, it is automatically reflected back in the restaurant app. This enhances the process of ordering the food more efficient and avoids last minute hassles. This feature is highly helpful when more than one person is handling the order.

Ordering Menu with Just a Glance

This is one of the highly advanced features of the food ordering app. Just by tracking the eye movement, food can be ordered. This eased the process of ordering food. There is a built-in algorithm that determines which options the user has glanced at for longest span of time. The system then lists out all the things the user had glanced at and waits for customer approval. Glancing at the restart button begins the process all over again. This feature is still in the development process. Pizza Hut ordering system has rolled out this unique feature in some places in the US.

Big Data Analytics in Food Ordering

Dealing with a huge amount of data and turning it into useful information can take the business to the next level. Information like food temperature, delivery time, weight, ingredients used in the food can be showed in real-time to the respective parties. India based Swiggy is a food delivery company but it is more of a data-driven firm. Even the company raised $80 million in series E funding to strengthen its engineering, automation, data sciences, machine learning, etc.

Push Notification

Almost all the food delivery firms like Swiggy, FoodPanda, GrubHub, Ubereats, etc have push notification feature. With this feature, the customer gets a notification for new offers, alerts, coupons, deals, and new arrivals. As an effective marketing tool, push notification to keep the customers informed with new items, new product updates, and new combo, etc.

How SpotnEats Helps to Build Your Food Delivery App?

Surely there is more for the food delivery business in 2019. For new entrepreneurs who are looking to enter this food delivery business-brace yourself, you have chosen to enter the most competitive and exciting market. This area is not new to SpotnEats. We have already developed many solutions for on-demand cab booking and other on-demand services with our dedicated developer team.

Get your Free Demo: Whatsapp | Skype
At SpotnEats, we have a ready-made food delivery app solution that will be deployed in a few days after the time of purchase by our team. What you have to do is to explain your business plan, revenue model, customization required and other details to us email- [email protected] We alter the app according to the details you have provided and deploy it immediately in your server. When it comes to customization and after sale support, we do it for a nominal fee.