If you have come from a day of tiring work and feeling hungry but are in no mood to cook food. Then, no worries. Take your smartphone and with a tap, you can order food online from your favorite restaurants nearby. Within minutes the ordered food will be at your table. Now you can enjoy the food. See, how easy it is to get food with less time and energy. Thanks to on-demand food delivery startups. With more and more people using smartphones, the users of food delivery startups are increasing exponentially. So does the no. of people entering this business. As a result of this, many interested people are investing in SpotnEats. SpotnEats is a leading producer of apps related to food delivery and similar services.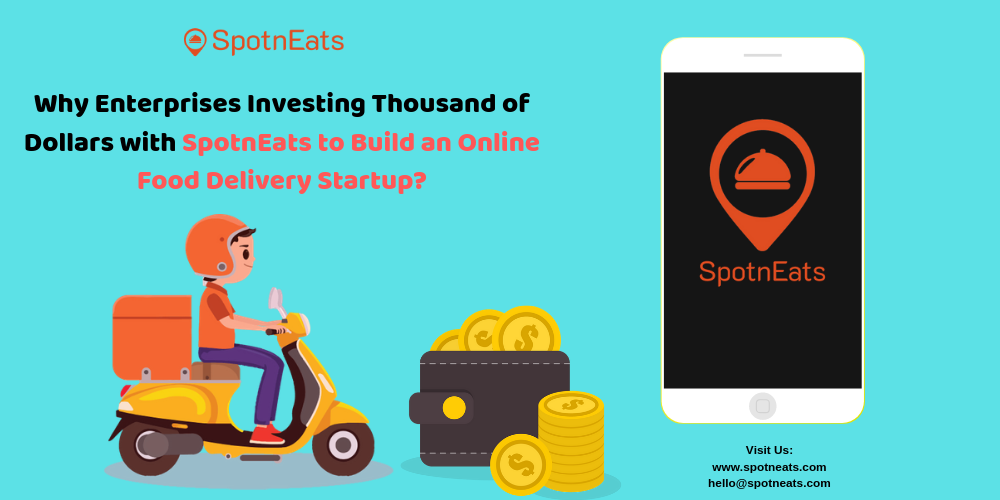 Why On-demand Food Delivery Venture?

Some of the leading app-based food delivery firms are UberEats and Foodpanda. They together have a combined valuation of more than ten billion. They operate in more than 100 cities worldwide. They have the distinction to start the first food ordering and delivery business with the on-demand model. The US food delivery market is alone valued at $90 billion in 2018 and it is expected to reach $100billion in 2019. By 2020, 70% of the customers will be lost for restaurants which didn't adapt to online food delivery.

First of all, the concept of food delivery is not new. In 1994, pizza hut introduced the first food delivery which can be ordered manually via phones. Not until the opening of the on-demand market, many services including food delivery have made to come under the roof of app-based services. The credit goes to the present technology.

Get your Free Demo: Whatsapp | Skype
On-demand food delivery is itself a disruptive idea. But the disruption was positive. Revenue of restaurants improved in many places. So, with a little bit of hard work, innovation and out of the box thinking, one can create a successful food delivery venture in your locality. The first step towards success starts from the way in which the app for your startup is developed.

Why Creating a Food Delivery App from Scratch is Expensive?

There are two approaches to create a food delivery app for your business. By developing the app from scratch and buying readymade clone scripts from verified vendors.

Developing an app from scratch is always expensive. For that, you require a highly skilled and dedicated team for each works like programming, design, testing, deployment, and support. At an average, the cost of such development lies somewhere between $20k to $40k. Even in the case of small customizations and bug fixing, a lot of time and effort is spent.

On seeing from the top, you will know that a minimum of 2-5 will be needed for such an app development. I am saying all this by taking into account the best case scenario. Very few companies like Doordash, hero, FoodPanda, UberEats, etc may have developed app from scratch. No wonder these firms have solid financial backing from VCs and investors. For new entrepreneurs who have to bootstrap a food delivery business, getting the app from vendors will be the right decision.

At SpotnEats, we create customizable UberEats and FoodPanda like on-demand food ordering app at affordable rates and short duration. Our app is very much similar to the original app and a little tweak can make the app more appealing than the original.

Enterprises has Extinguish Benefits in-terms of Cost and Resources

By choosing our solution, enterprises save a lot of money because of the following.
Enterprises/businesses don't have to spend money on hiring dedicated developers. As said earlier, the cost of hiring is very high and most of the developers get fee on an hourly basis. While working with SpotnEats eliminates this problem.
SpotnEats USP is the post sales technical support. We provide support and maintenance on a subscription basis. This relieves the enterprises from having an additional resource for support and maintenance.
Each and every resource is available at SpotnEats and this saves a lot of money for the enterprises and hence they can focus on their business.
Complete Technical Assistance from SpotnEats

From start to finish we provide complete technical assistance. We have a solid clientele base which spreads across fifteen plus countries.

Once the app is deployed, our work at SpotnEats is not over. We provide after sales support for a period of six months at no fee. We are ready to rectify minor issues free of cost. A centralized dashboard will be provided to the admin so that the clients can have full control over the business.

A typical UberEats like food delivery app consists of the customer app, the delivery person app, the restaurant web panel, and an admin dashboard. SpotnEats also develop apps for businesses which are similar to the working model of food delivery. Facilities like getting customer feedback, applying promo codes and many more add-on features are available in our solution.
How SpotnEats Differentiates Itself from Others?

At SpotnEats, we have dedicated developers similar to the one you hire for developing from scratch. Laravel is a PHP framework which has benefits like tight security, protection from malicious attack to name a few.

We have apps for multiple platforms like Android and iOS. Firebase, MySQL, MongoDB are some of the databases we use based on the scalability of the app. On-time deployment, scalability, and affordability are the strong areas of SpotnEats.

Get your Free Demo: Whatsapp | Skype
Our food delivery app can be made to work on multiple languages and accept multiple currencies.

When you take a larger picture, no one can deter the journey of enterprises towards online food delivery like service businesses and their path to success depends on how they perform. Lastly, the aim of SpotnEats is to make a mark in the on-demand app development and help many budding entrepreneurs to succeed in this business.
Please connect with our expert team at drop us an email to [email protected].