Are you in the idea to start your own food delivery business app just like top popular apps? Then you're in the right place to keep reading to know more about your online food delivery app. We all are commonly known as Gen Z succeeding Millennials. Members of Generation Z have been using technology from their young age itself and we all are comfortable with the internet and social media. The Rise of Gen Z is changing the whole industry and everything is made simple and now man works are changed to machine work. 
Food delivery business apps have shown sudden growth because of Gen Z people only. Nowadays people like to taste their food from their convenient place by scrolling and choosing their favorite dishes from N no of restaurants.
Get your Free Demo: Whatsapp | Skype
Deliveroo is one of the top food delivery app companies. Which was founded in 2013 in London and it operates over two hundred cities in the UK. Are you in a plan to launch a food delivery app exactly similar to the Deliveroo app? Then without the second choice, you have to choose the Deliveroo clone app for your food delivery app solution. So let me say about what a clone app and how they are going to be useful for your food delivery app.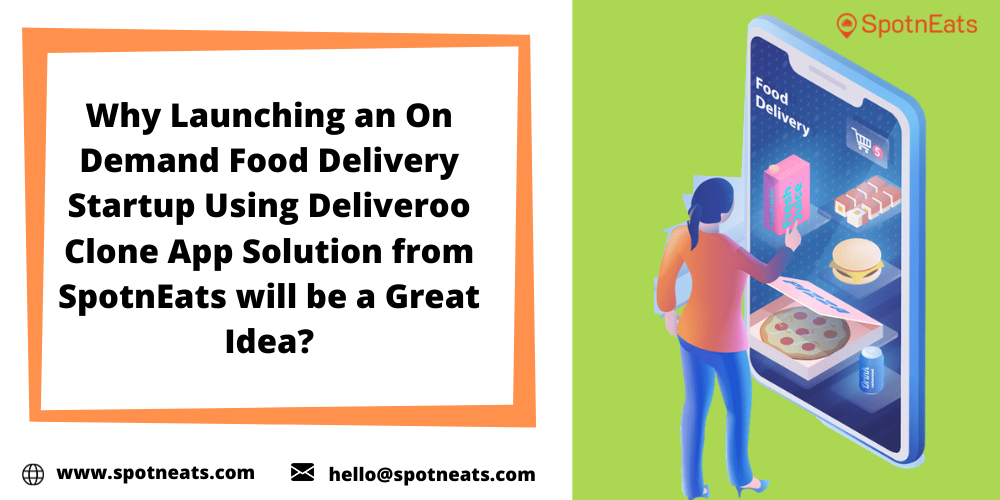 How to Launch an On-Demand Food Ordering and Delivery Startup Using Deliveroo Clone?
What are clone apps? Are they illegal?
Clone apps are nothing but an exact copy of the original app. There are lots of top app clones in the market. Don't get panic clone apps are not illegal until you build or develop it in a correct manner. Than developing or building an app for your own business use it will cost much more than you think and takes time. But a clone is not so you can get an exact outline of the original. If the features are some other things you want to add or remove can also be done.
Who are we?
We SpotnEats, we have years of experience in the IT field and have built many top food delivery app based clones overseas. We also have all clone versions of top food delivery business apps like Ubereats, Foodpanda, Swiggy, etc.
How deliveroo app work?
The Deliveroo app has 300,000+ drivers and is linked with good food flavored restaurants. The food you ordered will be delivered in 32mins. But the Deliveroo works in a few areas only not available in all places. Once the people placed their order by scrolling various restaurants nearby and adding it to cart to pay with various options. Once the order is placed it notify the restaurant and delivery man and food will be ready in a few mins it can be taken by delivery boy/girl. The revenue model of the Deliveroo app shows that the net profit margin is 12.5% and the gross margin is 90.37%.
How SpotnEats Deliveroo clone will be the perfect find for your on-demand food delivery startup?
Always I recommend all young entrepreneurs to select online food ordering delivery clone apps  because it is the easiest way to earn more in a short time. 
One of the best solutions for food delivery business apps like the Deliveroo is the clone version of that app. We ensure that your food delivery app will be more attractive one than others in the market because we will be using on-trend UI/UX.
We have already built the exact clone of the Deliveroo, so it won't be taking that much time. Even if you need any changes or editing it can be done in a short period of time. Once you join your hands with us you can launch your business quickly in the market and start earning billions of dollars. We are one of the trustable food delivery and app development company worldwide.
The dashboard of your food delivery system
Attractive opening screen – Our first target is to attract your customers. So that they keep on loving to use your food delivery app.
Explore N no of restaurants – Browsing through N of restaurants nearby you. Our clone will display according to your customer's previous review of the food and restaurants.
Flick through the menu – It will display all the menu of the restaurants and offers of that day and special dishes from that particular restaurant. 
Add ons to the dishes – provides a list of add-ons for your dish like the Deliveroo app.
Food cart details – It will display all the details of that food so it will be easy to pay.
Scheduling and pickup options – your customers are able to schedule their foods according to their needs. And pickup options also can be done as per their required.
Flexible payment option – it's a common thing which should be available in all food delivery apps, multi translations too.
Active and past orders – They are able to check their history of orders and real-time food tracking too.
Get your Free Demo: Whatsapp | Skype
We do for you
If your motive is to start a food delivery app like the Deliveroo then contact us today. Our experts will reach you shortly. Hire us today to bring your dream food delivery app to the real world and earn billions of dollars in a few months.