We are now riding on the success of the on-demand industry because our firm has developed top notch app solutions for various on-demand sectors and among them, SpotnEats food ordering and delivery is the most favorite. Needless to say, it is one of the flagship products of ours. And there are tons of reasons to say it so.

We are in touch with on-demand startups for many years. This helped us to devise a fully loaded food app. Also we had UberEats and Foodpanda as benchmarks. Not to mention that some of the features we added uniquely makes the app better than others.
After Foodpanda many other companies too joined the game but Foodpanda dominated them by releasing new services and features. Since we are in line with the on-demand food delivery app market, we also try to replicate every feature that is released in the Foodpanda app.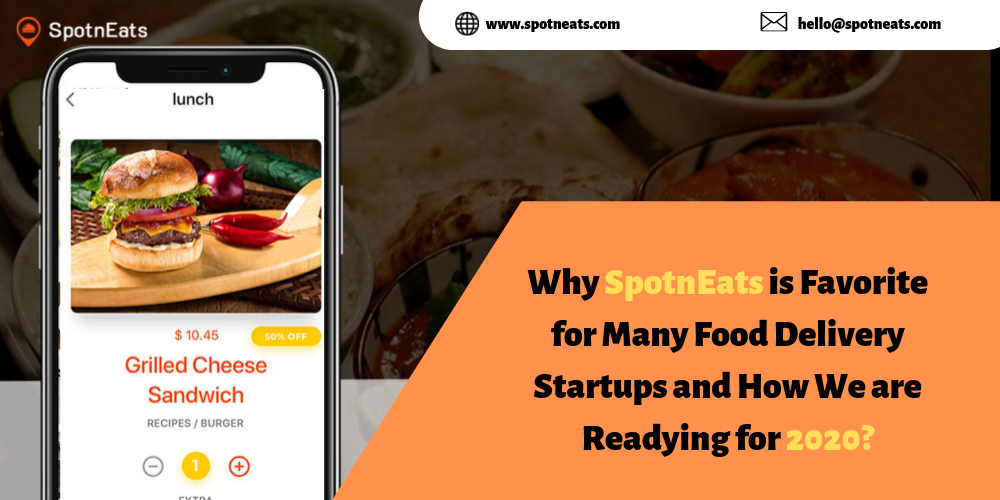 Now if you are looking to tie up with a food app maker to get a food ordering app for your new startup, then I hope your propensity to join us will increase after reading this blog.

Why SpotnEats Food App Solution is Favorite for Many Entrepreneurs and Enterprises?

Scheduling of Orders: Foodpanda first introduced food order scheduling and SpotnEats is the first among the clone script developers to replicate this option. This option is present in the customer mobile app and the customer can preorder an order and schedule the delivery time. This option helps to avoid last minute hassles.

Recurring order is also present in SpotnEats. Specific order delivery on a daily basis is the core of this feature.

Geo-tracking: The geo-tracking is similar to the one you see in any on-demand service. The user can track the order on the google map in real-time. SpotnEats use the standard Google map API for an intuitive experience.

Curated Menu Offering: Machine learning techniques are used in the food app to process the past orders and favorites of users to recommend curated menu to the user. Unnecessary food options will not be shown. Our developer team is working earnestly to make the curated menu more accurate.

Get your Free Demo: Whatsapp | Skype
Drop-off Options: Your customers are now presented with the option to choose the drop-off option to make things easier. This flexible feature is inbuilt in the SpotnEats.

100% Customization: Why wait for long when you can get a prebuilt food app similar to Foodpanda? We offer you optional features apart from the regular ones. There is no restriction imposed in the app customization. Since we have used advanced programming languages, it is possible to modify it to any shape.

What Does it Cost to Partner with Us and Get Our App?

The basic SpotnEats solution with includes the fundamental source code comes with a standard cost. Cost of customization depends on the man hours spent. We have a fixed rate per man hour. You can get clarification about this by contacting our team.

After deployment we provide free technical assistance for some time. After that the assistance is provided for a nominal rate.

How SpotnEats is Getting Ready for 2020?

We have to admit that the food app at present is not and should not be the same as when it was started. You can see visible changes in the functions of the top food apps like Foodpanda, Zomato, etc in 2019 itself. Startups which pumped a lot of its own money is now gaining profits. So the competition will be more than you would expect.

Factors such as changing lifestyles, migration, and increased purchasing power have made food delivery apps to rethink their strategy. Taking all these factors in mind, we have made certain changes in SpotnEats so that if you are someone who is aiming for 2020 launch will benefit from our solution.

Premium Add-on Services

For users who frequently use the platform we have added a premium feature in SpotnEats. It is the subscription plan. Customized menu, seasonal discounts, rebates, priority service, etc can be added inside this feature.

Improving App Installation Rate

Improving the app installation rate will be a challenge for you. There are a host of promotional activities you can do to improve it. We have provided some provisions in the SpotnEats admin web panel to carry out promotional activities with ease.
Apart from it we give SpotnEats app API to be integrated with other apps. For example, Swiggy app was integrated with the world cup cricket streaming video app so that viewers can order food while watching. 

Admin App and Delivery Person App

 In order to make the relation between you and delivery person more smooth, our team has made changes in the type of transactions like salary, incentives etc. In simple words, it brings more transparency which retains the delivery agents.

Get your Free Demo: Whatsapp | Skype
Conclusion

I think by now you have changed your mind. If so then connect with us at [email protected]. SpotnEats solution is also a white labelled solution which allows you to add your customized logo. Our firm also do logo designs apart from design changes in the app. We are looking forward to partner with you. Quickly talk with our executives and have a free live demo of SpotnEats.