The food delivery market which includes both online and offline orders makes revenue of $40 billion worldwide; this is soon going to reach $75 billion by 2022. Among this, nearly 45% is from online food ordering. Not to mention that the online food ordering market is growing at a rate of 20% every year.

People like very much to order food online. Even developing countries are outpacing developed countries in online food ordering. This is nothing short of a phenomenon. The present 45% online food ordering market has good space for new potential startups.

The on-demand food ordering industry in itself has a lot of space for new niches. This untapped market will be the best place for your food app startup to showcase innovation and creativity.  
Get your Free Demo: Whatsapp | Skype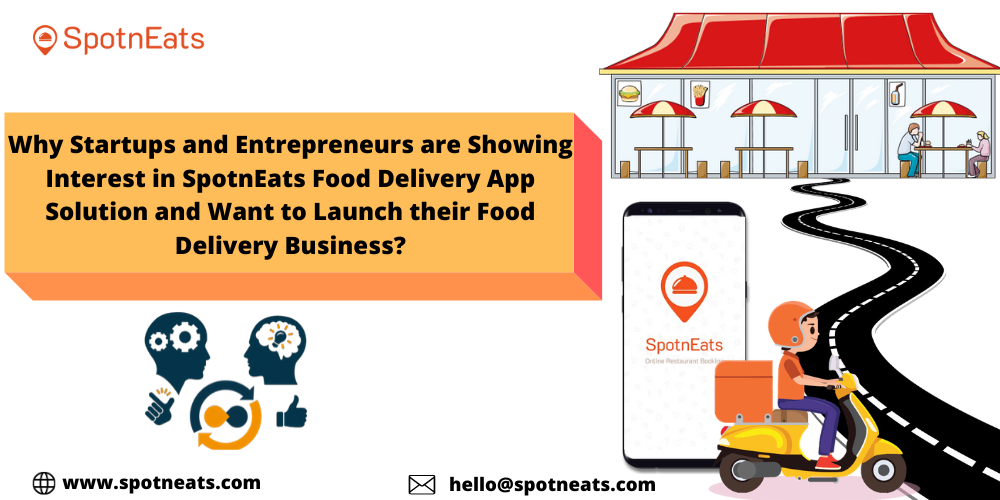 What are the Key Factors that Keeps the Online Food Ordering App Market Growing?
Increased liking for instant doorstep delivery without affecting food quality.
Choosing delicacies from a list of restaurants without any hurry.
Competitive pricing and range of menus to choose from
Cool discounts, promo codes, festive offers, etc keeps user satisfaction at its peak
Restaurants offering customized menu to attract users and drive more sales.
App solution for the online food ordering startups like Ubereats

Whatever may be the business model for your online food ordering startup, the app solution is the same does not change much in terms of functionality and features.

Customer mobile app

This app is used by the customer to search and order food online. Generally, this app is available on both iOS and Android.

Restaurant web app and mobile app

Restaurants receive orders and manage future orders in the web app. A mobile app version for this is also present. Apart from receiving online orders, other activities like dine-in orders, sales, and stocks can be managed.

Delivery agent mobile app

Third-party delivery person use the delivery agent app to receive delivery request. GPS powered route optimization makes the order pick up and delivery effortless.

Admin web dashboard

This is the powerhouse of the online food delivery operation. Registration of restaurants, customer order payment, delivery person commission, statistics regarding daily/monthly sales, revenue generated, sending notifications, etc are managed from here.

Food app solution from SpotnEats

The above mentioned software product for your Ubereats like startup is available as a complete package with SpotnEats. We knew that the cost of developing the app from scratch takes a long time and the opportunity cost of it is so high. So in order to aid such startups in dilemma by recommending SpotnEats.

SpotnEats is a minimum viable food app product that is developed using the bottom-up approach. The scalability and performance is one par with Ubereats. After having SpotnEats for your startup, you no longer have to worry about its functions; you can focus completely on the core business.

This is also the reason why many startups and tech entrepreneurs are showing interest in us.

Why SpotnEats is attracted by many startups and entrepreneurs?

Extended support: SpotnEats don't stop after delivering the solution; we continue to give support 24/7 at a nominal cost. Most tech food startups are run by non-technical people and this makes extended support a valuable resource. Also, we provide this by assigning separate project managers.

Perfect marketplace experience: Users who browse through our customer app shall immediately notice the ease with which food can be searched and ordered; most options are one touch.
Incremental competitive edge: SpotnEats continuously work to add incremental changes to the overall solution. We hope this gives a competitive edge to our clients. Our team also makes sure the change is not unnecessary. Staying in line with the fast-changing on-demand market makes us do incremental changes.

Delivered to strategic players in the market: So far we have delivered SpotnEats to many startups which become strategic players in the on-demand food delivery field. This is why we are the most sought after solution. Many successful firms owe their present state to SpotnEats. Not to mention the handful of experience we have.

Affordable service than other development firms: The source code and all the customizations are given at an affordable rate which doesn't make any dent in the client's business budget. Extra design changes and feature addition are sometimes done free based on the degree of complexity.

Final words!

All our clients started their food app startup small; we helped them scale and grow big. SpotnEats is a pioneer product of us and we have a team that enables us to keep up with the latest changes.
Get your Free Demo: Whatsapp | Skype

We assure you that you compete in the market with a complete solution devoid of any issues. If you think SpotnEats is the right product you are looking for, then tap a message to us on [email protected]. We are happy to serve you at any time.