It is obvious that it takes a lot of time and effort to build an on-demand food app for your new tech startup. But there are other reasons for you to go with a pre-built app solution. I am not saying about apps that fits for everything, instead, it is possible to drastically customize pre-built apps to suit your desire.

Many successful food app startups like Ubereats have pre-built apps and they say that it is easy for them to adopt new advances in the on-demand sector.

Now let us take a look at the points provided by successful online food delivery startups about using pre-built app solutions.
Get your Free Demo: Whatsapp | Skype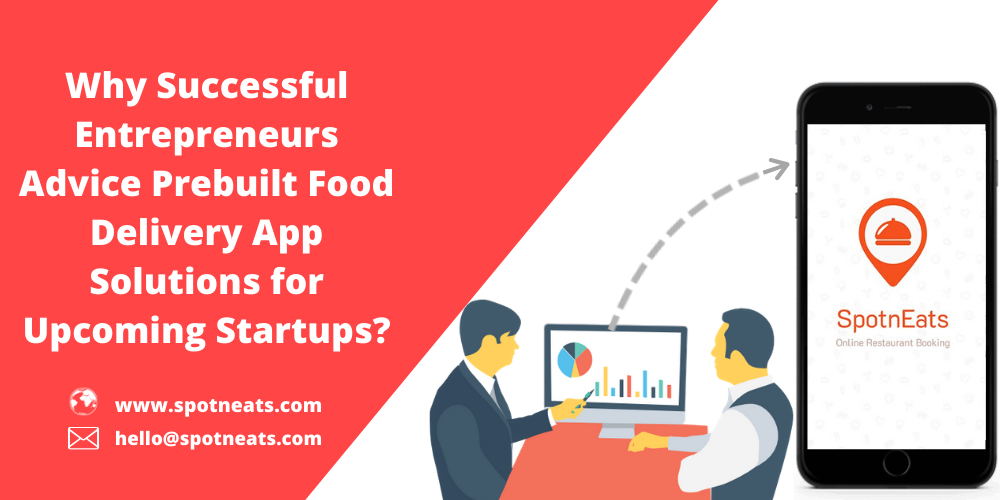 Why Do Entrepreneurs Recommend Pre Built Food Delivery App Solutions?

Built-in integration

Pre-built customizable apps are highly compatible with third-party APIs and other software. On-demand food apps are sometimes used as APIs with other applications and software in order to boost customer inflow. For example, Swiggy food app is used as a third party API in some online streaming applications. Here customers can order food while watching videos.

New feature and technology addition is imperative for a food app and in pre-built apps, they are integrated without hassles.

Focused resource allocation

Being an entrepreneur you would definitely have limited resources and spending most of it on the technical part i.e. in the application development is a bad idea. When you prefer customized apps, you not only save resources but also streamline your focus on innovation and business improvement.

You just need to review the proceedings of the app development to ascertain everything is fine.

Effortless scaling

When getting an app solution for your food app startup, you should basically look for two things. One is whether the application can handle the desired data and second is whether it can be scaled to any extent at a later time. These two things can be expected only in pre-built apps.

Highly resilient app

On-demand food apps that are available readily and can be customized will have the resilience to defend external breaches and data threats. There are many tools available in the market that can increase security.

Modified javascript framework can shield the application from external threats and such frameworks work fine only in pre-built apps that have space for customization.

Apps built from scratch has some limitations in defending external threats because of their rigid framework and architecture.
Sophisticated tool addition

Highly sophisticated data analytics tools, design tools, and personalization software work only with web and mobile apps that are built with a flexible framework. Since prebuilt apps are normally made with such frameworks, adding and testing these tools won't be an issue.

Many decisions in the on-demand food delivery app sector are data-driven and having niche data analytics tools is inevitable. And most important of all is that the app solution must smoothly accept it.

Comprehensive and accurate order tracking

The order tracking and navigation mechanism are updated consistently by the Google map API. Improving tracking accuracy is imperative for on-demand food delivery. Pre-built apps alone can accommodate such rapid changes.

What next?

I hope you are convinced about the importance of working with pre-built apps for your online food ordering business. The next step is to select the right food app solution.

And I strongly recommend you to take a look at SpontEats. SpotnEats is a prebuilt food app solution very much similar to Ubereats and Foodpanda. Since Ubereats is the benchmark for SpotnEats you need not have any apprehensions about its performance and usability.

All the characteristics mentioned above about a readymade app is completely applicable to SpotnEats. On the price front, you will get what you pay for, nothing less or more.

Technical support plan from SpotnEats

One of the much talked about perks of associating with us is the technical support after app deployment. The same development team which engages in the customization of SpotnEats will be providing technical assistance. So the assistance will be resolved in an efficient manner.

So by assisting you, we not only increase your productivity but also helps you to achieve quick results. At SpotnEats, we are constantly working on the newest advances in the on-demand sector and even install it during the support phase.

Winding up!

The basic food delivery app with fundamental features is no longer going to help you attract more users. You need to continuously reinvent the app by getting more features and tools in the app. For this, a prebuilt app like SpotnEats is the only way forward. 

Get your Free Demo: Whatsapp | Skype
Do tap us an inquiry mail to [email protected]. Our business executives will talk to you about the features and functionalities of the SpotnEats app. We are looking forward to hearing from you.