Online food delivery startups are creating waves in the on-demand app based business market and it is estimated to hit $162 billion by 2023. In terms of region, Asia Pacific dominates the market and this market alone will be $91 billion by 2023 with a market share of 60%. At present, the US is a fast growing market for online food ordering and delivery.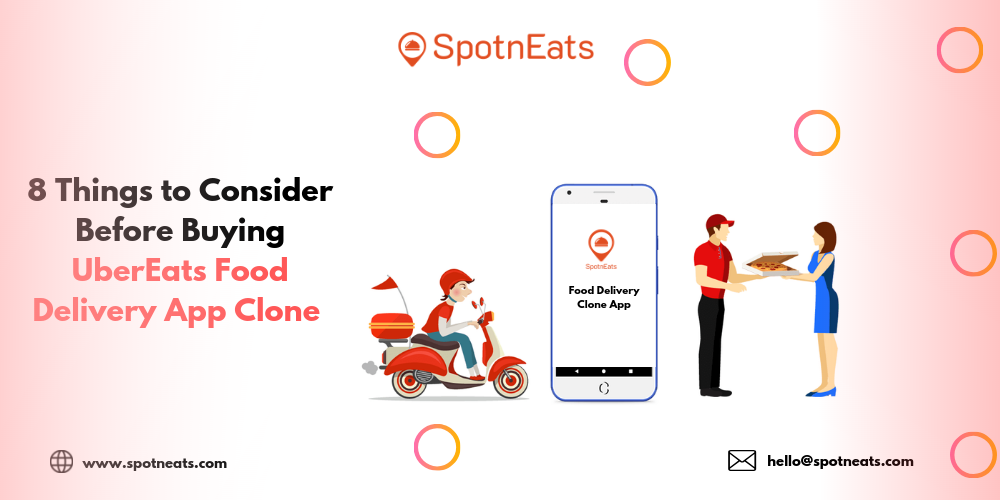 So, it is beyond doubt that the food delivery market is growing exponentially and the US and Asia markets have more scope for it. Startups like FoodPanda, Swiggy, Deliveroo, and other top companies have a market share of 80%. The remaining 20% is captured by small and medium startups globally.
Factors to Look at Food Delivery App Clone
If you are going to launch a food delivery startup in your region, then it is easy to catch a good market share among the 20% small and medium food delivery startup. This will happen only if your app solution is standard.

I hope that you are approaching app solution providers for your food delivery startup and to get a standard app you should consider these 8 things before getting the app.
Get your Free Demo: Whatsapp | Skype

Customization

The food delivery app solution you get from the solution provider must be open to customization. Customization in the sense, everything from design, language, currency, icons, and logo must be easily optimized based on your input. First, see whether their solution is white labeled and complete source code is given after purchase so that you can also customize independently.

Many providers take very little inputs from clients before customizing the app. So, be sure this doesn't happen.

Native, Hybrid or Web app

A good app solution provider should be able to develop a solution in both Hybrid and Native technology. Mostly, Hybrid technology is used by small and medium startups because of its versatility, easy maintenance, and cost. What you have to check here is that the solution provider is competent to tackle issues that arise from using a Hybrid app.

If you are targeting a specific market where a particular mobile platform or OS version is predominantly used, then going for Native app.

Each of them has its pros and cons and the maker of the solution must be able to lower the downside of it.

Apart from that, the admin and restaurant web panel is mandatory and the solution will definitely have it.

Security

Massive amounts of personal data are stored in a typical food delivery app and any compromise in its security will seriously affect the credibility of the app even everything is good.

The data also includes, username and passwords. But, nowadays there are better technologies to make the app database safe and highly secure. You have to know which technology is used at present for security and see whether the app maker uses it. The app security must be at the top of your priority list.

Responsive GPS

The GPS is important for both the customer and the delivery partner to pinpoint the address and navigate the location respectively. Sometimes, the GPS map may not work properly and makes the app to crash. This totally depends on the type of map API used.

Solution providers may use not so good map APIs to reduce the cost. You have to be cautious in this part. Google API is standard and used by many top startups.

Is Programming Knowledge Needed?

You are an entrepreneur who is going to run an online food delivery business and programming knowledge is not really necessary. But, the app solution will be subjected to overhaul or modification after it has been made live and this modification will be done by third parties.

At this point, you should be able to give the inputs just by seeing the description for the codes written. So, the app solution you first purchase must be lucidly written with description for every code.

Design

Design not only means the color, shape and other similar stuff, but it is also more of compatibility. An app made with good design should work seamlessly in all devices with different screen sizes and specifications. Also, the design should not be menacing to the user. For example, excessive notification will irritate the user.

To summarise, the app design must be responsive, user friendly, and have a hasslefree interface.

Test the App Before it Hits the Market

This is something fundamental and the last chance to rectify major issues. While testing the app, it must be seen from the point of view of a customer. Find the pain points in using the app to change it. There are normally two phases of testing, first is the alpha phase where you are directly involved and second is the beta phase. The second phase of testing is done by beta testers. During the beta test, a lot of improvisation can be done.

The solution maker must follow these test phases. Many testing tools are available.

App Store Optimization

Everything in the app is well tested and deployed in the app store. The work is not completed here. You have to make sure the food delivery app is easily accessible in the app store. For this app store optimization is done. Some top ASO techniques are.

Eye catching app icon.
Finding the target users and using keywords appropriate to them.
Keywords should be in the title.
3 most apt screenshot of the app
The ASO must be followed religiously for the restaurant web panel, customer app, and delivery agent app.

Wrapping Up!

Make sure you consider these important points before getting an app solution from a solution provider. Ask for an interview with the development team of the app maker to check whether these points will be followed. You can also contact the old clients and get their testimony, this would be more effective than any other.
That said, our solution – SpotnEats is pre built and is now available as an MVP. We are open to one on one discussion with you during customization and also handle issues in a hybrid app effectively.

Get your Free Demo: Whatsapp | Skype
I hope SpotnEats will be the right choice for you. For more details and queries regarding SpotnEats, send a mail to [email protected]. We are looking forward to partner with you.