Yea, everyone knows that building a Multi-Restaurant online food delivery system is a challenging task. But still, it is worth it if you invest in developing a food ordering system for your Multi-Restaurant now, you will gain more profits in the upcoming years. Are you in an idea to launch your own food delivery software and manage to get more revenue like top tires? Then this post is for you.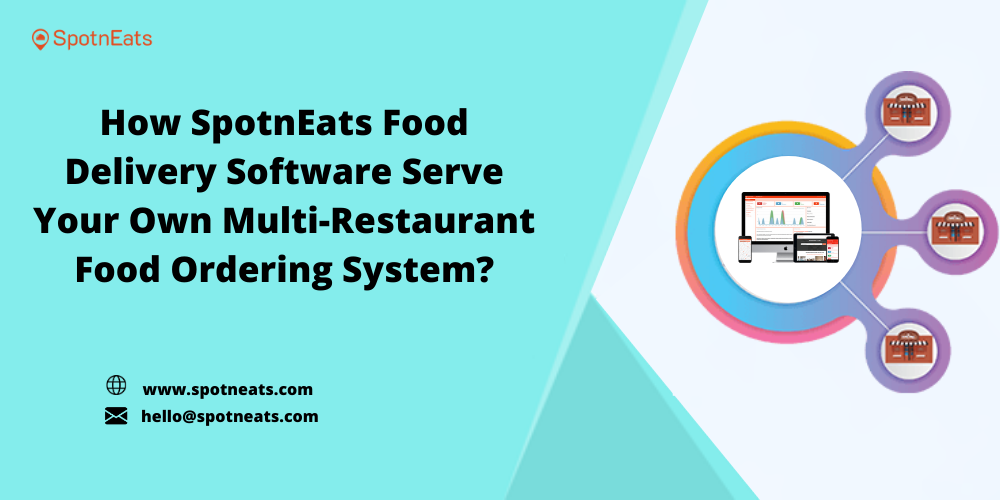 Why you Should Build an Online Food Ordering System for your Multi-Restaurants?
Most of the Multi-Restaurants are linking their restaurants with the other online food delivery service, but it won't generate that much revenue in your business. Do you know why? The top tires like Ubereats, Swiggy, and other food delivery systems are generating commission 20-30% for each of the orders. Which will be taken by the owner of the app. Therefore if you build your own app there is no loss in commission fees. This will give you extra credit for your restaurant.
If you build your own app for your food delivery service. You will not only deliver the ordered foods. You are also able to manage all your restaurant's inventory, stocks, availability, bills, etc all in digitalized. This will make your task easier and it will make your restaurant more digitized with the latest technology. So no more commission and admin can monitor all their branches in a web panel from anywhere.
How Does the Multi-Restaurant Online Food Ordering System work?
The Multi-Restaurant has chains in many different locations or many branches in the same location. This model food delivery system will allow you to increase your production and generate additional revenue. It is highly competitive but allows your restaurants to serve in a wider range in order to generate more profits. The owner or an admin can set up their online delivery system at any location as they wish. You should also know how to make use of it in an exact way to generate the hick in your revenue. Let me share with you the best way to utilize it.
Best way to utilize your multi-restaurant online system
When the application hasn't developed with the latest trends, then you cannot use many features and your customers will get bored by using your app an old version UI/UX. The most important thing is people always used to search for alternate solutions when your app didn't satisfy their expectations, then it is a big loss of revenue in your business. Don't worry we SpotnEats are here to aid you with the best solution for all your issues.
SpotnEats is the latest modern software for the Multi-Restaurant online food ordering system. The best part is then developing it from scratch by appointing a freelancer or team. You can opt for our online food ordering and delivery system. It is a great deal for you which optimizes your time and money. All you have to do is just to say your requirements, that you expect to be in your app. To give good clarity let me tell you the advantages of choosing our software, which is going to generate more interest in your business.
How to build your own multi-restaurant with SpotnEats
The user, as well as the site administrator, will experience all of the same great features in SpotnEats. As I mentioned above, only the latest trends UI/UX will attract your users. Here I have mentioned a few benefits that your Multi-Restaurant will gain
Customer engagement – More customers will stick to your application this leads to more success because, when they stick to your app there is a higher chance to adapt to your service quickly.
High ROI – When there is more customer engagement then it will also increase the ROI through your sales and service.
Quick brand recognition – By best UI/UX design you will get a unique brand identity.
Advantages of using Multi-Restaurant ordering system with SpotnStay
There are more advantages where you will benefit by investing your money to build your own application. Here I have listed a few of them at below
Menu Management – In the dashboard, the option named "Menu" where the admin can change the menus and offers accordingly everyday. In a specific or location-centric menu.
Promotions – Promotion will be done once the menu is updated by the push notification to all your users.
Make your Brand – The promotion is not only for the daily offers. Where your brand will be promoted in a short period everywhere.
Optimized website – Where all the advantages are optimized into one good website. It can be optimized according to your needs one website for each location or one website for all the locations.
Your application is going to minimize the problems in the delivery system as follows
Real-time location tracking – The customers always want to stay updated with their orders and delivery person's current location. Online food delivery startup problems are half solved. We ensure that your customers are allowed to know. The information about when their order reached the kitchen when their food items were made and dispatched the approximate time of delivery. These are things today's users are willing to know once they place their orders.
Accurate time delivery – The success of online food delivery depends on timely delivery. We ensure that your food delivery app will enable the exact time of the delivery to win customers.
User-friendly – Your application gives User-friendly solutions to aid your consumers to have access to the data about what others are ordering and what the current trend is. so that they can order the food according to the rate and review.
Multi-currency payment options – Providing multi-currency payment options will be an added advantage to your customers. An inbuilt multi-payment system that makes the customer's payment process more easy and secure. Which fleet today's business industries.
With our SpotnEats application, you are able to organize your sales across different locations. So, it's a good time to make your own Multi-Restaurant online food ordering system today.
Final say
By now, I hope that you might have got to know about your application. Still, why are you waiting for? We love to see your Multi-Restaurant app in action, send us your requirements now. Our business experts will reach you soon.
Build your Own Food Delivery Software with SpotnEats: