The food industry market survey has found that nearly 78% of the people are used to ordering food online and reported. It is a convenient way to get prepared food shortly at their doorstep. On the other hand, 84% of the food delivery app users say that it saves time and helps to choose a variety of cuisines from multiple restaurants near their destination.
Convenience and time are valued so much by the people. In that, a large chunk is millennials, who seek the best solution in a short span. This brought the demand for on-demand delivery app service in the market. Among other on-demand startup industries, the food delivery segment stands tall in the on-demand economy.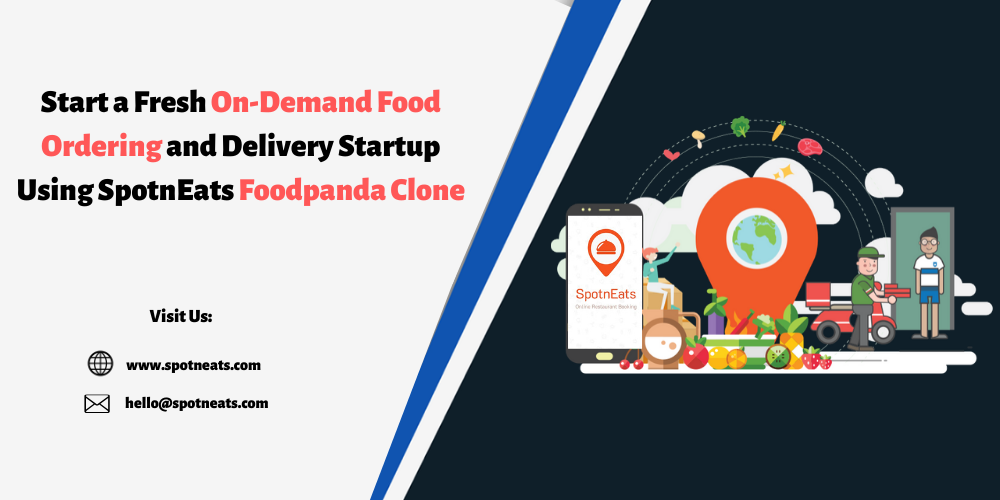 If you are looking to step inside the on-demand food industry. Then the first and foremost step after deciding to enter the on-demand industry is to develop and build an app for your food delivery business. Once you decide to start a food delivery service, do all the market research on the region of operation and other competitors parallelly.
Food Delivery App Solution From SpotnEats

SpotnEats is a familiar readymade Foodpanda clone app script in the market. With our app solution, you can easily launch your food delivery business in the best way at an affordable price. Purchasing the on-demand food app solution from experienced software vendors like us is the best option to win the competitive market.
I'll give a detailed overview of what our Foodpanda clone app solution can do to your users.
Users can choose and order food from a variety of restaurants. They need not worry about any limitations in terms of no. of restaurants.
The food app is user-friendly, foolproof, fast, and immersive.
Order history can be viewed. Curated menu based on past orders to make ordering easier.
Filters to find food based on cuisine type, price, delivery time, and rating.
Exclusive deals, coupons, and offers applied during the final checkout.
Users can track the order right from the time of order until it is delivered. Google map API for accurate tracking.
No hassles during payment. Multiple ways of payment can be used. Cash on delivery option is also available.
SpotnEats, especially made for entrepreneurs to help them set the right foot in the food app industry. Focus on the business aspects like marketing and expansion is vital. When you are committed with us, you need not spend too much time on developing, instead of that, you can focus on the business aspects.
Our Foodpanda clone app solution gives 100% customization options to re-develop or restructure the entire food app operation. Constant talks with young entrepreneurs and our existing clients across the map are the reason for our perfection. Our developers are happily ready to help you with our Foodpanda clone script sparkling metrics.
Today, we have multiple food app services like UberEats, Foodpanda, Zomato, Deliveroo, etc, it would be practical to use a solution similar to one of these. In SpotnEats, we provide a well-developed backend for the Foodpanda clone app. We especially made this for the small entrepreneurs who want to start on-demand service quickly and reach their business goals.
Now I Will Delve Some Info About Our Restaurant Panel

There are many application solution providers, who put more effort into the mobile app and completely overlook the web panel. We chose not to do that.
Our team was firm that the restaurant panel should be oversimplified without so many options that confuse most of the time. I have personally seen many restaurants opting out of the partnership with food app companies just because the restaurant panel is not user-friendly.
So in SpotnEats Foodpanda clone restaurant web app has appealing UI/UX. Can handle the large and vast amount of data. The advanced database is used also to ensure safety. Admin chat and grievances redressal options are present in the side panel.
Easy management of stocks, menus, and orders. The analytics tool is embedded in the web app solely for the restaurants to get reports on most food orders, etc. There is also an option in the app to place ads so that the restaurant is visible on the top of the customer app.
Also, using our SpotnEats restaurant web app it is easy to convince the restaurant to come on-board. We assure you that a maximum restaurant retention rate is possible. Messages from our existing clients is a testimony to it.
No one can give so much in the restaurant web app. We are one among the top of the ladder in the food app development market because of our policy to be different from others. Things like exceptional restaurant web apps make us stand out from others.
Get your Free Demo: Whatsapp | Skype
Wrapping up!
Enough has been said about how your users will feel when using SpotnEats and also about the restaurant panel. To know more about our other interfaces like the customer app, admin panel, and delivery agent app, connect with us at [email protected].
You will have a live demo of the food app with our team. I am sure you are more likely to choose SpotnEats after the demo.
On-demand food ordering and delivery businesses have good prospects and bright years ahead. And all these things turn towards you only when you have the right food app. Quickly decide us and ping us in the above-said address.