The food industry is one of the ever-growing industries since we all are in need of food to keep ourselves healthy and peaceful. As the demand grew, the people started to seek the best solution to reach out for the food shortly and easily. This brought the on-demand delivery service in the market by integrating the technologies with the food industry.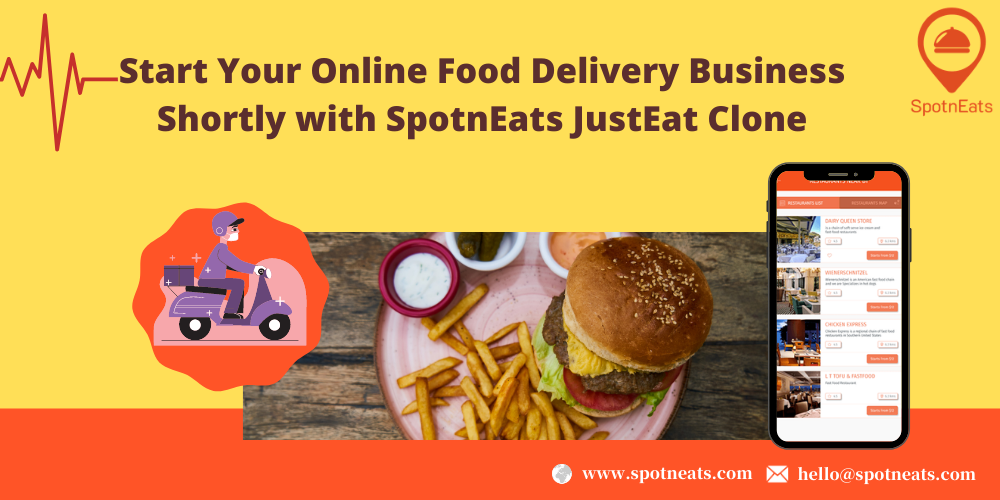 The global market survey has estimated the food industry, and it is projected to show a growth of above $24 billion USD by the end of 2023. Today, many big companies and other industries aren't able to reach their full profit or goal in the market. But, the food delivery business has become an easy solution for entrepreneurs to reach the full potential market.
Is your dream to become a successful entrepreneur of 2021? Or to be a part of this competitive market with worthy profit and brand visibility among the top tires? If yes, then you must consider the JustEat clone script to withstand today's market. Aren't aware of JustEat and clone script, no worries.
In this blog, we are going to discuss the following outline in detail and at the end, you will be gaining a clear knowledge of the JustEat clone script and how to utilize it properly.
Table of Content
What Is JustEat?
Why Should You Prefer JustEat Clone Script for Your Online Food Delivery Business?
Enhance the Food Delivery Service with SpotnEats JustEat Clone App
How SpotnEats JustEat Clone Assist for Restaurant Constant Growth
What Is JustEat?
JustEat is an online food ordering and delivery service that takes place in London and operates in nearly 13+ countries. JustEat acts as a connecting bridge between independent takeaway outlets (restaurants) and consumers. JustEat platform helps the consumers to check the nearby restaurant which has a takeaway option.
It also includes the payment details, current offers and discounts, cushions and special meal menu, and restaurant service timing. The UK market says that JustEat charges 699 Euros for a restaurant to take place in its application. For each order that takes place on the JustEat website or mobile phones, charges a commission of 14%-30% from the restaurant owners.
JustEat has gained popularity among the other brands and today JustEat is considered as one of the favorite food ordering and delivery services among the people in the market. Which has taken place in the top 10 food delivery services in 2020. This impact brought the JustEat clone app into the on-demand food delivery market.
JustEat clone script will be the right app solution for both new and existing entrepreneurs who are wise to place their foot in the on-demand food delivery industry.
Why Should You Prefer JustEat Clone Script for Your Online Food Delivery Business?
Rather than spending a huge amount on booking the developers and designers to build app like JustEat, choose the JustEat clone script. JustEat clone app for food delivery will be the right solution to gather the people's attention in the market. It also gives various benefits for the entrepreneur while running the food delivery business as follows.
Connection fee – You can charge a one-time connection fee from each restaurant as an entry charge to take place in your online platform. This brings visibility to the restaurant owners and their service in the region.
Commission fee – Like JustEat, you can also charge the same 14%-30% commission fare from the restaurants that take place in your application platform. This revenue scheme acts as a regular profit gain.
Advertising charge – If the restaurant wants to prompt their menu or update special offers to their potential consumers to boost up their sales. Then, you can charge advertising charges from the restaurant owners for in-app promotions.
Helps to build brand identity – With the JustEat clone, you can customize the entire app shortly according to your local trends and needs. You can personalize your brand logo and interfaces to educate the people about your brand in the region.
Let's grow the consumer base – developing a food delivery app like JustEat gives a variety of opportunities to keep your consumers engaged with your food ordering and delivery service. You can let your consumers brand for yourselves with the social media feature.
Able to give reward to the consumers – To keep the consumers active with your food ordering and delivery service, JustEat like the delivery app, helps you to provide a loyalty program to increase your consumer base.
If you're convinced with an app like JustEat and its benefits. Now, you're in need of the well-developed JustEat app solution in the market. There are plenty of choices in today's clone script market. But, SpotnEats is one of the familiar on-demand food ordering and delivery app solution providers.
Get your Free Demo: Whatsapp | Skype
Enhance the Food Delivery Service with SpotnEats JustEat Clone App
SpotnEats is a pre-developed JustEat clone app for food delivery, with full flexibility to customize the entire app. We have implemented a lot of the latest and higher-end technologies to develop food delivery app like JustEat. This lets you gain a higher position in the food delivery market quickly with an exact estimated profit.
With SpotnEats, you can easily build app like JustEat within a few months. We integrated sparking key-features in the JustEat clone app solution. Your restaurant's players are able to seamline their venture and uplift their restaurant sales with your online food ordering and delivery platform.
In the next section, I have shared how our app solution assists the restaurant's constant growth.
How SpotnEats JustEat Clone Assist for Restaurant Constant Growth
We won't buy anything without cross-checking the feedback of the old consumers. From the recent market report, nearly 89% of the people are having faith in the existing service feedback to place their own orders on a particular product. Therefore, considering an online platform is a must to grow a service constantly.
If you're not using an online platform then you aren't able to taste the success quickly and high chances to get failed. Online platforms like on-demand food delivery app like JustEat are the saviors for the restaurant and entrepreneurs to raise up their venture growth. SpotnEats JustEat clone script impacts on restaurant sales and revenue as follows.
Ordering the food made it easy and quick – App like JustEat made the ordering process simple and efficient, that let the consumers place the orders again and again. This is one of the main strategies used in the on-demand food delivery service to keep the consumers engaged at any time from anywhere.
Paying for the ordered food made convenient – Payment has always been a big issue for every consumer. Sometimes people are a covenant with direct cash and at other times they will be preferring a card or online transfer. Most of the restaurants aren't providing this flexibility but in online platforms, consumers can easily transfer their fare as they wish either as direct cash or through e-bank.
Quickly reduces the marketing expense – To make the restaurant offers and discounts visible the restaurant owners have to spend a few dollars for the right reach. With the help of our JustEat clone app, your restaurant owners can easily promote their service. This promotion gives 100% surety to the restaurant about the promotion reach.
Summing up
Restaurant owners are also entrepreneurs who think about their service growth and brand visibility. By implementing an app solution like JustEat helps the admin as well as the restaurant owners to gain their expected profit. In SpotnEats, we provide a flexible JustEat clone app according to your business demand.
Get your Free Demo: Whatsapp | Skype
Without a second thought, reach us today. By filling the below form or drop a mail at [email protected]