Nowadays, everything can be made simple with just an application, where you can easily order anything and it will be delivered right at your doorstep within a few minutes. In such cases, world alcohol market revenue is leading to other on-demand services. So, it's a better idea for the young entrepreneurs to get into the liquor delivery business for a higher profit.
One such solution is Drizly which is carefully craved, and designed to give a good service to their customers to gain customer loyalty. Their success has brought a new revolution among the delivery business. As per the survey, Drizly holds the second largest share among all on-demand alcohol delivery providers.
What if you get one such solution for your alcohol delivery business? Sounds great right, one such solution is available with us. This blog is about Drizly and how SpotnEats niche key-features that will maximize your revenue easily with their niche key-features. Keep reading to know more about the Drizly and our service.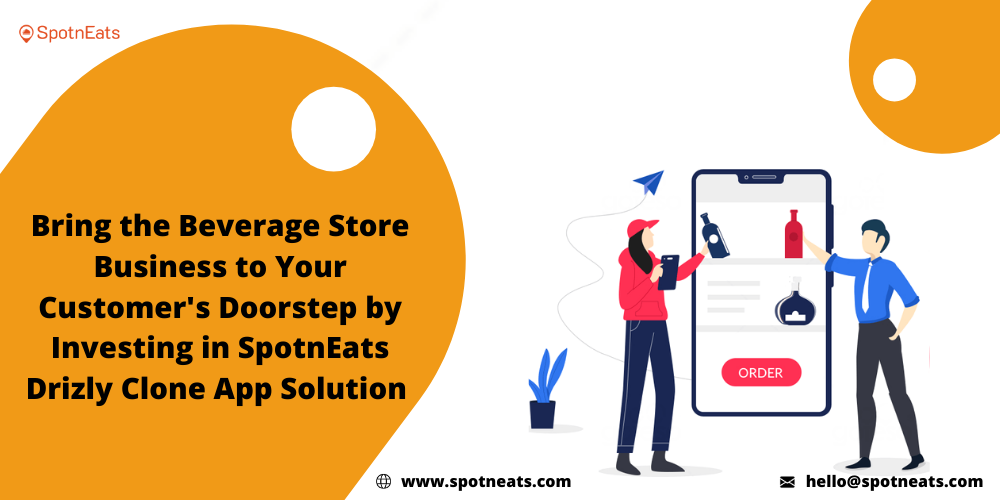 What Brings The Drizly As The Best Application For Online Liquor Door Delivery?
Drizly is an alcohol-based E-commerce platform, which is operating in more than 100 markets across the United States and Canada. Drizly is also known as Amazon for liquor. Customers will get the flexibility to order their preferred liquor from a variety of choices listed before them.
In other words, it lets the users place their orders on a variety of beer, wine, and spirits directly from near local retailers of their location through an application. The application arrived in the year 2012 encountered the question that when everything was available through an application but except alcohol delivery.
So they researched and took surveys about the business structure of alcohol and it schemes there is no revenue loss in the liquor business model. So, they decided to launch an application that allows the users to get their required liquor near the stores easily at their doorstep without wasting any energy. This bought them a high revenue gain of $32 million at the end of the year.
Apart from the website the Drizly provides their service through a smartphone application. Their application is also available on both the platform (iOS and Android). Once the customer places their order through Drizly application, the placed order will reach their doorstep exactly within 30-60 mins. 
Drizly Business model
Drizly is a two-sided market that connects the end users (driver and liquor stores) easily through an application. The business model of the Drizly is pretty unique, If any stores sell nor deliver alcohol, then they can tie-up with the Drizly service. Drizly simply directs all the orders to the nearby local stores who are tied up with them.
The delivery service will be fulfilled by their own inventory and delivery agents. This is the reason they call themselves the tech intermediary. Before getting a link with the local stores, Drizly checks various parameters like the store's product range, product availability, product prices, delivery team, POS, etc.
Drizly Revenue model
Drizly's revenue model is simple: they use to charge monthly charges from all the partners who use Drizly platforms. The revenue will be gained as a monthly fee that varies in the range of $100 to $10,000. The amount usually depends upon a variety of factors like the value of the delivery, zone served, etc.
This shows that Drizly doesn't charge any interest from its partner stores on any transaction, of the number of orders they receive or the number of deliveries they fulfill. They also don't increase the cost to the consumers, that is the service provider can list N no of variety to showcase to their customers.
Drizly uses the technology in the right way to give a risk-less service to their end-players that lets them gain high revenue in a short period of time. Without any compensation in the quality and the business model, you will get the exact app like Drizly for your liquor delivery business in SpotnEats. Keep reading to know more about us and our service.
Why should you prefer SpotnEats for Drizly clone?
SpotnEats is a software-based application solution that has been pre-developed and readily available to kick start your business today. Our application has been developed more scalable so that it can be easily restructured at any time according to the client's requirements. Our main aim is to produce a high-quality service to our clients without any issues.
In SpotnEats, you will get a well-developed exact clone script of the Drizly at an affordable price with advanced features. We also promise you that there won't be any compensation for the quality of your application and it will be delivered to you at the right date. Because your satisfaction is our first opinion. 
Since we have a group of experienced developers, they will provide you a uniquely designed solution for your start-up. Though our application is pre-build one, it doesn't mean that it will have low-level/low-quality performance some might have. We developed your app with the latest trends with the best UI/UX design to attract your customers and it is more user-friendly with bugs free.
Maximize your doorstep liquor delivery system with SpotnEats Drizly clone app niche key-features
Online order requesting – By using your liquor delivery application, customers can conveniently order their required liquor from a variety of alcohols and spirits with just a few taps on their smartphones. This lets them order easily in less than a few seconds.
Convenient Delivery Scheduling – Customers can choose the time of liquor delivery system as per their time convenience. They can either choose instant delivery or set date and time while ordering. This gives them to pre-order before they reach the home.
Real-Time Order Tracking – Customers can track their order in real-time with the live tracking feature, and the google maps integrated into the app. This feature lets the customers know where their order is and accurate estimated delivery time.
Instant notification – Customers can also get real-time notifications about new offers, discounted deals, and their order status. This lets you as an admin stay connected to the customers by letting them know the offers and discounts instantly.
Multiple Payment Options – Multiple payment options available in the online beverage store such as COD, credit/debit cards, net banking, wallets, etc. This feature will give the customers an option to pay as per their convenience.
Rating & Feedback System – Once the order is delivered the customers are allowed to leave their feedback and rating on the app according to their experience with your alcohol delivery app.
Product Search Filter – Customers can also easily browse a variety of wine collections with the help of product search filters. These can be sorted by brand, price, type, etc. in the wine, beer, and whiskey delivery, etc.
Bottom line 
Going forward in the liquor delivery business service, Drizly clone app will be the best solution for your entrepreneurs. However, the market value for alcohol delivery is increasing on a regular basis. This will be the right time for you to quickly drive into the on-demand delivery service. 
In SpotnEats, we are providing you one such service with before and after launch service for a certain period of time. Still, why are you waiting? Constant us today at [email protected] or by filling the below form we will reach you soon.