Constantly changing trends have become a new trend in 2020. Yes it is, before we would take our food at restaurants but now we take out the food. A similar new trend in the food delivery business is a Virtual restaurant where there is only a take out option. This blog will give you full details about virtual restaurants.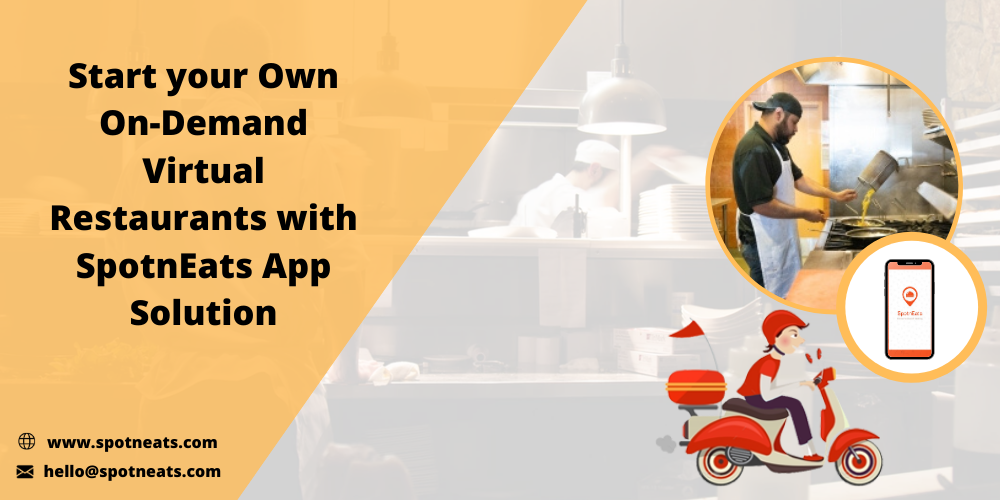 How to Start a Virtual Restaurant?
What is On-Demand Virtual Restaurant?
Virtual restaurant is the restaurant that only delivers the dining experience to their customers through a mobile application. Their delivery might be through third-party service. To make it simple it's not an exact restaurant where you can go and have your dishes. Only the kitchen will be available, from less than 400 sq ft to 1200sq ft. They serve their foods through a delivery app as Uber eats. Some virtual restaurants have their own delivery service and app. Few of them will be linking their restaurants with other food delivery apps. They are the new trends due to the growth in the online food delivery system. This improves the user experience and the efficiency of the delivery service.
Nowadays many of them are investing in virtual restaurants because it costs less and it needs only a chef who makes the cuisines as per the orders. And the admin who manages the orders by accepting it or rejecting it. It sounds easy right, let me tell you the benefits of virtual restaurants.
Benefits of owning it
No need for a large space to launch your restaurant business, little space is more than enough,
No need for a waiter or other staff to manage your restaurant business,
No need to maintain your physical restaurant,
Low feciality, more flexible, cheap rent and decreased dependency,
Gradual growth in the delivery orders and more revenue,
No need for more marketing when tying up with other on-demand apps.
Get your Free Demo: Whatsapp | Skype
Benefits of using it
Since it's the growth of Gen Z people, there will be more boom in virtual restaurants. You can easily gain more revenue in the starting stage itself, by becoming an owner of an application and hiring your own delivery team. People are frequently getting adopted to the virtual restaurant because of its quality service. They provide only a few items by a well-experienced chef. You will get the orders frequently, and you can attain your goal in a short period.
By now you would have known a bit more about the virtual restaurants and its benefits. There are two types of virtual restaurants, keep reading to know about it.
The two type of Ghost Restaurants
Ghost restaurants are nothing but another name of a virtual restaurant. The types are listed below.
Incubator – where the existing restaurant hires their existing staff, and the facilities to launch their own virtual restaurant inside, their restaurant to gain more revenue by providing their two services with different names. The advantages of it are no need for new space, staff, extra kitchen, etc.
Entrepreneurs – The entrepreneurs drive into virtual restaurants by renting a new space for their business and digitized delivery system through third-party service or owning their own delivery team. The advantage is they have their own market value.
From the above mentioned details, if you are an incubator you will get new customers with the existing kitchen, without additional staff. If you want to build your own virtual restaurant means there is no need than an experienced chef. Both have different processes but the same goal to gain more revenue.
Why Too Much Cost for Virtual Restaurant App
If you are interested in opening your own virtual restaurant by renting a new place with experienced staff then you have two options. You can join with another on-demand app or by developing your own app. If you tie up with another delivery app you get very low profit. So it's better to start your virtual restaurant business by developing and launching your own app. But I know what you are thinking now developing or building an app like on-demand food delivery or with normal features everything may cost high.
Most people with low investment will start this virtual restaurant to gain more profit but if you invest a bit more you can have your own. You might wonder how it is possible? It's possible by choosing a pre-developed app that is similar to top tires. It isn't legal when it is developed in the right way. We SpotnEats are one of the top food delivery software were we have developed and handle to our customers worldwide. Here let me tell you how our software will fit your business.
How SpotnEats fits for your Virtual Restaurants business
Buying a pre-developed app will cost less than you think because you are not going to develop it newly by appointing a developer or a team. It doesn't mean that it will have low level performance some might have. But our service is not so. We developed your app with the latest trends with the best UI/UX to attract your users and to make them more user-friendly with bugs free.
You no need to worry if you don't have any knowledge about those, our team will guide you and we also provide you before and after service which will make your application earn more revenue.
How SpotnEats balancing key players
As I mentioned, the benefits of owning a virtual restaurant will give you more profits when your app gives equal balancing to the key players. Here are the four interfaces of your application.
Customers – They can do smooth browsing with multi-angle details of your dishes, this allows them to feel more user-friendly. Easy multi-payment features aid their translation more quickly and simply. With instant notifications and real-time delivery, tracking will make their waiting time less.
Delivery partners – Once the dish has been made they will be notified by the real-time tracking feature without any lags. Order-management features make their work quick and easy along with that they can also manage their cost by cost-management features.
Restaurant owners – Can be able to re-order their menu along with the offers regularly, with menu and food category management. They are also able to accept the orders or reject it and also can manage their orders with the instant takeout feature. So that it won't be a barrier for them after the dish is prepared.
Admin – You as an admin who can manage all three customers, delivery persons, a restaurant along your commissions. Payment reports will automatically generate a history of orders.
Giving equal importance will gain more revenue for your business and once your customers are satisfied with your service it will automatically bring you good market value.
Final says
By now, I hope that you might have got the info about the virtual restaurants, and you will be in an idea to start your own. Nothing is late in the on-demand food delivery industry, so make it happen today itself. Fill the below form and we will reach you soon in less than 24hrs. Drop a message to us on [email protected].