We all are well aware of the food delivery services and how it is gaining popularity in the market of today's world. Thereby, it makes many business people kick start their own food delivery service. With an excellent business option, you are able to gain high revenue.
The US survey shows that 60% of the population people are placing their orders online to taste their favorite food at their doorstep.
Nearly 34% of the food ordering customers spend at least $54 per-order.
On the other hand, few of the population totally topped Dineout's experience after the food delivery system. This shows the worthiness of the food delivery system among the people.
Who will say no when your favorite restaurant is at your doorstep. Here, this blog will give you full detail about the top food delivery service and why you should choose Eat24 for your delivery business.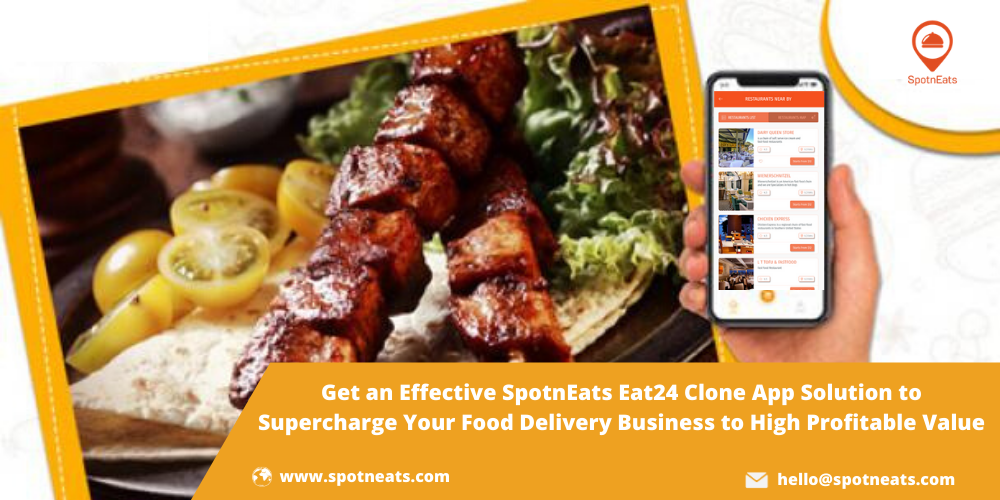 Rise Of Eat24 Clone App In The Market:
Eat24 is an application-based food delivery service that partners with the nearby local restaurants. They also provide many services for their customers, including the apps available on both iOS and Android. They have joined their hands with over 40,000 restaurants in more than 1,500 cities with more being added each day.
Eat24 also provides 24*7 support through email and phone to meet their customer's expectations without fail. Here, let me tell you why people started to order their foods in Eat24 than going to a restaurant as follows
Availability of vast food choices – By opening the Eat24 application in your mobile, you will be surprised to find a vast array of food choices that cannot be found in the menu card of a single restaurant. Whether it's pizza or donut, burger, or buns, Eat24 food ordering apps have them all. With countless number of restaurants nearby you.
Simplicity and convenience – This another plus point of using the Eat24 application, where you're able to get your ordered food from anywhere. You can also order the food for your care able one too. Rather than that, it gives regular offers and discounts. That made the Eat24 application more enhanced than other applications on the road.
On track updates instantly – Once you place your order in Eat24, you are allowed to access a real-time menu that will inform you everything. if a dish is ready or if the restaurant will be closing soon. Such on-time updates will help in avoiding last-minute disappointment. This ensures that the food orders don't get mixed up and offer a smooth experience.
Hassle-free payment option – To offer an effortless experience to the customer and so they Eat24 accept payment by debit or credit cards, in-wallets, cash on delivery, etc. They also offer extra discounts, if you make an online payment through the in-built wallet.
The above mentioned are the few of the advantages of ordering in the Eat24 application. The revenue gain of the Eat24 application is gradually increasing yearly 20% due to its user-friendly services. That lets the user's order from multi-restaurants easily and their orders will be delivered in less than half-hour.
By now, you might get to know about the Eat24 application and how it made fame in the food delivery industry. What if you get the exact clone version of Eat24 for your startup business? It will be a quick revenue gain right. Keep reading to know more about it and why you should consider the food delivery app like eat24.
Why should you consider the Eat24 clone app for your food delivery start-up?
Entering in the on-demand industry is quite an easy task but surviving in it or gaining high revenue is a tough job. Here is the solution for the young entrepreneurs who are thinking about to kick start their own food delivery service. You as a young entrepreneur should consider the clone version of the top application.
In the food delivery industry, there are many companies trying to be the best. However, Here comes the problem where they have to provide something different to attract customers. All you need is to select a good app to position yourself in the market. Eat24 has different business and revenue models compared to other players.
Eat24 Business and Revenue model
Eat24 company makes money primarily by charging restaurants a pre-order commission, and it generates revenues only when the customer places an order on its platform. In Eat24, there is no subscription fee for the restaurant or the customers. They provide a unique value proposition for both the player's restaurants and the customers who are using their application.
This brings the package of low-risk, a high-return solution for the restaurant that is highly efficient when compared with the other applications on the platform. On the other hand, the customers get the accurate, efficient, and frictionless service from Eat24. Rather than that they also provide transparency on each ordering and delivery service.
As I mentioned above their business model is designed in such a way to charge the restaurant a per-order commission. The restaurant is also able to choose their commission percentage or level. When the restaurant uses the Eat24 delivery service, then they have to pay additional commission costs too.
Eat24 uses the technology as possible to give a risk-less service to the end-players that allows them to gain high revenue. Without any compensation in the quality and the business model, you will get the exact model for your business in SpotnEats.
A perfect online food delivery system with Eat24 clone
SpotnEats is an application-based software that lets you gain high revenue with its flexibility. What makes our software more scalable? Our main aim is to produce a high-quality service to our clients without any issues. So we have developed our application more customizable. So, it can be re-modulated quickly according to the client's needs.
In SpotnEats you will get a well-developed Eat24 clone script for an affordable price with advanced features. We promise you that there won't be any compensation for the quality of your application because your satisfaction is our first opinion. Since we have a group of experienced developers, they will provide you a uniquely designed solution for your start-up.
How SpotnEats Eats24 clone script bring fame to your business
Advanced Search – The advanced search option in your application showcases results based on customer's inputs or search. The keyword of the specific result will display the restaurants nearby from the customer's destination.
Restaurant Showcase – The customer can choose from a wide range of restaurants available near their location that is linked with your application. As I mentioned before, you are able to add an N-number aad restaurant in your application.
Pre-order – The customer is able to place an order of their favorite dishes and set the delivery time for later. In other words, the customer is able to schedule their orders according to their preferable time. This makes them more productive.
Order Tracking – The customers are allowed to track their orders once they confirm their orders. This feature showcases all the processes like restaurant order confirmation, assigned driver information along with the estimated time and cost of the order.
Multi-languages and Multi-payment integration – By considering the global audience, the numerous languages and payment options have been included in your application. So that there won't be a language barrier to attract all the customers.
Paper-less feedback system – The customer can also rate their order and service provider Through this feature as necessary. This helps other users make better decisions before they place their orders.
Re-order list – By considering this feature, your application will give more convenience to your users. The customers can check their previous order placed by your application and also save their favorite dishes.
The above mentioned are a few of the features that are readily available in your application now. If you need any changes, it can also be done quickly with our experienced developers. There are a lot more advanced features that are also available with us. Once you join your hands with us we can discuss it.
Bottom line
With the latest technological innovations, make your food delivery service more popular in your region. Kick start your business quickly to gain more revenue in a worthy time. With Eat24 clone script you can add all the restaurants, stores, and other food providers in your application to increase the sales and revenue. Still, why are you waiting? Contact us today at [email protected] or by filling the below form today and we will catch you soon.