On-demand apps of all kinds of services have one important thing in common, they all handle enormous amounts of data. This data mainly pertains to that of its users. The on-demand model, in order to give top-notch user experience, had to rely on machine learning, data analytics, and AI. And these technologies work fine only with an enormous amount of data. For example, in the food delivery script, to show the Estimated Time of Arrival(ETA), data from the delivery agent, consumer, and restaurant are used. This is the importance of data and on-demand is nothing without user data.       
Data in the food delivery app prone to breach
Doordash is one of the top food delivery app startup and it was subjected to data breach which made 5 million user data unsafe. Doordash has a state of the art infrastructure and a skilled team. Still, its data was compromised. Even Though the data breach has been rectified, this sends wrong signals to the app development vendors like us and it is our responsibility to pacify the situation.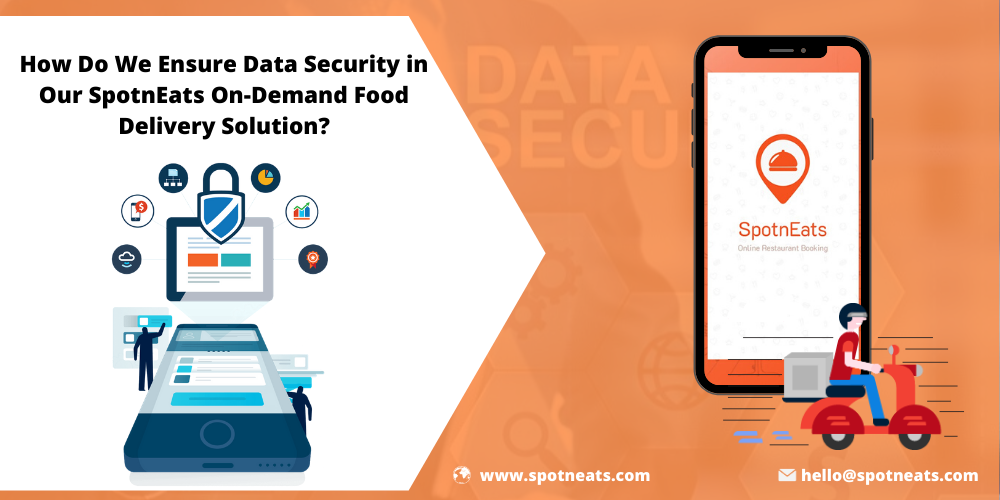 Why SpotnEats Food Delivery App Solution for Startups?
SpotnEats is a food app solution targeted at small startups who wish to have something like Ubereats or Foodpanda. Advanced tech stack is used for the development of solution and our team ensures our client gets the utmost user experience.
Perks of joining with us for SpotnEats
Chance to work with a high spirited team that possesses diverse app development knowledge.
Systematic development process with frequent updates.
Any type of customization and design change carried out.
Quick turnaround time for app development and launch.
Comprehensive after-sales assistance.
Free live demo of the food delivery app.
What we do to ensure data security in SpotnEats?
Secure payment system
All transactions are secured by SSL protocol. SSL helps to encrypt all the data regarding payment and card details. The encryption is done on both ends so that it is no way possible to breach the data. Only PCI compliant payments are allowed in the app. PCI is a must to secure restaurants and consumers.
Disabling debug code
Debug code is used by app developers during the customization phase. The problem is that if it is left enabled even during the app is deployed, hackers can easily use it to breach the security of the app. We ensure that the debug code is disabled once the customization part is over.
Restricting clipboard access
Clipboard can be an easy way for hackers to get the username and password data. Our team restricts the clipboard access.
Mobile penetration test
Weak points in the app can pave the way for easy access. We ensure that a mobile penetration test is done during testing phase to ensure weak points are identified and rectified. Mobile penetration test simulates hacking and it clearly shows the vulnerable places.
API security
No other apps use API as frequently as an on-demand app. Also, API can be easily vulnerable to data breach. So, have a solid API security strategy in place. There are three main security measures that ensure strong built security for an API; they are authorization, identification, and authentication.
Apart from the mandatory things above, we ensure our team has the skills to develop high-security apps.
Hack-proof strong codes
Not only data theft, malware attacks are also becoming common in on-demand apps. These malware attacks will give a bad user experience to the consumers. Examples of some malware attacks are, hidden pics of menu in the main page, wrong no. of menus getting ordered, etc. SpotnEats has a strong culture of having only professional coders who are well versed in writing hack-proof codes.
Reliable backend
Our team does a rigorous security check of the backend before getting it deployed. Backend, just like the front end poses a risk of getting hacked. At SpotnEats, we ensure that everything is built resiliently.
State of the art security standards
It is better to follow the state of the art encryption APIs such as 256-bit AES encryption combined with SHA-256 for hashing. Also as an experienced on-demand developer we invest in threat modeling and penetration testing.
Not yet started? Then choose SpotnEats for your new startup
I hope by now you are convinced with the way we go the extra mile to ensure data security for the online food delivery app solution. If you have not yet started your new startup, then I strongly recommend you to use SpotnEats. 
SpotnEats, as I explained till now, can give next-level security with top-notch performance.
Get your Free Demo: Whatsapp | Skype
Final words!
SpotnEats online food delivery is available as a complete solution with blockbuster deals. Kindly contact us by sending mail to [email protected]. Follow us to get more app updates. You can also get restaurant management systems from us and make the restaurant listers more effective in delivery.
Let us team up to launch a never before seen food ordering app for your startup and make a good name!