The eyewear market has gradually increased every year. The main focus of the eyewear market has three main categories spectacles, sunglasses, and contact lenses. So the glasses store sells eyewear that can be either corrective or just fashionable. Stores can be structured in two different ways: for fashion and eye correctness.
The global eyeglass market, that is made up of spectacles, contact lenses, sunglasses, and other eyewear products, was estimated to be worth around 131 billion U.S. dollars in 2018 and it is expected to reach a value of 210.8 billion U.S. dollars by 2025. So it is the right idea to kick start your own eyewear business today.
This blog will give you every detail of the on demand eyeglass delivery startup. Keep reading the blog without skipping any part to acquire detailed knowledge about your eyeglass delivery system and how our software helps to gain revenue.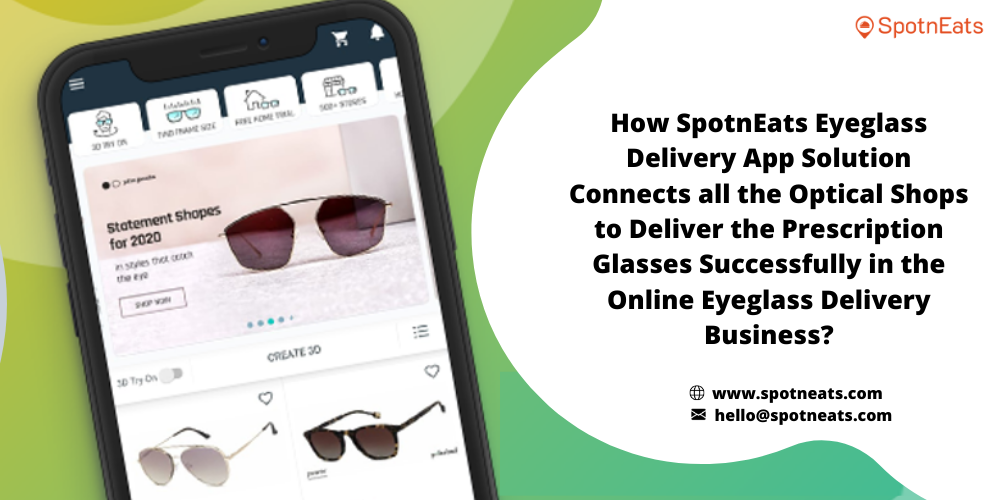 Steps To Enhance Your On Demand Eyeglass Delivery App Solution
A clear plan is essential for a successful entrepreneur to kick start a business. It will gradually help you to map out all the specific details of your business and to discover threads that will drag your business revenue down. Your plan should include the targeted market and regional statistics.
The key to business success is based on the location or region. Take enough time to find a space that sees a good deal of hike traffic each day. Most of the consumers wait until they have plentiful time to consider their optical options. Here comes the showcasing the variety of the opticals.
With a good market strategy, you can enhance your optical business across the various regions. A study shows that almost 75% of adults require vision correction at the age of above 50. And 64% of people prefer over contact lenses. This shows the worthiness of the eyeglass business.
To gain high revenue and to reach the customer's doorstep all you need a software-based application solution. It will not only enhance your business by reaching customers. You can also launch your services in various regions. With a well-developed application, you can bring visibility to your brand.
Why should you prefer a software solution for your eyeglass delivery startup?
Customer lifecycle management – An application helps you to keep your customer's contact details up to date. Tracking every customer interaction and managing customer data is possible. A software solution is designed to help the business to improve customer relationships and also CLV (customer lifetime value).
Integrated solution – The integrated solution is nothing but a variety of solutions are brought together into one system. In other words, combinations of products and services designed to fulfill potential customer requirements.
Efficient data synchronization – In the on-demand industries, to increase the operational efficiency and stay ahead among the competitors, you're in need of an application. Making responses quickly in-store with up-to-date store data held in a centralized database with easy to access is a major need.
Improvement in order accuracy – By upgrading your business with a software-based application, it will ensure the orders are generated accurately digitally. It gradually reduces the errors and simplifies your work progress along with the delivery service and management system.
Seamless communication – Once you upgraded your business with the software there won't be any communication barriers between the players (store owner, customer, and delivery agent). Email, SMS, and Alert Notifications to reach patients with instant updates of your service offers and discounts.
The above mentioned are the benefits you will gain from using an application. In SpotnEats you will get a pre-developed application at an affordable price with advanced features. Keep reading to know more about our service and key-features.
Grow your optical delivery business with SpotnEats on demand eyeglass delivery app
SpotnEats is a software-based application solution that allows you to take care of your business digitally with advanced key-feature. The key-features have been pre-developed with the latest technology so that it will smoothify your workflow easily and quickly. Since it is a pre-developed one it won't cost high.
Our experienced group of developers had developed the application more flexible. So that it can be modified anytime according to the client's requirements. Either it is to add or remove the features in your eye delivery service application. Rather than pre-developed, affordable, and flexible, why should you choose us?
By using our online eyeglass ordering app you can easily enhance your customer's experience. With our centralized delivery and inventory management ensures that your customers are given the right information with instant updates on your availability of the products. Thereby it also improves customer service, satisfaction, and retention.
SpotnEats online eyeglass delivery business model
As I mentioned before, our software application is more flexible. There are two types of business models that allow you to gain more revenue. It shows that you have two different ways to earn your revenue by using our application. Here, let me tell you the two types of the business model as follows
Type 1 – In this business model where the customer is able to order they're preferable eyeglasses by surfing the local stores nearby them. The customer is allowed to check the variety of options and offers that the respective stores provide.
Type 2 – Here, the customer who wants the power glass has to upload their prescription by scanning it to the respective optical store. Once the store owner accepts your order it will deliver to you within an hour.
The above mentioned both the business model lets you gain the attraction of both end customers quickly. So that by using our application you can sell your fashionable eyeglass as well as prescription glasses too. Here let me tell you the key features that will smoothly improve your optical store business.
SpotnEats key-features that smoothify your eyeglass delivery business
Instant log-in & sign-up – There is no doubt about days we all are very familiar with social media to update ourselves. So to make the customer's sign-in process quicker than before, we have developed your application with social media integration. Therefore, the customer can quickly log-in with the help of social media integration and they are allowed to share their experience in social media once they receive their orders.
Variety of listed opticals – By using our software, your customers can easily place their optical orders from a variety of listed opticals with a tap on the required optical store. A niche feature that will auto-suggest the add-on offers for the potential customers this gradually increases your revenue. This is one of the main reasons why gen z people mostly prefer the on-demand service because the ordering flow is simple and easy by just a few taps.
Instant pop-up notification bar – We can't assure that the needs of customer's preferences are common. This feature helps you as an admin to stay connected with them by your service instant updates on the offers, discounts, and region-based offers. This also allows the customer to check their ordered progress whether it is packed or dispatched from the store or not.
GPS navigation system – Once the customer places their order, it will notify the nearby delivery agent to pick-up the requested order. The location tracking feature enabled in the application will allow the delivery agents to choose the preferred route from the multiple options. Customers can track their orders in real-time.
Rating and comment – This feature allows the customer to connect with your admin by posting their rate and comments on the delivery service and optical stores. The admin can check the service rate and review, and take action according to it. This brings transparency to your eyeglass delivery business.
Availability option – As I mentioned before, this will let the user know whether their preferred prescription glasses are readily available with the respective store or not. This lets the customer act quickly so that they can check the other stores' availability.
The above mentioned are some of the features that have been pre-developed and readily available in your application. Once you join your hands with us, let us have a discussion about your business requirements. We will restructure the application according to your requirements and the additional features can also be added.
Bottom line
The global eyeglass or eyewear market was evaluated at approximately 131.32 billion U.S. dollars. The eyeglass market value has been gradually increasing year by year with good scope for the new entrepreneurs. Still, why are you waiting? Contact us today at [email protected] or by filling the below form and we will reach you back soon.