While launching a food ordering and delivery startup you as an entrepreneur have to bear more stress at the same time. To reduce the stress and get success, you are in need to do some market research, develop marketing plans, conceive ideas, and many more. Or by choosing wisely the Foodpanda clone script.
Promotion is often considered a risky investment, but if it's rightly done, the rewards are high. You can see many startups doing the top promotion for average service and get good patronage. What if such promotion is done for your quality food delivery service?. This blog, I have explained it in detail. Keep reading without skipping any section.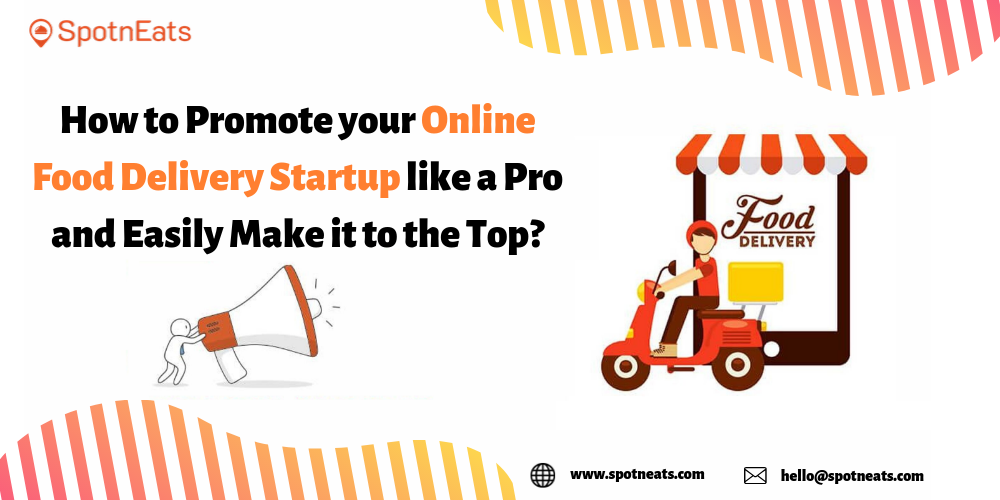 What are the Ways to Promote a Food Delivery Startup?
Embrace Digital Tools
Apart from having a good mobile app, also focus on the web app. The web app is the best way to promote online. Since more than half of the food orders worldwide are done by office goers and all of them use the web, using this platform will pay rich dividends. So far if you have not planned about this, you are missing opportunities to acquire new customers every day.
Using self-built websites for marketing is not as difficult as you might think. This can be easily controlled from the web admin panel. Digital marketing tools in the admin panel are available in select food app solutions like SpotnEats.
Having a USP is a Necessity
A food app delivery startup driven by a strong USP can do wonders with little effort. While building the app itself you have to develop a USP that strikes a chord with the users. This gives you the much-needed edge over your competitors.
Define the USP and build a brand around it. Then follow the previous step and see the result. Try to provide multiple options in your food delivery service namely restaurant table reservation, multiple route optimization, and many more feature options. 
Build Relationships
Naturally, the per-unit cost in the on-demand business, especially in the food delivery business is very high. So it is necessary to make repeat customers cover the cost. To do this, build a relationship with users. Don't hesitate to give samples or deals to lure customers and follow this to retain them also.
Avoid annoying notifications and emails to the users. Targeted messages are better than vague ones. Have a relationship they are looking forward to.
Price and Level of Convenience to the Users
In Spite of following many innovative strategies and creative things, some food startups make the users feel comfortable, and hard to resist their service. Most of the time these soft points would be the price and level of convenience.
These points are hard to follow for a small bootstrapped startup but these are the ones that shape a successful startup.
The above-said level of convenience in the sense of joy from overachieving for the customers.
Investments that Build in Value Over Time
The base of the app-based food ordering and delivery is the technology and it is worth knowing how it will be after three years. One thing in common with almost all the on-demand startups is the need to deliver fast and efficiently.
Even now firms like Uber are partnering with AI and supply chain software tech firms to implement any advances to their startup. This is a very good move. Uber, FoodPanda, Grofers, Lyft already joined AI and automotive firms to develop technologies that augment the delivery speed.
You plan to join hands with tech companies like this for your future growth and also have it as a hub for research and development.
What to Expect From the On-demand Economy to Balance the Promotion?
People are increasingly spending on on-demand services which is a major deviation from the scenario some years back. Also, spending behavior is mostly based on the instant gratification of people's needs. Speedy delivery, quick customer redressal are some examples that give a gratification.
So, make your startup operation simpler and easy to access.
Building an Efficient App
The secret weapon in on-demand food delivery is the app solution which comprises the ordering app, delivery person app, admin panel, and restaurant app.
Sleek design and an outstanding user interface are necessary to attract everyone. This alone is not enough. If you ever used Ubereats, you know what it will be like. Users expect the food ordering app to be no less than Ubereats. And, we have such an app solution for you.
It is SpotnEats. SpotnEats is mainly developed as an alternative similar to UberEats with a friction-less usage. Our team of developers did everything to the solution while keeping in mind the end-users. 
Get your Free Demo: Whatsapp | Skype

First connect with us for a small talk about our app's features, technology stack, customization, after-sale assistance, price, etc. We are keen to partner with you. For more details and queries, ping us at [email protected].