One of the easiest ways to gather huge revenue in the on-demand delivery market is the food delivery business. This can't be done quickly until you have an application that gives a tough fight to the top tiers like UberEats, Foodpanda, Swiggy, and Zomato. So you're in need of an application that has few niche tools to attract the customers.
If you are looking for an application that allows you to gain more revenue in your online food ordering system then you are at the right place. The easiest way to get into the on-demand industry is easy with a clone app. This blog is all about the Menulog clone and how our service provides the best of it. Keep reading to know more.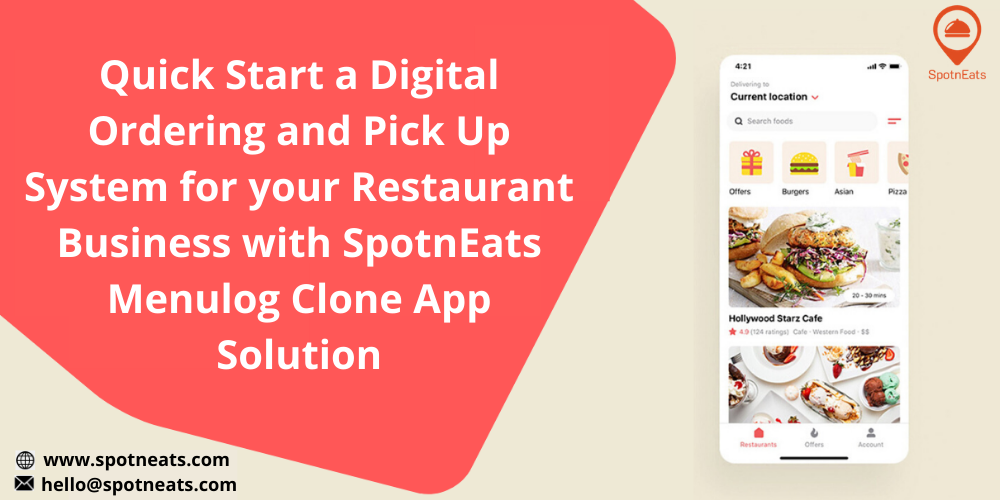 What Makes The Menulog Clone App As A Top One Food Ordering Platform?
Before getting into the Menulog, here let me share with you the information about the Menulog. Menulog is an online food and beverage ordering app that was first successfully launched in Australian and New Zealand. They have linked with 15,000+ restaurants to provide a good doorstep meal to their customers.
They have also tie-up with top international brands like McDonald's, KFC, Pizza Hut, and Subway. They have also become the partner with the 500+ new restaurants around Zealand. In the Menulog application, you can find 130+ cuisines. Normally, Menulog handles 22 million orders per day. This shows their growth and customer satisfaction.
They have also launched their service on both the platform (iOS and Android). They have also shown the growth rate of the restaurant's growth by tying up with the Menulog app. They mostly focus on the customer's satisfaction and partner's growth by using their application. So that most of the restaurants are ready to tie-up Menulog.
Menulog business model – The business model of Menulog is the same as the other on-demand food ordering and delivery business. Menulog differs from other top tire platforms like UberEats, Foodpanda, Swiggy, etc. Because Menulog offers restaurants to use their own delivery drivers (delivery agents). Rather than that they also offer fewer commissions for each order from their application than UberEats.
Menulog Revenue model – The revenue model of Menulog is commission model. They use to charge a certain percentage of commission on each order delivery. They use to charge like
Delivery fee,
Cashless service charge is based on factors like distance and time,
Supplement fare is also charged based on wait time.
More than that, they also give equal value to their players. For example, If a restaurant is tied-up with the Menulog, they are benefited from the technology, Data, and marketing their service. They provide several tools to the service provider that minimize the workload and maximize their revenue easily.
This is considered as one of the best reasons to choose the Menulog clone for your online food ordering business. It will not only allow you to gain profit but it brings visibility in you region gradually without any lack. In SpotnEats, you will get a well developed Menulog clone script with 100% flexibility. Keep reading to know more
Develop a restaurant platform with SpotnEats Menulog clone script
SpotnEats is a software application that has been pre-developed with full flexibility so that it can be re-designed anytime according to your needs. More than that, our experienced developers had pre-developed the application with the modern tools so that it gives you good work performance without any lack in between.
Rather than good permanence, our designer's team will be providing you a good user interface that lets you gain the end player's attraction. Before getting started, we will be more focused on the user experience so that people will feel user-friendly and keep engaging with your application. 
SpotnEats Menulog clone is also a pre-developed application with advanced features that allows you to maximize your revenue. We have developed your Menulog (online food ordering and delivery system) with current trend technology so that you won't get any bug in between the performance of the application. 
In SpotnEats we offer you the app like Menulog a complete package that serves you with pre and post-launch service for a short period. By adopting this offer, you will be benefited from the post-launch service that allows you to get trained with your app on the field. Here, let me share with you the interfaces that you will get in the complete package of the Menulog clone.
Customer's application (iOS and Android),
Delivery driver's application (iOS and Android),
Restaurants application (iOS and Android),
Centralized admin panel.
You will be getting these four interfaces in one complete package at an affordable price. Here, let me share with you how your application actually works.
Like every application the first step is to sign-in. The customer who is in need of your service first downloads your application from the app store. Since we are providing you both iOS and Android, you're allowed to gather the attention of both the customers. 
After the sign-in process, the customer is allowed to check the nearby restaurants directly or they can use a smart filter to get the exact food. This gradually reduces their time and they can easily order their needs soon. The customer can fill their basket with the required food they want to place the order and proceed with the payment process.
To make the payment process simple we have also included the multi-payment feature that allows your customers to choose their preferred payment method. Once the payment process is over they are allowed to track and monitor their orders. When the order is received the customer is allowed to rate the service.
The above mentioned are the workflow of your application. In SpotnEats you will get 24*7 updates on your application and our experienced team will be clarifying your doubts at any time. So feel free to ask us at any time, our main aim is to provide you a unique product for your application business. Keep reading to know about the features.
Few Pre-developed features to minimize the workflow and maximizes the gain value
Social login – Social media login is one of the modern ways to quickly sign up with any application-based service. By using this, your customers or drivers can share their experience too directly with their friends. This integration also made the sign-up process even better than filling the required details.
Instant search – As per the name, this feature allows the users to enter the required keyword and it will display the needs of the customers according to their keywords. With this instant search feature, they can get everything quickly. Rather than the quick result, the customers can also choose the filter option.
Order tracking and monitoring – Once the customer places their order they can easily track and monitor their basket. This feature allows the customer to get the accurate estimated time of delivery and they are also able to track the delivery agent who carries their order. With the help of real-time tracking features, they can easily get to know their order's distance and time.
Favorite cushions – No one likes to go back to place the same order or their favorite orders. So by keeping that in mind we have developed this feature that allows the users to mark their favorite foods or else once the customer places the order on the particular food regularly it will automatically be marked as favorite food in their app.
Feedback – This is one of the important features that should be considered in every application-based service. This gradually brings transparency to your food ordering and delivery business. The customer can post the feedback on the service provider and delivery agents this allows you, admin, to know about your links and their performance. By taking the feedback into mind, you can easily make the changes in your business.
Commission management – This feature allows you to manage all your commission along with the full details. This feature is not only applicable for the admin alone the restaurants can check their order cost on daily basis or weekly as well as the delivery agents too. This allows the providers to check their revenue growth regularly.
Various payment methods – As I mentioned before, customers are looking for multiple options to pay their ordered things. Here, with this multi-payment option, your customers can pay their fare according to their preferences that are listed.
The above mentioned 7 features are readily available with us in the Menulog clone app. If you are in need of any changes in the features, it can also be done quickly. So that you can kick start your own application-based business. We also promise you that our team will be delivering your application on-time without fail in the quality.
Bottom line
If you have traveled up to this with me you might have known about the Menulog and our service. Menulog has been developed in such a way to get linked with N-number of restaurants and to provide a smooth flow. So if you're looking for the best service at an affordable cost then you are in the right place all you need to do is to fill the below form or contact us at [email protected] and we will reach you soon.